How Oxford University simplified IT support for 30,000 students
University consolidates support desks in cloud with HEAT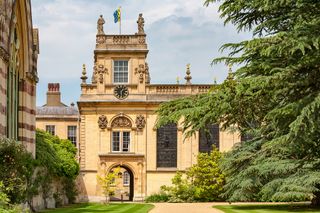 The University of Oxford has turned to the cloud to provide better IT support for its 30,000 students and more than 6,000 members of staff.
The higher education establishment used to rely on three separate IT service desks comprising 350 staff who specialised either in business systems, shared services, or managed desktop computing, with another 300 IT staff supporting specific functions across the university's sprawling footprint across its city, spanning 100 departments and 38 colleges.
But students and staff phoning the various help desks were often left confused and frustrated when they tried to get help solving an IT problem.
Director of customer services, John Ireland, tells Cloud Pro: "Prior to our consolidation, those teams had got to the point where they'd say 'okay you phoned our finance systems support team, but actually the problems here are to do with your network, so you have to end this call and phone someone else'."
But the three service desks - and other support teams - were also confused about their own roles sometimes, claiming responsibility for IT functions that were actually another team's responsibility.
They were also using different products to do their jobs, meaning each group was siloed from the others.
"We had three different tools being used to record calls and there were six identifiable areas which each thought they were the [correct] service desk," says Ireland.
"We really knew we had to get a consistent set of processes across all those teams, and get better information about escalation routes as well as what services we were delivering."
To achieve this, the university decided to put a single toolset in to support a unified service desk that could work together more efficiently, with the ultimate aim of serving users better.
Procurement
This led to an 11-month procurement process that started in April 2013 to find a suitable cloud tool, with the university initially inviting its incumbent provider, ITSM, to tender - along with ServiceNow, Cherwell, and SaaS vendor HEAT.
Cherwell and HEAT made it to an intensive second round in which their respective cloud offerings were rigorously tested by 40 IT employees spanning the various service desks and other support functions.
Getting this cultural buy-in was essential to picking not only the best tool, but one everyone wanted to use, says Ireland.
He tells Cloud Pro: "We knew this tool was either going to make or break our functionality. If we got it wrong we either wouldn't get buy-in, or it would just slow everything down to the point we fell apart.
"We recognised that with 350 staff having come from very different backgrounds, it was crucial to get them very heavily involved in the selection, so they were bought into the decision when we came to roll the tool out."
The staff helped Ireland's team judge the vendors, and ultimately led to the selection of HEAT to underpin the new integrated IT service desk.
"It started that cultural change up front, and in fact one of the big strengths in what came out that made HEAT far and away the tool we needed, was that our infrastructure teams thought it was something they could work with happily in addition to our support teams," Ireland explains.
Supporting various devices and user identities
One of the benefits HEAT's private cloud brought to the University of Oxford was the ability to access IT service features from web browsers - a crucial advantage considering that the thousands of overseas students arriving each year to commence their studies use a huge variety of devices IT has to support.
"Students turn up here with any and every device you can imagine," says Ireland. "We get devices that are not available on the UK market turning up."
Another challenge has nothing to do with new students, but rather post-graduates such as PhD students and staff who also choose to embark on courses of study.
The university's systems are sophisticated enough to classify one user - say a Physics PhD student - as a student in some cases, and as a tutor in other cases, switching between the different profiles depending on what they have logged into the university's systems to do.
"They are staff on one side and students on the other," Ireland says. "But the support systems the university has built for that means when someone phones up you can't say 'oh they're from that department, I know where they are and what they're talking about'."
HEAT picked up on this problem in the tender process, and demonstrated it had the tools to solve this issue, such as communicating with people who have multiple email addresses - only a little tinkering suited them to the university's purposes.
Next steps
With the project now complete, Ireland and his staff are already considering further developments with HEAT's cloud.
"What we have achieved with this project is enablement," he says, adding that he now hopes to add further capabilities, such as remote desktop support and live chat to help students and lecturers experiencing IT problems.
"The student digital experience is a key thing in our minds. Students are paying more for their university education than they ever have," he explains.
"There is a moral expectation that we respond to that and make sure they get the absolutely best support they can from the IT side because it underpins everything they do."
Soon, he added, new arrivals will see a "mini tech bar" upon arrival, where IT staff will be on hand to help them set up their devices, getting them connected to the university's networks.
Stay up to date with the latest news and analysis from the world of cloud computing with our twice-weekly newsletter
Thank you for signing up to Cloud Pro. You will receive a verification email shortly.
There was a problem. Please refresh the page and try again.