NHS Test and Trace IT blunder blamed on Microsoft Excel glitch
The "technical issue" has led to a backlog of thousands of positive tests stretching to 25 September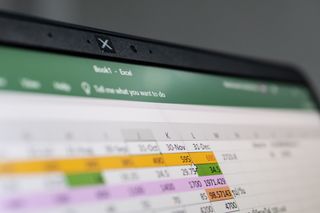 (Image credit: Shutterstock)
A "technical issue" identified in the government's flagship NHS Test and Trace contact-tracing scheme centres on serious limitations in the use of Microsoft Excel to log positive COVID-19 cases.
The government disclosed a technical issue, identified on 2 October, in the data load process that transfers positive COVID-19 lab results to reporting dashboards managed by Public Health England (PHE). This has led to a delay in reporting 15,841 positive COVID-19 cases, with some results stretching as far back as 25 September.
The IT blunder itself arose because the Excel spreadsheet being used to collect positive test results reached its maximum file size, which stopped new names being added in an automated process, according to the Press Association (PA).
To rectify this issue, the Excel files have been split into many smaller files so such a problem doesn't arise in the future.
Further reports, circulating online, suggest a similar explanation, with the number of Excel columns instead reaching their peak of 16,384 rather than the spreadsheet file size reaching its maximum.
Reports also suggest the positive cases data is normally moved from Excel to Access before feeding into PHE's reporting dashboards. It should be noted that PHE only reports the data it receives, which itself is collected by NHS Test and Trace.
However, neither explanation for the reporting blunder, nor the precise data transfer mechanism, has been confirmed by official sources. The health secretary Matt Hancock is expected to address the issue in a statement in the House of Commons this afternoon.
"A technical issue was identified overnight on Friday 2 October in the data load process that transfers COVID-19 positive lab results into reporting dashboards," the government said in a statement published online. "After rapid investigation, we have identified that 15,841 cases between 25 September and 2 October were not included in the reported daily COVID-19 cases. The majority of these cases occurred in most recent days."
"NHS Test and Trace and PHE have worked to quickly resolve the issue and transferred all outstanding cases immediately into the NHS Test and Trace contact tracing system and I would like to thank contact tracing and health protection colleagues for their additional efforts over the weekend."
RELATED RESOURCE
Enterprise data protection: A four-step plan
An interactive buyers' guide and checklist
As a result of the backlog, there were an additional 12,871 cases reported on Saturday evening and 22,961 cases reported on Sunday evening, including thousands of out-of-date positive test results.
NHS Test and Trace had previously come under fire because its organisers launched the programme without conducting a Data Protection Impact Assessment (DPIA). Following legal action, the government conceded the scheme violated GDPR as a result of not being reinforced with a completed DPIA, although its organisers would argue that getting the system off the ground took priority.
A daily dose of IT news, reviews, features and insights, straight to your inbox!
Keumars Afifi-Sabet is the Features Editor for ITPro, CloudPro and ChannelPro. He oversees the commissioning and publication of in-depth and long-form features across all three sites, including opinion articles and case studies. He also occasionally contributes his thoughts to the IT Pro Podcast, and writes content for the Business Briefing. Keumars joined IT Pro as a staff writer in April 2018. He specialises in the public sector but writes across a breadth of core topics including cyber security and cloud computing.
A daily dose of IT news, reviews, features and insights, straight to your inbox!
Thank you for signing up to ITPro. You will receive a verification email shortly.
There was a problem. Please refresh the page and try again.