What Apple's Epic battle could mean for the app business
The tussle over gaming could have broader effects for the App Store in general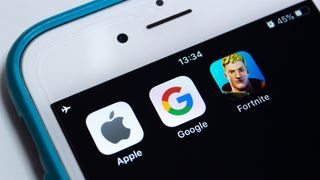 (Image credit: Shutterstock)
We don't see too many David vs Goliath court cases, but the anti-trust lawsuit filed by Epic Games against Apple may be the closest we've come for a while.
RELATED RESOURCE
Becoming an experience-based business
Your blueprint for a strong digital foundation
Following the decision to bypass Apple's in-app purchasing system on Fortnite, Epic's most popular game, the battle royale hit was removed from the App Store. Epic hit back with a parody of Apple's famous '1984' Super Bowl advert, before a trial eventually took place earlier this year.
Now, Epic Games is no humble shepherd, having made over $9 billion in revenue from Fortnite alone. Its objection, though, is one of principle; Apple controls who has the ability to put software onto its iOS devices, takes up to 30% of revenues made through the devices and makes strategic decisions, such as not creating an iMessage application on Android, that could be seen as anti-competitive.
On the other hand, Apple argues that opening up its iPhone and iPad operating systems would decrease security, adding that the reason for taking such a high commission on sales made on its devices is to fund the very ecosystem that Epic is taking advantage of to reach billions of customers.
A Sign of Things to Come
Both arguments were tested in the court battle in May, as Apple CEO Tim Cook and Epic CEO Tim Sweeney headlined the witness testimony from both businesses, and executives from Microsoft and Nvidia also took the stand.
But as the trial is yet to reach a verdict, consumers and pundits are asking what may happen in the iOS ecosystem, and how Apple is viewed in the industry. Technology and media analyst Paolo Pescatore argues that the company has built a market that works for everyone, saying: "No one wants to cede control and everyone wants to have a closer, more direct relationship with the customer as well.
"There is nothing fundamentally wrong with the current system as it works for all parties to a certain degree. The platform represents a key distribution channel for developers; more so among smaller players who lack the scale and resources to go directly, but fall short compared to bigger players who feature more prominently and, fundamentally, users are accustomed to the current approach.
"Ultimately this is part of bigger battles that lie ahead for Apple and other tech giants, given the upcoming antitrust battles. With growing regulatory and political pressure across the globe, it's in everyone's interest to work together and find a suitable compromise for the sake of consumers and Apple must strongly consider a back-up plan of how it operates the App Store, and new rules for developers."
Developer Free Agency
As Pescstore points out, nothing has changed the way the App Store operates yet, but the possibility of change is a real one – even if those possibilities are varied.
If Epic wins the court battle, the technology industry has mused over what a new iOS operating system would look like. Could Apple decide to run an open source system that allows anyone to place applications onto iPhones? Could it look once more at the business model of the App Store, decreasing the fees it takes?
Shubha Gosh, professor of law at Syracuse University College of Law, says that, from a legal standpoint, if the court finds against Apple, a likely remedy is to just strike down the restrictions that Epic disagrees with. However he says that, in turn, this could create a level of "free agency" for developers, as businesses create their own platforms to monetise that Apple could not stop or profit from.
RELATED RESOURCE
Becoming an experience-based business
Your blueprint for a strong digital foundation
"If the court does find against Apple, the very narrow remedy, the minimum I think they would do would be to somehow strike down the restrictions for direct to consumer marketing," he says.
"We'd have to see how the programmers are working within the companies, but it might be interesting to see if some developers find alternative ways to work with Apple or work with other larger companies, so that they can sell directly to the market, but can also work with Apple."
Ghosh adds that "ideally it would be good to see smaller companies and developers band together to create their own platforms which would compete with the various Apple platforms".
Walled Garden
That may be a troublesome thought for Apple. Without having control over the way customers use their phones, other businesses – such as Epic – will be able to profit from the experience they have created.
One of the cornerstones of Apple's defence is the security of the iOS operating system, however. Ghosh points out that Epic would have to prove Apple's policies were harmful to its consumers, something that may be hard to do given the restrictions allow children to use iPads safely.
Although it may be seen as anti-competitive by those who would profit from an open source OS, Apple argues it's protecting its users. However David Benson, professor of strategy and security studies at the School of Advanced Air and Space Studies, says the so-called "walled garden" is only effective if it manages to keep all threats out, adding that for enterprises and public servants, minimising threats in the system is only good if you can still identify them.
"Certainly people in government believe that tightly controlling an operating system is the best way forward. That works great until there's a problem.
"Organisations may want to minimise risk, but it's all about what kinds of risk are you minimising. If you tightly control the OS, you're minimising malware injection, but if [there is] a weakness there are fewer eyes to detect it, and it could go unnoticed."
Such an argument could boost Epic's chances of victory, but in the past 18 months Tim Cook has been called to give evidence more than three times on antitrust matters, each of which are yet to find an enforced conclusion.
According to Ghosh, the Epic case would need to define the market the company is operating in, prove Apple is dominant and then point to examples of harm to the consumer. On the other hand, even the narrow find against Apple would shake up the developer market and create new platforms.
What this all comes down to is a question of control. Whether it's who talks to the customers, who develops the apps, or who secures the devices, having control of the consumer experience is clearly crucial on iOS – and Apple's grasp may be about to be prised open.
Get the ITPro. daily newsletter
Receive our latest news, industry updates, featured resources and more. Sign up today to receive our FREE report on AI cyber crime & security - newly updated for 2023.
Elliot Mulley-Goodbarne is a freelance journalist and content writer with six years of experience writing for B2B technology publications, notably Mobile News and Comms Business. He specialises in mobile, business strategy, and cloud technologies, with interests in environmental impacts, innovation, and competition. You can follow Elliot on Twitter and Instagram.