Epic Games demands Apple restores developer account
The firm has filed for an injunction that would restore Fortnight on the App Store to avoid "irreparable harm"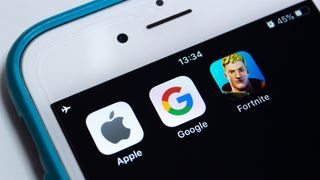 (Image credit: Shutterstock)
Epic Games has filed a preliminary injunction in its legal dispute with Apple, accusing the developer of being a monopolist and demanding the restoration of its Fortnite game to the App Store.
In an 182-page court document, the Fortnight distributor demanded that Apple restores its access to iOS and Mac development tools, and its developer accounts, after the iPhone manufacturer stripped access to them at the end of August.
The games company argued that Apple's retaliation would compromise Epic's supply chain by preventing third-party companies from accessing its widely-used Unreal Engine. This is in addition to no longer being able to release updates or patches to Fortnite on iOS or Mac devices.
Both Apple and Google removed Fortnite from their respective app stores last month after Epic said it would offer a 20% discount to players who bought in-game currency directly from Fortnite, rather than through the app. This was so Epic could avoid paying the 30% cut both Apple and Google demand for all in-app purchases. Epic then sued both Apple and Google over the decision to pull the company's widely-played online game.
"Apple is a monopolist. It controls all app distribution on iOS. It controls all in-app payment processing for digital content on iOS. It unlawfully maintains these two monopolies by explicitly prohibiting any competitive entry in either market," Epic Games said in its latest court filing.
"It is highly likely to lose this case," the games developer's filing continued. "On this motion, however, all Epic seeks is for the Court to stop Apple from retaliating against Epic for daring to challenge Apple's misconduct."
The debate over Apple's App Store practices, and the 30% cut it demands on in-app transactions, has been a common talking point since Epic took action in August. Facebook, for example, towards the end of the month accused Apple of forcing it to remove a message from its iPhone app that informed users about the company's mandatory "tax".
Epic Games is claiming the removal of its development tools and Fortnite from the App Store would leave the company "irreparably damaged". The company added that Apple's move represented a warning to other developers that challenge its power and "monopolies".
A daily dose of IT news, reviews, features and insights, straight to your inbox!
Keumars Afifi-Sabet is the Features Editor for ITPro, CloudPro and ChannelPro. He oversees the commissioning and publication of in-depth and long-form features across all three sites, including opinion articles and case studies. He also occasionally contributes his thoughts to the IT Pro Podcast, and writes content for the Business Briefing. Keumars joined IT Pro as a staff writer in April 2018. He specialises in the public sector but writes across a breadth of core topics including cyber security and cloud computing.
A daily dose of IT news, reviews, features and insights, straight to your inbox!
Thank you for signing up to ITPro. You will receive a verification email shortly.
There was a problem. Please refresh the page and try again.