Apple raises App Store prices by 25% thanks to Brexit
App and in-app purchase prices rise in response to the weak pound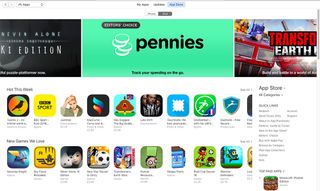 Apple is increasing the prices of apps and in-app purchases in the UK as a result of the falling value of the pound against the US dollar.
Following the 2016 EU referendum, the pound fell sharply hitting just $1.20 on 16 January vs $1.49 on 23 June. Combined with the UK's 20% VAT rate, this means trading in the country has become less profitable than it had been for the first half of the year, leading to the price rise.
In real terms, it means an app that previously cost 79p will now be bumped up to 99p, one that was previously 1.49 would now be available to download for 1.99 and a 7.99 app will cost 9.99. In fact, all apps will now cost in pounds what they cost in dollars, making it a whole lot more expensive for Apple customers to load their devices with apps.
"Price tiers on the App Store are set internationally on the basis of several factors, including currency exchange rates, business practices, taxes, and the cost of doing business," Apple told the BBC in a statement. "These factors vary from region to region and over time."
For developers who are a little concerned people won't want to buy their apps at the new higher price, Apple will also be introducing a new 49p and 79p tier, which will have a higher proportion of commission so Apple won't lose out.
"It was certainly inevitable that Apple would change the price point for apps in the App Store to reflect currency changes," Ian Fogg, from IHS Technology consultancy told the BBC.
"But this is a normal part of the way the store works because it does not have dynamically changing prices that would change gradually."
Apple said the price hikes will roll out to the App Store by the end of the week.
A daily dose of IT news, reviews, features and insights, straight to your inbox!
A daily dose of IT news, reviews, features and insights, straight to your inbox!
Thank you for signing up to ITPro. You will receive a verification email shortly.
There was a problem. Please refresh the page and try again.