Advertisement Feature
Making data work smarter, not harder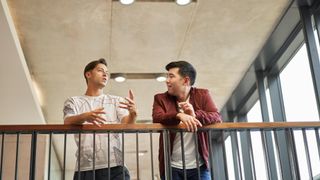 (Image credit: Hewlett Packard Enterprise)
Data is the lifeblood of modern business, regardless of sector or size, and organizations have been tapping data to gain valuable insights for years. It's much easier than ever before, thanks to modern platforms, architectures, and cloud-powered services. Organizations have, as a result, gained a better grasp of their customers, addressed supply chain inefficiencies, and made smarter decisions – especially with real-time insights.
But as data analytics has increased in popularity, new challenges have begun to emerge. Businesses may, for example, be wrestling with a mixture of legacy and modern infrastructure, or even be struggling to contend with data silos dotted throughout their IT estate. Maximizing the potential of data is difficult in itself, let alone while such issues are prevalent. These might also include ballooning datasets, distributed data, and information tangled up in a variety of systems and applications.
The main problem isn't how to collect or process data, but unlocking genuine value from it to reach the best decisions in the quickest time. Thanks to technologies like precision analytics that streamline the workflow, businesses can begin to navigate these challenges and kickstart a data-first modernization journey.
How data management has become more complex
The volume of information businesses are harvesting, with a view to extracting value, is rising exponentially. The total amount of data generated was 64.2 zettabytes (ZBs) in 2020, with this figure expected to rise to 180ZBs by 2025, according to Statista.
But collecting or processing more and more data doesn't automatically translate to deriving higher quality insights, and not all businesses are equipped with the tools to make the most of their data collection. The picture has certainly become more complex ever since organizations first started data-collection and data analytics schemes internally.
The average organization uses 23 different tools to manage the data environment, according to Enterprise Strategy Group (ESG) research, with 68% of data leaders saying the complexity of the IT environment has slowed down their operations and digital priorities.
Despite data-first leaders demonstrating their organizations were generally more productive than nascent businesses, they were also twice as likely to agree their data management capabilities were falling short. A large majority of respondents (74%) also acknowledged their data management capabilities couldn't keep pace with business needs.
Data-first leaders, who are charged with reducing the complexities of data management in their business, drive a number of key benefits. These individuals, who normally have cloud operational experience, improve IT and business results, according to the aforementioned ESG research, and improve technology outcomes generally.
Data-first leaders are, for example, 20 times more likely to beat competitors to market by several quarters, while being twice less likely to be in line with or behind the competition. These leaders are also more than 11 times more likely to beat revenue goals by more than 10%. Moving faster than the competition can naturally lead to more revenue opportunities, with data-first leaders at the heart of this drive.
Following a ransomware attack, meanwhile, data-first leaders are roughly five times likelier to recover within seconds, and twice as likely to recover within minutes. This is because less business data is at risk, and they can use more optimized recovery services to get back on track following a cyber security incident.
There are several differences in this approach, including delivering data infrastructure as a service, as well as simplifying the configuration, ordering, and deployment of data infrastructure. There's also scope to use artificial intelligence (AI) tools more effectively to create a cloud operational experience. Under this model, however, data leaders must also find ways to strip out the potential for hidden bias, to ensure the insights derived through automation and other tools are genuinely valuable, and not skewed.
Indeed, from bias in word associations to bias in hiring practices, there are a number of alarming ways in which these deficiencies manifest when AI is deployed. One of the main causes is flawed data, according to Brookings. There are technologies out there like HPE Swarm Learning, however, that counter the ways bias manifests in datasets across an organization. This framework is a decentralized machine learning system that allows collaborators to share data insights, without revealing the data itself. By allowing organizations to share insights beyond their own walls, they can improve the quality of the data and the application of AI by sense-checking with the wider field.
The business-as-usual approach isn't working, and organizations must streamline the process by which they gain insights and act on them. The cloud is instrumental to this, and services like HPE GreenLake are essential to unifying the data regardless of where it resides. This means that valuable enterprise data your organizations has been collecting can be put at the heart of the modernization process.
A unified approach to managing enterprise data also means the proportion of data never analyzed falls. There are countless hidden insights within corporate datasets, and compiling these sources into a single unified platform gives businesses a much higher chance of gleaning valuable insights in real-time, which is then fed into smarter decision making.
HPE GreenLake, which manages more than one exabyte of customer data, can unify data at the edge by securely integrating all your apps and infrastructure without friction. It means you can go from the edge-to-cloud with the benefit of scalability; you can access the data wherever it lives, eliminating migration headaches in the process. This edge-to-cloud architecture, combined with an AI that is embedded with tools to strip out bias, offers real-time intelligence. The intelligent edge environment you tap into would certainly give data-first leaders that competitive edge when optimizing the data across the IT estate, and attempting to feed this into their data-first modernization journeys.
To learn more about data insights, visit Turn your data into intelligence with HPE GreenLake.
Get the ITPro. daily newsletter
Receive our latest news, industry updates, featured resources and more. Sign up today to receive our FREE report on AI cyber crime & security - newly updated for 2023.
ITPro is a global business technology website providing the latest news, analysis, and business insight for IT decision-makers. Whether it's cyber security, cloud computing, IT infrastructure, or business strategy, we aim to equip leaders with the data they need to make informed IT investments.
For regular updates delivered to your inbox and social feeds, be sure to sign up to our daily newsletter and follow on us LinkedIn and Twitter.