Advertisement Feature
Meet your data where it is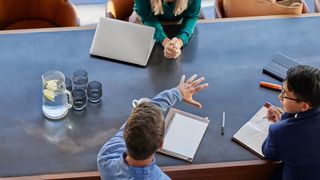 (Image credit: Hewlett Packard Enterprise)
The corporate networks of today are not your grandmother's corporate network, to coin a phrase. Where once everything was limited to a single primary site and perhaps a couple of branch offices, business footprints have steadily grown to incorporate numerous non-traditional environments. This could be something as mundane as a user's home or a coworking space, to more exotic locations like oil rigs or research vessels.
This is what is meant by computing at the edge, and this is often where vast amounts of useful – even critical – data is generated.
Edge computing is intimately entwined with the Internet of Things, notably devices like sensors, robots, and computer vision systems. These can generate a constant stream of data that in a traditional network environment is transferred to the public cloud or a private data center for storage and processing.
While this doesn't pose a technical problem, it can decrease productivity due to the time taken to transfer data from one location to another for analysis, and potentially back the other way for action. In a busy environment such as a manufacturing floor or transport hub, milliseconds of processing time can mean the difference between a slow operation and one defined by efficiency.
By 2025, 80% of data is expected to be processed at source, according to the European Commission, and the majority of this will come through edge computing. However, businesses need to implement networks that can support this if they want to make full use of the data they generate.
Edge computing in practice
Often, edge computing is talked about from a very high level, abstract point of view, so it's worth considering some concrete examples of where the technology can make a real difference.
Consider a standard warehouse environment, where the stock it contains must be kept within a certain temperature range. Smart thermostats could monitor the temperature, analyze if it's within the defined parameters and, if needed, engage the heating or cooling system to warm the air up or cool it down. If there's a regular problem, such as the temperature always going out of range at 2pm on a Wednesday, an alert could be automatically generated for an engineer to come and investigate the cause.
Another widely used example is monitoring machinery on a production line, wind turbine, oil rig, or another situation where failure or degradation could be disruptive or even dangerous. Analyzing data from sensors and other monitoring equipment in real time means alerts can be raised as soon as parts start to weaken and before a complete failure occurs. This in turn minimizes risk to both the facilities and the people working there, as well as reducing the cost associated with unscheduled downtime.
While these possibilities are exciting, an intelligent edge is only possible when the right infrastructure is in place.
The right infrastructure in the right place
The basics of creating an intelligent edge network are largely predictable. Wireless access points, which can be installed both indoors and outdoors, are needed to provide wireless capacity across a site with low-latency connections.
A software-defined wide area network (SD-WAN) can be an excellent solution for edge connectivity. This is a virtual service for connecting disparate devices and locations using network technologies such as broadband, 5G, and LTE, and is more suitable for cloud-based applications.
SD-WANs can be especially useful for edge networks as they reduce latency compared to legacy WANs, and allow IT teams to remotely manage routing protocols.
As well as SD-WANs, a network of capable wireless switches will also be necessary for the infrastructure to function.
For real time analytics, though, specialist infrastructure is required. Hewlett Packard Enterprise (HPE) has an array of products and services that can help businesses achieve the advantage they need through edge computing.
HPE Edgeline converged infrastructure, for example, are optimized for use in edge settings, while Aruba Edge Services Platform (ESP) can help with automation and analytics.
To make the most of their intelligent edge, organizations should also consider using HPE GreenLake, the company's hybrid cloud platform.
An edge-to-cloud approach
HPE GreenLake allows you to take advantage of public cloud features like scalability, automation, analytics and artificial intelligence (AI) while still maintaining the benefits of private cloud such as data sovereignty and security.
Data protection is an important part of any edge strategy that should not be overlooked. The data generated and analyzed at the edge should be treated as sensitively as intellectual property (IP) or personally identifying information (PII) such as payroll details, as it could both give away details of how a business operates and open it up to disruption from malicious actors.
HPE GreenLake allows organizations to keep control of their sensitive data and offers protection such as identity and access management, as well as providing controls for data location and movement. Through HPE GreenLake Platform, IT professionals can manage all elements of their edge network and hybrid cloud in one place. This includes networking services from Aruba, an HPE company, which can be managed through the Aruba Central console, as well as data analytics applications like Splunk that can be provisioned through this single pane of glass.
Additionally, when the data that's being created at the edge no longer needs to be analyzed immediately, it can be moved to another part of the organization's hybrid cloud estate for warm or cold storage. Thanks to HPE GreenLake's elasticity and quick provisioning, it's easy to increase storage capacity in the business' private cloud as needed without having to worry about overprovisioning or running out of space.
Edge computing offers up a new world of insights and possibilities. With HPE GreenLake, businesses can make the most of their data in a way that suits them with a true edge-to-cloud hybrid platform.
For more information on edge computing, visit Connect your edge with HPE GreenLake
Get the ITPro. daily newsletter
Receive our latest news, industry updates, featured resources and more. Sign up today to receive our FREE report on AI cyber crime & security - newly updated for 2023.
ITPro is a global business technology website providing the latest news, analysis, and business insight for IT decision-makers. Whether it's cyber security, cloud computing, IT infrastructure, or business strategy, we aim to equip leaders with the data they need to make informed IT investments.
For regular updates delivered to your inbox and social feeds, be sure to sign up to our daily newsletter and follow on us LinkedIn and Twitter.