Margaret Hamilton and Grace Hopper to receive Presidential Medal of Freedom
President Obama names computing pioneers as recipients of Medal of Freedom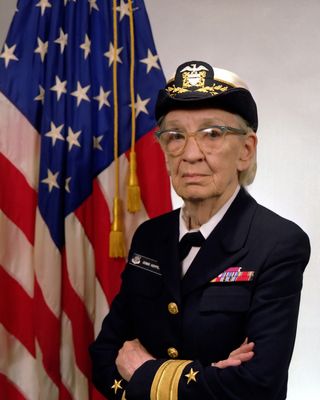 Two computing pioneers are among 21 recipients of the Presidential Medal of Freedom, the highest civilian honour awarded to individuals in the US.
The medal has been awarded to Apollo 11 engineer Margaret Hamilton and rear admiral computer scientist Grace Hopper.
US president Barack Obama named the recipients yesterday. The award is given to those who have made substantial contributions to ensure the safety of the United States or success of public causes.
Margaret Hamilton, whose profile was part of IT Pro's Women in Tech Month, is said to have first coined the now commonly used term 'software engineering'.
Her most renowned achievement was that of developing the error detection software that ensured the Apollo 11 mission was successful and helped put a man on the moon.
Hamilton commented on receiving the award saying: "It is hard to put everything into words until I have had time for it all to sink in. I have been reminded at this time that everyone's support and enthusiasm for what has been accomplished has not only not diminished, but in fact increased beyond what I could have imagined or hoped for. This has meant so much, and because of the award I am reminded by so many of how they are still involved one way or the another in helping to continue on with the software mission we have been involved in for many years."
Hamilton added: "Nothing could have come close to what the award has done for me, personally, in this regard; other than that, of course, of having the support of President Obama, himself, who has made this all possible and for whom I am most grateful."
Grace Hopper, another recepient of the award whose Women In Tech Month profile was published as part of IT Pro's Women In Tech Month, was both a rear admiral and a pioneer in the development of fundamental computer systems.
Hopper, who died in 1992, helped develop some of the first computers ever made, alongside Howard Aiken and John von Neumann.
President Obama said: "The Presidential Medal of Freedom is not just our nation's highest civilian honor - it's a tribute to the idea that all of us, no matter where we come from, have the opportunity to change this country for the better. From scientists, philanthropists, and public servants to activists, athletes, and artists, these 21 individuals have helped push America forward, inspiring millions of people around the world along the way."
The awards will be presented at the White House on Tuesday 22 November.
Other recipients of the award will include:-Kareem Abdul-Jabbar, basketball player-Elouise Cobell, Blackfeet Tribal community leader-Ellen DeGeneres, comedian-Robert De Niro, actor-Richard Garwin, polymath physicist-Bill and Melinda Gates, for the philanthropic work of their Foundation-Frank Gehry, architect-Tom Hanks, actor-Michael Jordan, basketball player-Maya Lin, artist and designer-Lorne Michaels, producer and screenwriter-Newt Minow, attorney-Eduardo Padron, President of Miami Dade College-Robert Redford, actor/director/producer, businessman and environmentalist-Diana Ross, music/film/television entertainer-Vin Scully, broadcaster-Bruce Springsteen, musician-Cicely Tyson, actress
A daily dose of IT news, reviews, features and insights, straight to your inbox!
A daily dose of IT news, reviews, features and insights, straight to your inbox!
Thank you for signing up to ITPro. You will receive a verification email shortly.
There was a problem. Please refresh the page and try again.