TalkTalk CEO doesn't want to standout as "woman in tech"
Tristia Harrison offers solutions to draw more women into the industry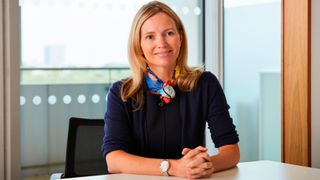 TalkTalk's CEO hopes one day she's no longer described as a "woman in tech" because women will one day stop being a minority in the industry.
In a column in the Telegraph to mark International Women in Engineering Day, the new CEO of the ISP Tristia Harrison said she found it "strange" that people believe "technology is not a sector that appeals to women," describing her own career at Carphone Warehouse and then helping to launch TalkTalk as "exciting and dynamic".
However, she noted that 27% of those in the digital industries are women, with even fewer in engineering roles or in leadership positions. The number of women in technology has been falling, reports suggest.
"Being a 'woman in tech' is something I'm incredibly proud of but I look forward to a time where it is no longer a label I wear, because women are no longer in the minority," she noted.
Harrison's call to arms comes as the British Computing Society reported a "worrying" drop in the numbers of students taking Computing GCSEs, as a shortage of skilled tech workers threatens the industry.
While Harrison suggested one reason women aren't joining tech is because it's believed it lacks appeal, her column comes as sexual harassment is being highlighted across the industry, with Uber CEO Travis Kalanick stepping down following allegations of "bro culture" and systemic sexism at the company, and the founder of a venture-capital fund accused of inappropriate behaviour.
To help redress the balance, Harrison called for more "inspirational education" to help students see the creative side of technology, better visibility of women in the sector to encourage the next generation, and improved employee recruitment and retention. "The wonder of technology means that you can work anywhere," she wrote. "Flexible working is ingrained in our culture at TalkTalk and I think more companies should embrace this to allow women (and men) the flexibility to work alongside their families."
She also called for more investment into bursaries and scholarships, and for more funding for fibre infrastructure though how that will specifically help women rather than ISPs like TalkTalk wasn't made clear.
A daily dose of IT news, reviews, features and insights, straight to your inbox!
A daily dose of IT news, reviews, features and insights, straight to your inbox!
Thank you for signing up to ITPro. You will receive a verification email shortly.
There was a problem. Please refresh the page and try again.