BCS urges action over "worrying" drop in Computing GCSE numbers
Raspberry Pi's Eben Upton accuses government of being "asleep at the wheel"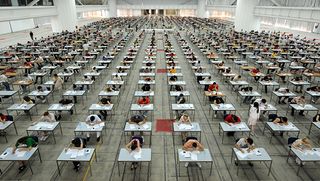 The British Computing Society (BCS) has warned that the number of computing students could fall by as much as 50% by 2020, with experts blaming the shortfall on a lack of government investment in teacher training.
Its warning comes after school exams watchdog Ofqual released figures last week showing that there has been only a 9% increase in the number of GCSE students taking the new Computing qualification, while fewer took the ICT course.
Although the number of GCSE Computing students has risen by 9% compared to 2016, hitting 69,350 pupils, entrants to the ICT course have fallen by almost 18% from 74,750 to 61,500, representing an almost 10% decline in the total number of students studying Computing.
"This is deeply worrying," said BCS education director Bill Mitchell. "Computer Science was only introduced three years ago and is still a new subject for schools. The number of students taking GCSE Computer Science should be growing very rapidly as schools improve their offering to students and students realise the relevance of the subject for whatever they might be doing in the future."
The new Computing qualifications is replacing the old ICT GCSE, which is being phased out after criticisms that it didn't do enough to give students digital skills. Whereas the ICT GCSE focused on generic IT skills, the new curriculum is more focused on fundamentals like programming and logic.
Experts blamed the 10% overall drop in numbers on a lack of investment in teacher training and support for the new curriculum.
"We must ensure that schools are properly equipped to provide the best possible options for students at GCSE and that includes Computer Science," Mitchell said. "Our view is that will only happen where we make sure teachers are getting the right professional development to make GCSE Computer Science a success."
Alongside the BCS, the Raspberry Pi Foundation played a substantial role in developing the new Computing curriculum, and has also put significant work into training teachers in how to properly approach teaching the subject.
Founder Eben Upton told IT Pro that the government is not doing enough to assist teachers in making the jump from teaching the old ICT course to teaching Computing.
"What this is an argument for is more teacher training - that it's not just enough to throw any curriculum at the wall and hope it sticks," he said. "It's not massively surprising, given the paucity of government investment in teacher training for the new curriculum, that the numbers aren't going up as fast as the numbers are going down for ICT."
"On some level, it's a shame that it's left to organisations like us and the BCS to do this, because it's a primary government function to make sure that the people of the country are properly educated. But insofar as the government is asleep at the wheel, we and the BCS and a number of other organisations have been pushing forward."
At AS-Level, students taking Computing dropped 47% from 11,800 in 2016 to 6,150 in 2017, while ICT numbers experienced a similar fall, from 15,300 to 8,700. A-Level Computing numbers rose 25% to 7,700 this year, though ICT dropped from 10,050 to 8,000.
Young Enterprise's chief executive Michael Mercieca echoed Upton's calls for the tech industry to help support the future workforce. "A decline in young people taking computer science courses is bad news for the future of the UK's digital economy," he said.
"Businesses are already grappling with huge challenges around cyber security and artificial intelligence and it's vital that our education system equips the next generation to fill these roles. It's time for industry to reach out and provide work more placements, support and training in schools to help inspire students to pursue careers in the increasing critical technology industry."
However, both Upton and Mitchell cautioned that more data is needed before any definitive predictions can be made about the general trend in Computing education. A-Level entrants to Computing-related qualifications saw a net jump of 10%, for example, and applicants to Cambridge's Computing course have doubled since 2012.
"Ultimately, if the government isn't going to invest in teacher training... we're kind of betraying the teachers, by expecting them to go from teaching ICT to teaching Computing with no support," Upton said. "So if the government isn't going to invest in teacher training, it shouldn't be surprised."
A Department for Education spokesperson told IT Pro: "We want to raise standards of achievement and participation in STEM subjects to ensure our future workforce has the skills to drive the productivity and economy of this country. That's why we have introduced the new computer science GCSE, which has been designed with input from industry experts to develop pupils' computational thinking skills needed for today's economy, including coding and important IT topics such as data storage, networking and cyber security."
A daily dose of IT news, reviews, features and insights, straight to your inbox!
Adam Shepherd has been a technology journalist since 2015, covering everything from cloud storage and security, to smartphones and servers. Over the course of his career, he's seen the spread of 5G, the growing ubiquity of wireless devices, and the start of the connected revolution. He's also been to more trade shows and technology conferences than he cares to count.
As reviews and community editor, he's responsible for leading IT Pro's wide-ranging product coverage, and is an avid follower of the latest hardware innovations. He's never happier than when tinkering with complex network configurations, or exploring a new Linux distro.
In addition to managing the IT Pro Panel and working with the community of IT leaders that make it up, he co-hosts the IT Pro Podcast, where you can hear him ranting about his love of strange gadgets, his disdain for Windows Mobile, and everything in between.
You can find Adam tweeting about enterprise technology (or more often bad jokes) @AdamShepherUK, or you can email him at adam.shepherd@futurenet.com.
A daily dose of IT news, reviews, features and insights, straight to your inbox!
Thank you for signing up to ITPro. You will receive a verification email shortly.
There was a problem. Please refresh the page and try again.