All together now: how to benefit from cloud-based unified communications
Unified comms is the promise of bringing different forms of communications together - is it a good fit for the cloud?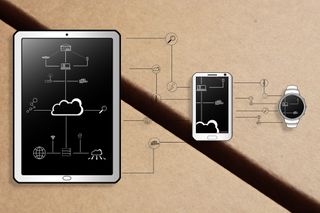 Unified communications is about bringing your mobile and fixed line telephony, email, instant messaging, collaboration and other communications together in such a way that you can manage them as one.
It's a great option for organisations that have a dispersed workforce, or those that want to adopt flexible working practices, as there are clearly some advantages in terms of permitting a your staff to work from home, which in effect helps to reduce carbon emissions and office space. As a practice it is argued that flexible working can also boost employee performance, and experience shows that it can facilitate and encourage a higher level of collaboration.
"Our view is that unified communications and collaboration are business productivity tools to allow individuals and groups of people to work faster, in a more agile and cost-effective way", says Tim Banks - Hewlett Packard UK's unified communications and collaboration portfolio lead. They also allow teams and groups to be formed very quickly in order to complete various tasks and projects. As he rightly points out the individuals involved don't have to be in the same location. He adds that they "allow them to share information, publish content and to complete tasks by permitting them to work in a different way". It also enables them to react, collaborate and share information or documents more quickly than they might do when using traditional working practices.
Director of Product Marketing at Salesforce.com, Xabier Ormazabal, provides some insightful metrics that were collated by MarketTools during a survey. It provided some interesting results, which related to cost reduction and the creation of greater efficiencies. The research study of more than 6,000 customers found that they reported a 33 percent increase in call deflection to a self-service website in call centres.
"This means they wean their customers from a high cost channel that requires human resources to enable web self-service, and it encourages them to move away from email to use other channels too", he explains. Customer cost structures differ in each organisation. He wasn't able to provide any financial figures in terms of what was saved, but it can improve the speed and ability of a call centre to resolve customers' issues by creating a first call resolution rate of 34 percent.
"The call centre managers reduce their cost of service while achieving a higher level of operational efficiency", he says. The research also provides a case for collaboration, showing that unified communications can lead to a 32% reduction in email volumes, 49 percent faster rate of information-sharing, and it leads to 28% reduction in meetings.
This is possible with Salesforce's cloud-based Chatter solution; you can create groups that are focused on particular topic areas "with open collaboration and an opt-in capability to relevant and role specific information", Ormazabal says.
Chatter, which is a secure enterprise social network, can also be integrated with an organisation's CRM system. Only users from within the organisation can use it, and there are also other cloud-based solutions to consider using with Chatter like Live Agent. You can extend this level of collaboration with solutions that enable partner management too.
Not so together
However CA Technologies' Cloud Advisor, Gregor Petri, warns that, despite the name, unified communications – whether cloud-based or not – are not that joined together. "The term was invented when people wanted to integrate email, fax, voicemail and SMS text messaging", he proffers. These were combined by being received in one inbox, but "at that time nobody had thought of Twitter, video conferencing, online meetings with solutions like Webex and all of the things that are part of social media" he adds.
Things have changed because most individuals and companies want to use this kind of technology, whether they know it's called unified communications are not, for both private and business purposes. He mentioned Yammer as an alternative to Chatter before talking briefly about CA's own offering called OpenSpace that offers all-round IT support.
"It enables users to find help for their IT devices or applications, regardless of whether they are corporate business ones or personal devices that they use for business purposes", he explains. Users can use OpenSpace to communicate with support staff, with each other or to browse through previous chats on a particular topic or issue. "Companies are predominantly using cloud providers to supply these new communication functions, and people want to have access to the functionality of things like Yammer, Chatter or OpenSpace", he says.
Providers manage the infrastructure
What they don't apparently want is the responsibility for the running of the underlying infrastructure. Cloud service providers offer a solution to this issue, and even tools like web conferencing are being mainly accessed as a cloud service. The cloud offers a number of other business benefits too, but the key one relates to cloud service providers offering and managing the necessary infrastructure for the unified communications within the cloud to deliver pre-defined business benefits. Banks agrees: "Deploying some elements of unified communications in the cloud can reduce the implementation time and effort that would otherwise be required by an organisation; the burden is removed from internal IT and placed on the cloud service provider."
Organisations can also take advantage of the economies of scale that are commonly offered by a cloud service provider, yet there will be a trade off between some of the features and any need for customisation. He thinks that a hybrid model is therefore the most likely design and deployment model to be adopted. It poses a number of challenges, particularly as it might not be possible to integrate legacy systems within this cloud-based approach. In this case the benefits of 'unified communications' can quickly become diluted. Some of the components will remain isolated, and therefore present a more fragmented communications spectrum.
"There are advantages to cloud-based and on-premise solutions, and enterprise organisations have varying business requirements", says Scott Hoffpauir, chief technology officer at Broadsoft. So organisations should work with their cloud service providers, as there may be more than one offering difficult elements of the eventually 'unified communications' product, to analyse business needs and to work out where the key benefits to the business lie. It will also help to realise which tools are likely to have a positive impact on individual, team and organisation productivity and collaboration.
At the end of the day customers have to make a choice between the various deployment models. Tim Stone, European collaboration director at Cisco, advises that organisations should not be restricted to one model alone. "They need to choose a model that makes sense for their business, or have access to the best of both owned and managed worlds", he adds before suggesting that they should try to find a cloud provider that offers the full spectrum of deployment models. "Flexibility is critical for attaining and maintaining a competitive advantage as new collaboration technologies become available", he says. This means working with a cloud provider who can offer a service that brings it all together: disparate applications, devices and IT environments.
Integrated and consistent
By doing this it becomes possible to offer an integrated and consistent user experience across a variety of workspaces. Stone then discloses that Cisco delivers its own service using dedicated and virtual applications, allowing the customer to gain "the benefits of dedicated software, without the need to manage the systems that deliver the service while offering a complete portfolio capability." This comprises of voice and video calling, unified voicemail messaging, presence and instant messaging, a wide variety of mobility features, web and audio conferencing, and contact centre technologies.
BT offers its solutions through BT Global Services, and helps customers to create a roadmap to define which tools should be included in the unified communications mix. This includes the potential for integrating its own solutions with those of Microsoft (eg. Microsoft Office 365, the cloud-based version of the popular Office suite, Microsoft Communicator and its web conferencing solution called Live Meeting) and those that are offered by Cisco.
Simon Farr, head of marketing for unified communications and collaboration at BT Global Services, says: "It's not quite as straightforward as some would believe; the challenge of delivering the level of global collaboration that the large enterprises are seeking is not to be underestimated, and so the key to success is the adoption of a clear roadmap approach, which will in turn deliver to the organisation the business benefits that collaboration creates."
Organisations that have benefitted from unified communications within the cloud include National Express, fixing and assembly materials company Wurth Group, Belgian telecoms provider Belgacom, Reed Exhibitions and London 2012. However, unified communications is also available for the SME.
Cultural shifts and security
To some extent, no matter how big or large your organisation is, there will need to be a cultural shift and change of mindset from the traditional control-focused management approach to one that allows staff and partners some choice about which communications tool sets they would like to use, and how they will use them. Gaining advocacy from those that are going to use the unified communications tools is the first step towards achieving the business benefits. It's a prerequisite.
Some fragmentation will nevertheless remain, but with the right functions in place it's possible for everyone to pull together and to focus on what matters most to them. It's also important to educate users about the importance of security. Petri concludes: "You can't hold your employees' and partners' hands all of the time, and so you need to be aware of the smart things to do". This also means that organisations, those that buy cloud-based or on-premise unified communications, need to encourage effective communication in order to offer better service for the benefit of their own customers. This is why internal communication is becoming an important competitive differentiator, and it provides us with a reason to say, "All together now!" and to work more collaboratively.
Stay up to date with the latest news and analysis from the world of cloud computing with our twice-weekly newsletter