What is NFV and why is it important?
Networking plays a key role in cloud success, so we need to give it the love it deserves, according to Rene Millman...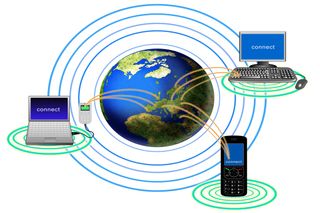 While servers have become increasingly virtualised and formed the basis of cloud computing, it has only been in the last couple of years that serious attention has been paid to the networking side of things.
Cloud Pro has previously discussed the the importance of software-defined networking (SDN), but there is also another technology that may also prove useful to anyone setting up cloud infrastructure – Network Functions Virtualisation (NFV).
NFV is a very different mechanism to SDN, according to Mark Burton, vice president of technical strategic alliances at Ipanema. "NFV consolidates entire classes of node functions in order to reduce the number of physical devices needed on the network, leaving one device with all the services linked together logically," he says.
"SDN on the other hand aims to allow greater visibility and control over the network by separating the data and control planes."
Both NFV and SDN are part of a shift in the industry towards application and networking virtualisation, but many organisations are still at the stage of asking what NFV is and why it is important to the cloud and their IT infrastructure.
Marcus Jewell, vice president of Brocade in EMEA, says that NFV takes the network processes that are traditionally associated with specialised proprietary hardware (such as routing, firewalls, and application delivery controllers) and converts them to virtualised software platforms that can run on standard commodity hardware, most commonly x86 servers.
"These functions can then be moved within a network on demand and scaled up and down as needed, without the delay and cost of installing new hardware devices," he says.
According to Jay Perrett, founder and chief technology officer of Aria Networks, NFV can, amongst other things, provide a means of optimising computing, storage and capacity assets in a cloud quickly and effectively using software and industry standard servers.
"It will have a profound effect on how CIO's operate in the future both in procurement and sales," he says.
A cloud network is made up of a number of components that work together to deliver a service. For example, firewalls, load balancers, TOR routers and so on. "NFV can optimise the capability of these services so that they are performing at the most efficient level, subject to rules governing the performance of the service (speed, uptime, etc.) and scale in/out on demand," he adds.
Jewell adds that NFV allows appliance-type tasks that were formerly handled by expensive, dedicated equipment to be being moved to NFV-aware equipment that can be configured to serve multiple purposes, virtualising the tasks formerly assigned only to the dedicated hardware. "This will enable the use of powerful, low-cost server hardware, and give organisations the ability to deploy and/or update services much more quickly," he says.
Pete Christy, director of networking at analyst firm 451 Research, says that another aspect to NFV is the adaption of high-level network processing to modern data center computing.
"Network configuration of load balancers or application firewalls used to require the tedious mounting, wiring and network configuration of appliances, and with NFV that can be replaced by automated provisioning of commodity servers to do the function and "wiring" them in onto the overlay network," he says.
For Christy, in an enterprise this would make it simpler to use these functions and let the application teams design and manage their networks as they see fit.
"In the mobile operators and network service providers NFV plays a much more important role by enabling more agile business operation without which their businesses are at risk to the "over the top" alternatives," he says.
But, if NFV plays an important role in increasing agility, just how does it do it? Shaul Rozen, director of product strategy at Amdocs, says that the technology can reduce time to market of network dependent services, as well as reduced operational costs through increased utilisation.
"For example, in an NFV proof of concept, a financial industry customer who was required to record several business calls due to regulation could not offer service until the voice recording service was in place," he says.
"Utilising NFV technology, the service provider is able to activate the service within minutes of the order, a process that used to take several weeks."
He also says that NFV brings cloud computing technology to the datacentre (especially telecoms ones) and could provide a way to build complex applications.
"It would be very easy to scale applications that have increasing and varying demand and consume more generic resources to serve them with high quality of experience," he says.
It would also be easier to integrate different applications, since functions are more software driven and come with a growing number of APIs and compatibility with open standards. This means that network functions can more easily interact. Having software based virtual network functions also enables the organisation to make them more modular and extendable.
"This is different to how they are today, where what you originally buy determines what you can do (in most cases) over the lifecycle of the product or function," says Rozen.
Over the next year or two, developments in NFV will allow applications will be cloud-enabled and re-written to scale-out, experts predict.
"On the software side, a new breed of innovative start-ups are entering the market with new scale-out Telco apps," says Martin Halstead, chief technologist of network functions virtualisation at HP in EMEA.
"On the infrastructure side, commodity chipsets will become part of an end-to-end solution for NFV, replacing proprietary ASICs and closed hardware architectures."
Rozen says that we should expect NFV to grow from proof of concept to mainstream adoption on carrier networks.
"NFV is critically important to CSPs to enable them to compete with each other, as well as with OTT players, such as Google and Amazon. In many respects NFV will not only be important in the future – it is the future as far as CSP networks are concerned," he says.
Halstead adds that CSPs who choose not to support NFV will over time render themselves irrelevant as NFV takes hold as a fundamental building block of the new architecture for Telco networks.
"For the first time, CSPs will have access to an entire portfolio of products, services and ecosystem partners, whereas earlier attempts have been primarily singular, closed efforts designed to suit the incumbent vendor, rather than the CSP," he says.
"While it won't happen overnight, NFV will transform the industry: There's no going back."
Stay up to date with the latest news and analysis from the world of cloud computing with our twice-weekly newsletter
Rene Millman is a freelance writer and broadcaster who covers cybersecurity, AI, IoT, and the cloud. He also works as a contributing analyst at GigaOm and has previously worked as an analyst for Gartner covering the infrastructure market. He has made numerous television appearances to give his views and expertise on technology trends and companies that affect and shape our lives. You can follow Rene Millman on Twitter.
Thank you for signing up to Cloud Pro. You will receive a verification email shortly.
There was a problem. Please refresh the page and try again.