Managing the cloud money pit
As the cloud model starts to dominate enterprise computing, how can buyers ensure they are getting value for money?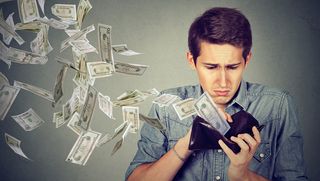 (Image credit: Shutterstock)
Despite the growing popularity of cloud computing, organisations still struggle to control costs. Research from Flexera, a provider of IT management software, shows 84% of enterprises find optimising cloud costs a growing challenge. The 2019 survey of 786 technology professionals also found organisations underestimate their wastage, putting it at 27% of cloud spending whereas the real figure – according to Flexera – is around 35%.
Part of the problem is the shift from the old world to the new, as organisations lift more of their applications and infrastructure to the cloud, according to Adrian Bradley, cloud advisory lead at KPMG
"With on-premise contracting, you get a set of unit prices and service levels, you negotiate with a provider, and then that will be a one-off procurement exercise that lasts three to five years. You set the value within that initial negotiation, and everyone can go home and leave it to relatively junior people to execute the contract because the unit prices have protection," he tells IT Pro.
In the cloud, however, decision-making can often be handed down to junior developers and infrastructure managers, but pricing can be very dynamic with complex discount arrangements. "The consequence is that the cost of cloud has actually been more than expected," Bradley explains.
The challenge of controlling costs comes in two parts. Firstly, can organisations exploit the standard price structures of the big cloud vendors to help them get better value for money? And secondly, can organisations try to negotiate their own 'special' deals from cloud vendors, and get better value than the standard price structures offer?
RELATED RESOURCE
A fast guide to finding your cloud solution
One size doesn't fit all in the cloud, so how do you find the best option for your business?
On the first question, KPMG's Bradley says mature organisations are finding ways to get more bang for their bucks.
In AWS, for example, prices are mostly baked into reserved instances, where users commit to a certain level of compute for a certain period, with incremental discounts in line with how much they commit.
"Mature users on cloud have become quite sophisticated in planning effectively around that," he says.
Organisations can also get better deals depending on when they reserve computing power. "There's an element of arbitrage, because it's a bit like looking for holidays. If you book early, you get a good deal."
But, in a similar vein, there are bargains to be had in last-minute deals in cloud computing spot markets via companies such as Spotinst and Cloudability, Bradley says.
"And just like a holiday, if you book late and you're unfussy about where you go, then you can also get a great deal. That's not something that's part of the initial negotiation, and what you have to work out is how you can best make use of the economic models the cloud providers have created," he says.
The second question addresses whether organisations can negotiate away from the standard price structure. It's possible, but only for the world's largest corporations such as multinational consumer goods firms and banks, Bradley says.
"If you hit that threshold of scale and you're talking about really substantial workloads, then you can have a specific negotiation. That does get you a little bit further," he says.
To lower prices further still, large businesses can propose creative deals with cloud providers. For example, BP, the oil and energy company, has agreed to supply AWS with 170 MW of renewable energy as part of its cloud computing contract.
But to negotiate, organisations have to prepare. Their chances of success depend as much on the measures they put in place internally as they do on their approach to suppliers.
Mike Jette, industry lead for telecoms, media and technology at procurement outsourcing firm GEP says: "In the early days, it was like the wild west. In a lot of organisations, tons of different people were buying cloud services in an uncoordinated fashion, trying to align with their strategic objectives with very little structured governance or procurement. It was just a lot of people trying to say, 'hey look I moved to the cloud'."
How organisations manage their cloud consumption is half the challenge in getting more value, he says. "You need to be thoughtful on the buy side, but the management side is really important to maintaining costs and getting value out of the service providers."
This means understanding how much the organisation is consuming, and how that might vary, he says. "To get leverage [with suppliers] you have to have management and controls in place. The early adopters have gone through this exercise and they've taken 30%-plus of the cost out."
If they go to market with enough volume, there is always room to negotiate, he says. "You need to have a sense of what the estate looks like and where it's going to grow to, but there's definitely an opportunity to negotiate. The cloud service providers like to talk about their market share: they're in the business of buying volume now," he says.
To get the best deals from suppliers, organisations need to understand and predict the volumes they will require. It can be a thankless task and even goes against some of the advantages of cloud computing, says Matt Yonkovit, chief experience officer at Percona, an independent consulting company that helps move open source databases to the cloud.
RELATED RESOURCE
A fast guide to finding your cloud solution
One size doesn't fit all in the cloud, so how do you find the best option for your business?
Although organisations can create guardrails to try to guide developers to certain platform providers and solutions, many still want the freedom to choose. Meanwhile, the cloud providers offer so many services – as many as 180 from AWS for example – each with a separate pricing structure, that estimates of demand are often inaccurate, he says.
While there are machine learning tools that can help, some organisations want to burst out workloads to support business demand: ecommerce companies supporting Christmas shopping, for example.
Just as important as forecasting demand is to ensure applications and databases are configured to the cloud environment and minimise consumption, he says. "People don't understand the shared responsibility model, and that causes most of the extra spend. Understand the technology and optimising system can reduce costs."
The big three cloud providers – which command more than half the market between – may have the upper hand in negotiating with customers. But buyers are strengthening their position by better understand and controlling their demand, exploiting spot markets, and better configuring their technology. Excelling in these areas will build value for cloud buyers.
Get the ITPro. daily newsletter
Receive our latest news, industry updates, featured resources and more. Sign up today to receive our FREE report on AI cyber crime & security - newly updated for 2023.