Dropbox adds support for Microsoft Office co-authoring
It means those using Box, Egnyte and Dropbox's online storage and collaboration can edit documents in real time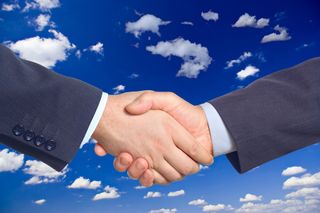 Dropbox has announced support for real-time co-authoring with Microsoft Office Online applications including Word, Excel and Powerpoint.
The update means those using Dropbox's online file storage and collaboration can edit documents at the same time, with changes being reflected in the document instantly. Employees are also able to add comments to documents, so their colleagues can see what they're changing and why.
Dropbox also announced support for attaching Dropbox files directly from Outlook.com email, meaning those using Microsoft's email application don't have to manually download and attach documents or media to their emails.
"This announcement is just the next step in our journey to make Office files more accessible no matter where they're stored," Kirk Koenigsbauer, corporate vice president, Microsoft Office said. "We're excited that Dropbox customers now have the capabilities to co-edit files in Office Online. They can now also send documents directly from Dropbox within their Outlook.com account, allowing them to better collaborate regardless of their device or location."
These integrations are the latest additions to Dropbox, following announcement of a Windows 10 application debuting last week. The app gives Windows 10 users instant access to photos, documents, and files "anytime, anywhere," the company said.
Yesterday, both Box and Egnyte also announced they would be adding co-authoring into their storage and collaboration products.
28/01/2016: Microsoft announces co-authoring with Box and Egynte
Microsoft has announced a number of new collaboration-focused additions for Microsoft Office, across its online, iOS and desktop applications, with partners Box and Egnyte.
The newly introduced co-authoring features mean users can make edits to Word, Excel and PowerPoint files stored in Box and Egnyte's clouds. Changes by anyone in the organisation are reflected in the original files in real-time, meaning there's no doubt whether they file they have access to is the most up to date or not.
"Openness and interoperability have transformed enterprise software," said Aaron Levie, co-founder and CEO of Box. "Box and Microsoft are delivering an unparalleled collaboration experience where customers have seamless access to their business content regardless of device or platform."
Kirk Koenigsbauer, corporate vice president of Microsoft Office said real-time co-authoring will offer organisations enhanced flexibility and a more seamless experience for employees using Office applications.
One additional feature of Egnyte's implementation of co-authoring is that it is not only available on cloud environments, but for files stored on-premise too.
Paul Creed, technology project director at Kent State University, which is using the co-authoring function with Egyne added: "The ability to use existing applications — that are familiar and part of everyday workflows — in conjunction with our Egnyte account has improved productivity in such a seamless way, which allows our staff to focus on the task at hand."
Box also announced updates to its Office for iOS and Outlook.com applications. The iOS app now allows users to create and edit Office files saved in Box directly from Microsoft Word, Excel and PowerPoint apps for iOS, while those using Outlook.com will be able to attach files directly from Box without downloading them onto their computer first.
Stay up to date with the latest news and analysis from the world of cloud computing with our twice-weekly newsletter
Thank you for signing up to Cloud Pro. You will receive a verification email shortly.
There was a problem. Please refresh the page and try again.