How to use iCloud
If you have an iCloud account you also have storage, but how do you use it? Here's how...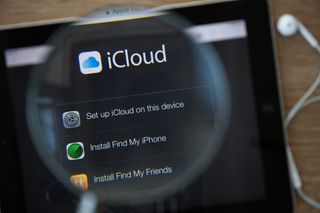 (Image credit: Shutterstock)
Apple's iCloud isn't just a way to store images and settings from you iPhone or iPad. It is much more than that. aIt is a full application suite as well, allowing access to your files on whatever iOS device, PC or Mac you are using.
All Apple's devices come with iCloud preinstalled, Users get a free 5GB storage allocation as standard. It also integrates with many third-party services to help you get the most out of your cloud storage. This guide will show you everything you need to know about using iCloud, including setting up an account, syncing your data across devices and installing it on a PC.
What is iCloud?
iCloud is a service provided by Apple to sync data between Macs, iPads and iPhones. It also keeps a copy of your data in the cloud. Data synced includes photos, contacts, Apple documents, reminders, various other files and app data.
1 – How to use iCloud
The present incarnation has changed from being just a way for apps to sync data across devices to a full-blown cloud storage service competing with the likes of Dropbox and OneDrive.
Every iOS device (iPhone, iPad and iPod) user gets 5GB of free storage to use across all their devices. There are also paid plans, including 50GB for 79p per month, 200GB for £2.49 per month and 1TB for £6.99 per month.
2 – How to create an iCloud account
Users can sign up for an iCloud account on an iPhone, iPad or iPod Touch with iOS5 or later installed. Mac users can also sign up through the System Preferences app on a Mac with OS X Lion of later.
Set up Apple ID
To set up iCloud, you need to set up an Apple ID. As well as using this for iCloud, it is also used for purchases through the App Store.
To create an Apple ID, you will need:
A valid email address to use as your Apple ID;
A strong password;
Three security questions and answers to verify your identity or reset your password, and your date of birth.
You can create an Apple ID when you set up a new device or when you sign into iTunes or iCloud for the first time. Each has a guided setup process to create an ID you will need for iCloud. If you are going to use your Apple ID for purchasing from the App Store or iTunes, you may need to provide credit card details too.
When setting up an Apple ID you can either use a current email address or you can create a free iCloud email address. A good tip here is to enter a rescue email address when asked, as this will help in recovering lost or forgotten passwords.
Finally, accept the terms and conditions and you are done here. With the Apple ID set up, you then just need to enable it on all the devices you want to use it on.
3 - How to use iCloud on a Mac
You need to be running OS X Lion or newer to use iCloud on Mac. If you can, try to upgrade to the latest version of OS X (at the time of writing OS X 10.11 – El Capitan). This will ensure you are able to use all the features of the service.
If you didn't do so when you first set up your Mac, you can set up iCloud by clicking on System Preferences (click on the Apple logo, then click on System Preferences) and click on the iCloud icon.
Then enter the Apple ID you set up previously. Once that is done, you can tick boxes to enable iCloud for mail, contacts, calendars, reminders, notes and Safari. You can also tick the "Use Find My Mac" box. This will enable you to locate your machine if it gets lost or stolen and wipe it if necessary.
You will also need to enter your Apple ID password to set up iCloud Keychain. This is a basic password manager that is used across all iDevices.
When that is set up, the iCloud preference panel allows you to enable different features, such as iCloud Drive and the syncing of photos, mail, contacts, calendars and so on. Once any of these are ticked, data from these is synced across all devices without any further interaction from the user.
iCloud Drive is a major part of iCloud. When this is enabled, files can be stored in a special folder and files here are synced across all devices using the same Apple ID. When deleted from one device, iCloud Drive will also delete the file from all other devices.
4 - How to use iCloud on an iPhone or iPad
You can enable iCloud on your iPhone by tapping on the Settings icon on the Home screen, selecting iCloud and then entering your Apple ID.
As with the Mac, you can enable different features to sync across different devices. Most features can be enabled by swiping the slider across for such things as mail, calendars, contacts, etc. To enable iCloud Drive, tap on the option. This brings up another menu where you can enable iCloud drive, and show the iCloud Drive app on the home screen (iOS 9 or later devices only). Here you can also specify which apps can access iCloud Drive, such as Dropbox, Word, or WhatsApp (if you have these installed).
To access the iCloud Drive directly, tap on the app on the home screen. This will bring up the contents of the drive. You can tap and hold an icon of a file you want to access. When tapping and holding, this brings up a menu where you can rename, delete or share an item. This is useful if you want to attach the file to an email or message.
5 - How to use iCloud on Windows
Although iCloud works in a very similar way to Mac on Windows, it is nevertheless a slightly different beast. While iCloud is baked-in with the Mac and iPhone, you have to download the application from Apple if you want to use it on PC.
Once installed, you have to restart Windows for the application to run for the first time. After signing in with your Apple ID, iCloud on Windows allows you to access the contents of your iCloud Drive as well as Photos.
Here it differs further from the Mac. Mail, calendar, and contacts work hand-in-hand with Outlook while bookmarks sync with Internet Explorer, Chrome, and Firefox on the PC. (At the time of writing there appears to be a problem with iCloud mail, calendar and contacts syncing properly with Outlook 2016 on Windows 10). This means you either have to set up your iCloud email manually or use the browser-based version of iCloud.
iCloud Drive appears as a folder (much like any other cloud storage service). Add a file here and it will sync to all other iDevices and the Mac as well. iCloud Photos exists as another subheading under the Pictures folder in Windows.000000.
6 - How to use iCloud on an Android device
There is no official app for Android devices. There are a number of third-party apps that claim to sync up, though.
Android users can visit icloud.com, but this results in a sneaky warning message that your browser is not supported by the iCloud service. But users can be sneaky back. Downloading the Dolphin browser (or any browser that you can change the user agent on) will allow access.
In Dolphin, simply tap on the Dolphin icon on the browser bar, tap on "Advanced" and select User Agent under the "Customise" options. Change the user agent to desktop (rather than iPhone or iPad) and you can log into iCloud using your Android.
Unfortunately, the experience isn't that great and can be very slow, but, at least, you can access the iCloud Drive as well as other iCloud services.
There are some caveats too. Some files are hit and miss when it comes to uploading to iCloud Drive. Photos can be uploaded, but Word docs refused to, citing problems with uploading "folders" to iCloud Drive (we were trying to upload a file).
7 - How to use iCloud services
Document and data sync
Every iOS and Mac user gets 5GB of free space on iCloud. Primarily, iCloud is a document and data sync service with apps updating in the background so that all iOS devices and Macs collectively synced data from a central server on a regular basis. iCloud keeps mail, calendars and contacts updated and synchronised on all devices you own.
iCloud Backups
You can back up your iPhone or iPad's data to iCloud. This includes data such as purchased content (music, apps, and books), your Camera Roll, device settings, data, home screens, messages, and ringtones. If you are a heavy iPhone user, however, that 5GB won't go very far at all.
Find your iPhone/iPad/Friends
You can use iCloud to locate missing iOS devices through the Find iPhone app (which will locate iPads and Macs as well) and the Find My Friends app (which locates friends with iOS devices on them).
Purchased content
With your free iCloud account, you can access records listing every purchased track, video or app bought via iTunes. For an extra fee, you can access your entire library across multiple devices via iTunes Match.
8 - How to use iCloud backup and restore
You can use iCloud to automatically backup data whenever your device is charging, locked and connected to Wi-Fi. To check if this is happening, ensure you are connected by Wi-Fi and tap on Settings, iCloud. Tap on Backup and then Back Up Now.
To restore from iCloud, tap on Settings, General, Reset, then tap "Erase all content and settings." In the Setup Assistant, go to "Set up your device," tap Restore from a Backup, then sign in to iCloud. Tap on "Choose backup," then choose from a list of available backups in iCloud.
9 - How to delete iCloud backups permanently
If you want to free up space in your iCloud storage, then you can always delete any backups for your iOS device. Especially if you have moved to a new iPhone or iPad.
Before you remove the backup, if you are using the backup to restore a device or move data to a new one, you have to allow that restore to finish.
To remove a backup using your iOS device, tap on Settings, then iCloud, then Storage, then tap Manage Storage. Tap on the name of a device whose backup you don't need, then tap on Delete Backup. This works on devices running iOS 8 or above.
10 - iCloud tips and tricks
Turn on Family Sharing
With the introduction of iOS8, iCloud allows users to share apps, music, movies and books with other members of your family without the need to purchase them separately. This also allows you to control what your kids buy from the App Store or iTunes.
To set up Family Sharing, tap on the iCloud in Settings and then tap on Family to add members to your account.
Share your location
With iCloud, you can share your location with friends and family. This not only includes those members of your family in your Family Sharing group but also friends you choose in the Find My Friends app.
To enable this tap on Settings, then iCloud, then scroll down to Advanced Settings. Tap on Share My Location, enable this and set the device you want to use. Here you will find a family member you can share with. To add others, add them in your Find My Friends app.
11 - How to troubleshoot iCloud problems
Solving sync problems
If for some reason iCloud isn't working properly across devices, you can take a few steps that might rectify any issues you have with the service.
First make sure all devices are running the latest operating system. iPhones and iPads need to be running iOS 8 or above and Macs need to be running OS X 10.10 Yosemite or later.
Ensure that iCloud Drive is enabled for each device, In iOS, go to the Settings app, then iCloud and make sure iCloud Drive is switched on. On a Mac, go to System Preferences, then tap iCloud and make sure iCloud Drive is checked.
If neither of these solutions solve the problem, you can check Apple's iCloud System Status page.
if Use Mobile Data is turned off in the iCloud Drive view, iCloud will only sync when your device is connected to a Wi-Fi network.
Stay up to date with the latest news and analysis from the world of cloud computing with our twice-weekly newsletter
Rene Millman is a freelance writer and broadcaster who covers cybersecurity, AI, IoT, and the cloud. He also works as a contributing analyst at GigaOm and has previously worked as an analyst for Gartner covering the infrastructure market. He has made numerous television appearances to give his views and expertise on technology trends and companies that affect and shape our lives. You can follow Rene Millman on Twitter.
Thank you for signing up to Cloud Pro. You will receive a verification email shortly.
There was a problem. Please refresh the page and try again.