Arriva opts for private cloud to deal with increasing demands on ticketing website
Private cloud replaces dedicated servers to handle spikes in traffic and cope with future demand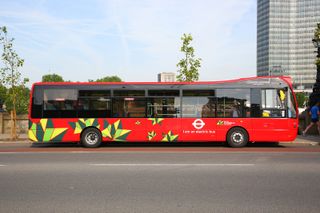 Arriva Bus was faced with a growing number of passengers and an increasing demand for real-time access to bus information from mobile devices. To that end, the firm knew it had to update its online ticketing facility to cope under pressure. The firm saw that the cloud could help it deal with the strain its traditional infrastructure could not.
The firm runs bus services across the UK, carrying an estimated 770 million passengers each year. Its website serves not only as a reference point for customers' information including timetables and service updates, but also as an ecommerce site so that passengers can book tickets for travel throughout the country.
The original Arriva Bus infrastructure was hosted on dedicated servers, with an over-engineered set up that struggled to handle traffic spikes - typical of a transport company. With a website receiving traffic all day, every day and with vulnerabilities to seasonal demand and peak hours, the company needed something that was highly available, resilient and scalable.
Decision time: private or public?
Rather than moving to a fully public cloud, Arriva Bus decided that its new infrastructure and website should be on a hosted private cloud. It took a two-pronged approach to fixing the problem. It wanted a new website that could be accessed by passengers with mobile devices and refreshed the underlying infrastructure to boost security and stability.
After considering a number of other companies, it chose Freestyle Interactive to design a new ecommerce platform that allows passengers to access ticket purchasing facilities, up-to-the-minute service information and route details on the go via desktop computers and mobile devices.
The bus company also needed underlying infrastructure that would cope with traffic spikes but would still be stable and secure enough to deal with the financial transactions the ecommerce site carried out. After deliberation, it chose Six Degrees Group's (6DG) resilient, secure private cloud hosting infrastructure to underpin the environment.
"With the constant change and development in mobile technology we are seeing more and more demand for clients to have a payment system that its customers can access from the convenience of their home and on the move," says Freestyle Interactive technical director Paul Taylor.
"This was the case for Arriva Bus – it needed a ticketing option that its customers could access whilst travelling at any point of the day and at any location," he says.
Scalable hosting with a fully managed backup
Six Degrees Group deployed a highly available, elastic and scalable web-hosting platform with a fully managed backup and disaster recovery service in a geographically diverse location. The primary environment is set up on a single-tenant private cloud hosted in a dedicated rack in the 6DG Tier 4 datacentre.
The private cloud consists of three HP blade servers with 3Par storage area network for live storage. The virtualisation deployment consists of 12 virtual machines spread across the five physical systems in high availability mode with VMware as the hypervisor. The virtual machines consist of a mix of production web servers, development web servers, back-end databases and caching servers. Being fully scalable, a private cloud configuration allows for additional resources (physical and/or virtual) to be added, facilitating either short-term bursting or long-term growth.
Hybrid cloud configuration
The infrastructure is backed up on a second environment sitting on a virtual private cloud on 6DG's multi-tenant platform in London. With fully managed backup for storage with reserved compute power matching the primary environment, this hybrid cloud configuration allows both full disaster recovery and the potential for additional burst capacity. Arriva Bus opted for an SLA for the Recovery Point Objective (RPO) and Recovery Time objective (RTO) of 24 hours and four hours respectively.
"Six Degrees Group was able to work with us to create and provide a hosting platform that met the brief and as mobile continues to increase in popularity this solution will become crucial to Arriva Bus' operations and to its customers," says Taylor.
The unique dual-zone two-site primary and secondary hosting platform allowed the site to be built with a phased approached, making it more flexible for building, testing and deployment. This meant that Arriva Bus could roll out the new online ticketing and information service to the public while maintaining security of its data. This data was also safe as it was underpinned by the offering's business continuity and disaster recovery service.
Mobile access to the cloud and beyond
The ticketing website can be accessed by mobile browsers as well as iPhone, iPad, Android and BlackBerry apps. This private cloud is also able to stand up to the significant increase in traffic it faces, with cloud scalability built in. The infrastructure has a virtual private cloud twin environment delivering managed backup and disaster recovery services for resilience, diversity and worst case scenario contingency planning.
"When designing the new website we knew it was important to use a suitable hosting platform that would take into account the current and anticipated requirements of the site," says Mike Woodhouse, marketing manager at Arriva UK Bus.
"With 770 million passengers travelling on Arriva UK buses each year, it's likely that the traffic to the website is going to increase significantly so this solution needed to have the potential to scale up."
Woodhouse says that the private cloud has the resilience to handle customer traffic both now and in the future as the firm expands and passenger numbers increase.
Stay up to date with the latest news and analysis from the world of cloud computing with our twice-weekly newsletter
Rene Millman is a freelance writer and broadcaster who covers cybersecurity, AI, IoT, and the cloud. He also works as a contributing analyst at GigaOm and has previously worked as an analyst for Gartner covering the infrastructure market. He has made numerous television appearances to give his views and expertise on technology trends and companies that affect and shape our lives. You can follow Rene Millman on Twitter.
Thank you for signing up to Cloud Pro. You will receive a verification email shortly.
There was a problem. Please refresh the page and try again.