How to Photo Stream in iCloud
How to set up Photo Stream to show your pictures on any of your iOS, OS X and Windows devices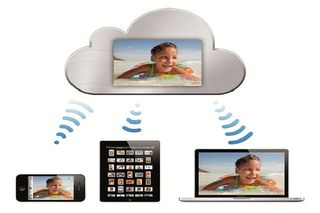 Photo Stream is a handy feature in iCloud that automatically syncs pictures you take across all the devices you own. This means an image you took on holiday with your iPhone will automatically be on your iPad or Mac without having to connect them by cable.
Photo Stream will save either the last 1,000 images or 30 days' worth of pictures (whichever is greater). The best part of this is that it doesn't use any of your iCloud storage.
But how do you set up Photo Stream in iCloud? Read on to find out...
What is the difference between My Photo Stream and Camera Roll?
When you take pictures on your iPhone or iPad, it can seem like it is saving your pictures to two places on your device, but it isn't. Images in Camera Roll are located on your device, while images in My Photo Stream sync in the cloud to other devices.
On your iPad and iPhone
To enable Photo Stream on your iPhone or iPad, tap on Settings, then iCloud, the Photos, then turn on My Photo Stream.
With that feature switched on, any new photo taken with your iOS devices upload to iCloud when the device is connected via Wi-Fi. These images automatically appear in My Photo Stream when iCloud Photo Library is disabled. If iCloud Photo Library is enabled, pictures become part of your photo library and appear in All Photos.
These images will also appear on My Photo Stream on other devices, including devices running iOS 7, Macs where iCloud Photo Library is turned off, Windows PCs and Apple TV.
On a Mac with Photos, iPhoto or Aperture
To enable Photo Stream on a Mac, click on System Preferences, then iCloud. You must then tick the box for Photos (or Photo Stream). Select Options to see if My Photo Stream is enabled. It would also be a good idea to see if your favourite Apple photo app (such as Photos, iPhoto or Aperture) has My Photo Stream enabled too.
On a Windows PC
Unlike on a Mac, iCloud has to be installed in Windows. You can download iCloud for Windows here. Once installed, open up the application and turn on Photos. My Photo Stream is set up by default. To turn it off, click Options, then turn off My Photo Stream. To change the iCloud Photos location on your computer, click Options. Click Change to choose a folder, then click OK, then click Apply.
On Apple TV
To enable Photo Stream on your Apple TV, use the remote control to go to Settings, then iCloud. Select Sign In, press the centre button on the remote, then follow onscreen instructions to enter your Apple ID and password. Select iCloud Photo Settings, press the centre button on the remote, choose Turn On My Photo Stream, then press the centre button on the remote again.
Stay up to date with the latest news and analysis from the world of cloud computing with our twice-weekly newsletter
Rene Millman is a freelance writer and broadcaster who covers cybersecurity, AI, IoT, and the cloud. He also works as a contributing analyst at GigaOm and has previously worked as an analyst for Gartner covering the infrastructure market. He has made numerous television appearances to give his views and expertise on technology trends and companies that affect and shape our lives. You can follow Rene Millman on Twitter.
Thank you for signing up to Cloud Pro. You will receive a verification email shortly.
There was a problem. Please refresh the page and try again.