Apple Music vs Spotify vs Deezer vs Amazon Prime Music: Spotify launches 'Lite' app
Smaller version of the music streaming platform designed for those with limited data plans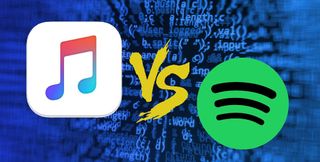 Apple Music, Spotify, Amazon Prime Music and Deezer are going up against each other. With lots of money to be made, and the market for music streaming getting bigger by the day, can Apple's service replace the current leader?
Latest news
09/07/2019: Spotify launches 'Lite' app
Spotify has launched a lighter version of its Android app, dubbed Spotify Lite, which is designed for older smartphones and smaller data plans.
The main platform requires 100MB, but this mini-app is 10MB and has the ability to set a data limit so users will receive a notification when that threshold has been reached.
With Spotify Lite, listeners can also control their song sets and clear playlists with a simple tap - freeing up storage with an easy shortcut.
The app is available through Google Play and will work on any device running Android version 4.3 and higher. It offers the same experience as the usual Spotify app, but is optimised for slower connections and those with less data-intensive network plans.
Apart from reducing data requirements, the only other difference from the main app is a change of design. Users' libraries on the Lite version will be replaced with 'favourites' which is where all saved songs and playlists reside.
Spotify is now one of a number of tech brands to introduce a lite app. Facebook, for instance, launched Facebook Lite, Messenger Lite, and Instagram Lite, while Uber also launched its own Lite version. These lite apps are becoming more popular and quite crucial as tech companies look to expand to developing countries where data connections are slower and data itself is more expensive.
14/08/2018: Spotify lets free users skip ads
Spotify users that partake in the free service may soon enjoy music streaming ad-free as the company are looking to change its business model.
A report from Advertising Age suggests that Spotify could be preparing to run a test in Australia that will let free-tier listeners skip audio and video adverts that pop after a certain amount of time spent listening to music on the site.
The trial will allow users to skip whatever ad as many times as they like and as often as they like and jump straight back into the music they were listening to.
This trial feature is called "Active Media" and its aim is to improve the user experience and provide value for money for advertisers who will not have to pay for skipped ads.
Instead, Spotify hopes an algorithm can be used to learn what type of adverts free users prefer listening to, helping advertisers target consumers more efficiently and enabling Spotify to offer a more tailored advertising package.
"Our hypothesis is if we can use this to fuel our streaming intelligence, and deliver a more personalized experience and a more engaging audience to our advertisers, it will improve the outcomes that we can deliver for brands," said Danielle Lee, Spotify's global head of partner solutions.
So far the company has only tested the feature in Australia but Lee said the company plan on rolling it out to the rest of the world in the near future.
04/06/2018: Spotify has removed its "Hate Content & Hateful Conduct" policy after receiving criticism from its users, saying it was unfair the music streaming service blocked some artists from playlists if the content was regarded as hateful.
It wasn't just users that hit back at Spotify's policy, but some record labels, including Kendrick Lamar's Top Dawg Entertainment, which threatened to withdraw support for the platform if their artists' music wasn't allowed on playlists.
The 'Hate Content & Hateful Conduct' policy was first introduced in April when a campaign against singer R. Kelly called for a boycott of music by artists accused of sexual misconduct.
Spotify explained that it accepted the language of the policy was too vague and it resulted in confusion and concern rather than its intended purpose of promoting a safe and unhateful environment for its users. It said some artists were concerned the policy meant they wouldn't be able to promote their music, while others said mistakes made in their youth would be used against them.
"That's not what Spotify is about," the company said in a statement announcing the scrapping of the policy. "We don't aim to play judge and jury. We aim to connect artists and fans – and Spotify playlists are a big part of how we do that."
"Our playlist editors are deeply rooted in their respective cultures, and their decisions focus on what music will positively resonate with their listeners. That can vary greatly from culture to culture, and playlist to playlist. Across all genres, our role is not to regulate artists. the statement explains."
Spotify went on the explain that regarding the second part of the policy - addressing hate content - would still stand and the company would remove any tracks it believes incite hatred against a person's race, religion, disability, gender identity, or sexual orientation.
"We will continue to seek ways to impact the greater good and further the industry we all care so much about," the company added. "We believe Spotify has an opportunity to help push the broader music community forward through conversation, collaboration and action. We're committed to working across the artist and advocacy communities to help achieve that."
27/04/2018: Spotify has upgraded its free music experience for customers who don't want to pay for the privilege of listening to music on demand. It's the biggest update to the company's non-premium service since the company launched in 2014 and comes with a brand new app experience.
Free users will be able to get on-demand access to up to 15 playlists created by Spotify according to your existing listening habits. You can listen to these playlists as if you have a premium account, without being subject to song shuffling which was the case with previously the free service. However, this shuffle-free service will be limited to the 15 playlists.
There's only a bank of 750 tunes your playlists can add, but Spotify promises they'll be constantly updated so it's unlikely you'll hear the same songs over and over again. The content includes Discover Weekly, Release Radar, and Daily Mix playlists too.
When users launch the new app for the first time, they'll be asked to choose their favourite artists and Spotify will curate playlists using this starting point, so it's pretty likely even from the off, you'll enjoy the suggestions the music streaming service will present to you.
"Over the last several years, we've made Spotify's premium mobile experience top notch," Spotify's chief R&D officer Gustav Söderström said at the launch. "The mobile free tier has stayed exactly the same since 2014," he added, so it's time for a change.
24/04/2018: EU watchdogs have announced that they plan to mount an investigation into Apple's buyout of music analysis company Shazam, examining whether the deal unfairly advantages Apple over its competitors in the music streaming market.
The European Commission is concerned that by purchasing Spotify, Apple could "obtain access to commercially sensitive data about customers of its competitors", which would allow it to directly target them in an unfair manner.
"The way people listen to music has changed significantly in recent years," said commissioner Margrethe Vestager, "with more and more Europeans using music streaming services. Our investigation aims to ensure that music fans will continue to enjoy attractive music streaming offers and won't face less choice as a result of this proposed merger."
Shazam is a service which identifies songs based on a short sample. The app provides no music streaming capabilities of its own, but does integrate with other streaming services, allowing users to add identified songs to a Spotify playlist or purchase them from Amazon Music or Google Play Music.
It is this usage data that the EC is concerned could give Apple the competitive edge in promoting Apple Music over rival services. The Commission has also raised concerns over whether the streaming companies that currently partner with Shazam would be impacted if Apple were to dissolve those integrations following the merger.
The Commission has 90 working days to reach a verdict on the issue, with a deadline of 4 September 2018 to decide if it will block the deal from going through.
Read on for our in-depth comparison of Spotify, Apple Music, and Deezer
Catalogue
According to the company, Spotify's catalogue is around 30 million tracks. Although the iTunes library has 40 million, only three-quarters of these are available through Apple Music, leaving the two services neck-and-neck in terms of rosters.
What Apple Music does have that Spotify lacks is an unsurprising number of exclusives. A slew of artists have formed relationships with Apple, releasing their material first (and sometimes only) on Apple Music.
Many artists have also pulled their back catalogues from Spotify, leaving the service bereft of some major names. Unless you're dead-set on listening to a particular musician's oeuvre, however, it's unlikely to be a major dealbreaker.
Deezer, somewhat surprisingly, has the best of the lot. The company claims a library of over 40 million songs, spread over basically every taste and genre you can imagine. It's lacking the aforementioned Apple Music-exclusives, but otherwise, it's incredibly robust.
Amazon Prime's catalogue, sadly, is pitifully far behind its rivals. While Spotify and Apple Music both have around 30 million songs, Amazon Prime Music only has around 1 million. It does have a passable mix of new and classic artists, but its selection pales in comparison to rivals.
Read on for pricing and subscription comparisons of Spotify, Apple Music and Deezer
Pricing & subscription
Spotify's primary draw is its free tier. You can listen to unlimited music, but it's supported by ads. The £9.99 per month premium tier removes these, but it also gets rid of a few other restrictions.
For example, mobile users can listen to the artists, albums or playlists for free, but only in shuffle mode - they can't directly select tracks, and they have a maximum number of skips per hour.
It's a good deal for all parties. The free tier is more than functional enough, especially for casual users, but the benefits of premium (like higher-quality audio) are enough that many will consider switching of their own volition.
Apple Music also has a free tier but compared to Spotify's, it's downright truncated. Free users aren't able to play, save or like content from Connect, have limited skipping privileges on the Apple radio stations and, crucially, have no access to the Apple Music instant streaming library.
It does have an ace up its sleeve in the form of the family subscriptions, however. Single subscriptions cost £9.99 a month - the same amount as Spotify - but Apple also offers a family membership for £14.99 a month.
Provided via the pre-existing iCloud family sharing, this allows up to six people to use the same Apple Music account, with separate playlists, recommendations and libraries. It's an absolute steal for families, especially if they're existing Apple customers.
Spotify also has a family plan, but it's much more expensive. It costs just under £20 per month for three members, £25 for four people, and a whopping £30 for a family of five.
Deezer goes one up from Spotify, with three subscription tiers. It's got an ad-supported free tier, which is limited to a low-quality bitrate of 128kbps. Cough up £9.99 per month, and you can ditch the ads and bump up the quality to 320kbps.
The £14.99 Elite membership, however, offers hi-def audio streaming at an ear-massaging 1,411kbps, which is one of the highest-quality streaming rates around.
Amazon Prime Music isn't available as a standalone subscription at all -- it's only open to Amazon Prime customers. Let's be realistic, though; no one's going to want Prime Music as a standalone service.
If you're paying for Amazon Prime anyway, though, it's a bit of a steal. The £79 annual subscription works out to under £7 per month, and if you're using all the benefits - including Prime Music, Prime Instant Video, the one-day delivery and free unlimited photo storage - the value is obvious.
Read on for a comparison of Spotify, Apple Music and Deezer's availability and compatible devices
Devices & availability
One of the principal benefits of streaming all your music from the cloud is being able to take it with you while you're on the go. Unsurprisingly, Spotify is available on basically every platform - including the ancient and venerable BlackBerry and Windows Phone.
Deezer has similar availability, although device support across its Elite tier has reportedly been a little patchy. Both services also have good support across secondary platforms like Smart TVs and in-car entertainment systems.
You might expect Apple Music to be exclusive to iOS and OSX devices. However, in a minor masterstroke, it's available not just to Apple users, but also on PC and Android devices too. That's it, though - no love for other operating systems here.
It's the same story with Amazon Prime Music. In spite of the company's partnership with BlackBerry to deliver extra apps for the OS, it's not listed as one of the officially supported platforms. Android and iOS are fine, though, as is the company's line of Fire devices.
Read on for our verdict on Spotify, Apple Music, and Deezer
Verdict
While Spotify has come to be as ubiquitous in the audio streaming game as Netflix is in the visual space, all of the major services have elements to recommend them.
If you're just after a bit of casual listening and you're already an Amazon Prime subscriber, then it's likely that Prime Music is going to be perfectly adequate for you without shelling out any extra.
On the other hand, if the rest of your family is also looking for a streaming service, a family subscription to Apple Music could end up saving you all a packet in the long run.
Audiophiles will want to stump up for Deezer's top-quality Elite package. You're unlikely to find better audio with any other streaming service, but make sure to check that your device is supported first.
The overall winner, however, is Spotify. Support is near-ubiquitous, it's got a well laid-out interface and tonnes of integrations with other products and services, and a very respectable selection. Its curated playlists are also some of the best around, thanks to excellent use of big data analytics.
This article was first published on 06/08/2015 and was last updated on 26/04/2017.
Previous news
17/04/2018: Spotify is branching out into creating TV and movie content to try and claw back some of the revenues it needs to raise to justify its stock market value, while keeping up with competitors Apple and Amazon.
The company has announced a tie-up with online streaming company Hulu, which means it can start offering access to the company's content as well as its own music catalogue for a combined package priced at $12.99 a month.
Hulu's film and TV content currently offers 75,000 shows and movies, including the rights to Disney Channel, Disney Junior and Disney XD series, 20 Disney Channel movies, CBS content and the BBC's content in the US.
The service is only available in Japan and the US at the moment, but it could trigger Spotify to start considering tie-ups with other multimedia content providers to offer a similar service in the UK.
The Financial Times reports the company also has plans to revamp its free service in the coming weeks, which may mean offering less or less varied content to drive people to signing up for its premium plans.
People close to the company said Spotify wants to have 200 million users by the end of the year, with half of those paying subscribers. Offering extra-value packages like its Hulu combined plans could well help it achieve its goals.
10/04/2018: Spotify has revealed the first pictures of its branded hardware, which looks to be either a standalone speaker or an in-car music player.
In pictures of the device, it appears to be mounted on a car dashboard, with captions suggesting someone has used their voice asking it to play "My Discover Weekly."
The speaker shows it playing the playlist on what appears to be a touch screen display, with a skip and play/pause button on the side.
The Telegraph reports some Spotify users have heard an advert on the music streaming service describing a Spotify-branded device, although they seem to be rather elusive and have now stopped showing on the service. There seem to be a couple of variations of this ad - one revealing it's powered by Amazon Alexa and another saying it features 4G LTE connectivity.
Pricing also seems to be a little confused. Some service users say it's included in the monthly fee for $12.99 per month, with a year's contract, while another user said it's $14.99.
Rumours about the speaker suggest the device will launch on 24 April and will be developed by the hardware production workers it's been advertising for over the last few months.
04/04/2018: It seems Spotify's gamble to trade on the stock market has paid off, with its opening share price 26% above its reference price of $132 a share.
The company's trades opened at $165.90 on Tuesday, which was significantly higher than the rates set by the New York Stock Exchange during informal trading on Monday. The share price put Spotify's value at $29.5 billion, making it worth more than Twitter ($21 billion).
By the end of yesterday's trading, the company's share price had fallen slightly to $149 per share, which is still significantly more than the original predictions suggested they would sell for.
Trading at the beginning of the day was delayed as investors struggled to agree on a starting price for the company, eventually settling on $165.90, despite concerns it could cause problems for the market starting so high.
Other tech companies looking to float on the stock exchange will be keeping a close eye on Spotify's performance as they, too, consider going public to try and raise the cash to grow their businesses in a tough regulatory environment.
Facebook and Amazon share prices have fallen significantly in recent months as both try and reassure investors they'll stay above board, despite tougher regulations coming in on issues such as data protection.
07/02/2018: Spotify is warning those using hacked apps to access its premium services for free their actions could result in their account being suspended or completely turned off if they continue to break the rules.
The company said it has detected high volumes of activity from some users' accounts and it transpires these customers have downloaded a 'hacked' installation file to link their free account to the premium features.
Spotify said it's monitoring accounts where it has identified strange activity, instead of taking action straight away and shutting down accounts, as it's prepared to offer some leniency.
The company only fired off the email to those users it thinks are using hacked apps, TorrentFreak reports, explaining why their accounts may not be working properly.
"We detected abnormal activity on the app you are using so we have disabled it. Don't worry – your Spotify account is safe," the email from Spotify reads. "To access your Spotify account, simply uninstall any unauthorized or modified version of Spotify and download and install the Spotify app from the official Google Play Store. If you need more help, please see our support article on Reinstalling Spotify.
"If we detect repeated use of unauthorized apps in violation of our terms, we reserve all rights, including suspending or terminating your account."
However, TorrentFreak said that some users with modified apps installed on their devices are stilll able to use their account, while others are saying they can't get into their account at all.
20/02/2018: Spotify could be preparing to launch its first piece of hardware in the coming months, although what it will actually be is still a strict secret.
The latest roles in its hardware team include an operations manager, a senior project manager: hardware production, and a project manager: hardware production and engineering. The operations manager job ads explains Spotify is looking to create its first physical products very soon, and therefore needs to set up a team to take care of the manufacturing, supply chain, sales and marketing.
A major part of the operations manager role will be building up relationships with the supply chain, including distribution partners, but it will also involve working alongside the customer services team.
The senior project manager will help create innovative experiences via connected hardware, its job description explains. The chosen candidate will need to work closely with the engineers and designers, internal stakeholders and external suppliers to make delivery perfect.
In April last year, the music streaming service advertised for employees to join its hardware division, including a senior product manager of hardware, who will be responsible for all of the devices Spotify may launch now and in future. The job listing didn't give much away, but said manager would work on products similar to the Pebble Watch, Amazon Echo and Snap Spectacles.
Another listing, for a product manager of voice, explained the person filling the job role would be in charge of Spotify's voice-led products, including those already available as part of its core apps suite and new applications of its voice recognition technology, which could include desktop, TVs, speakers, cars, wearables and headphones. Again, not much is revealed in the job listing, although we would assume it would, like the majority of smart home devices, be controlled by the user's voice.
06/02/2018:
Apple Music subscriber numbers are quickly catching up with currently music streaming leader Spotify, with analysts predicting the number of subscribers to Apple's service will overtake Spotify's total by the end of the year.
Monthly subscribers to Apple's service are growing 5% every month, compared to Spotify's 2%, meaning the iPhone maker could soon edge past the Swedish company, according to the Wall Street Journal.
However, it's important to note these numbers relate only to the US market and don't necessarily reflect worldwide trends. In fact, Spotify still has double the number of subscribers compared to Apple, showing there's still a long way to go until they're neck and neck in other territories.
Another consideration is that Spotify is more profitable than Apple Music, at least on paper. The Apple-owned service has at least three times as many free users than Spotify, the publication said.
Although it doesn't offer an ad-based model like Spotify, all users can take advantage of a three-month trial. It's likely a fair few of its users are therefore not paying for services, nor is it able to monetise those users if they wish to cancel after their trial.
The WSJ reported the higher growth rate of Apple's music streaming service is likely down to the hype around Apple's HomePod speaker system and the launch of the iPhone 8, iPhone 8 Plus and iPhone X.
09/01/2018: Spotify investor DE Shaw has sold off half its stake in Spotify ahead of the music streaming company's IPO listing, which is rumoured to take place later this year.
The firm has offloaded 12,000 shares in Spotify according to Sky News, at a price of $4,060-per-share, putting the value at a staggering $16 billion (£12 billion). This is double the value it paid for the shares three years ago, sources told Sky News.
It was reported last week that the music streaming service privately filed for an IPO on the New York Stock Exchange, which would lead to it becoming a public, rather than private company. It's thought the company will pursue a more traditional direct listing, meaning it'll sell the shares it already has rather than raising capital.
Spotify has also apparently started proceedings with the US Securities and Exchange Commission (SEC), suggesting news will arrive soon of the company's listing on the NYSE.
Last year, Goldman Sachs also sold off $75 million of its shares in the company, accounting for the vast majority of its stake in the company, as it switched to become an advisor on the IPO listing. Those shares were sold at $3,100 each to hedge funds Tiger Global Management and Blue Ridge. Investment firm Fidelity also sold its shares recently.
As part of the public listing, Spotify must offer its shares to existing investors before they are offered to any third parties, suggesting the existing investors want to reduce their exposure to the requirement set out in Spotify's articles of association.
04/01/2018: Spotify has filed for an IPO on the New York Stock Exchange, according to multiple reports.
It made the confidential filing with the Securities and Exchange Commission in December last year, targeting a stock market debut in the first half of 2018, according to the Financial Times, Reuters and Axios, which broke the news yesterday.
Spotify wants to make a direct listing on the stock market, meaning it would issue shares directly to investors, without needing to be underwritten by a bank.
The company is reportedly confident it doesn't need to raise cash, making the direct listing approach more attractive.
It was last valued at $19 billion in December, based on the value of private trades.
Spotify was hit with a $1.6 billion lawsuit by Wixen Music in late December, alleging that the company hosts thousands of songs without permission from or compensation to publishers (see below).
03/01/2018: Spotify has been hit with a $1.6 billion lawsuit by Wixen Music Publishing, which alleges the music streaming giant hosted thousands of songs by artists including Tom Petty and Neil Young without permission or compensation to the publisher.
Wixen Music, which owns the licenses to songs such as Petty's "Free Falling", "Light My Fire" by the Doors, as well as works by Weezer and Fleetwood Mac's Stevie Nicks, said the music streaming service failed to obtain a direct or compulsory license to use the content, according to a filing to a California federal court seen by the Hollywood Reporter.
The publisher is also the exclusive licensee to works by Zach De La Rocha and Tom Morello of Rage Against the Machine, Steely Dan's Donald Fagen, David Cassidy, Dan Auerbach of the Black Keys, and Sonic Youth's Kim Gordon.
"Spotify brazenly disregards United States Copyright law and has committed willful, ongoing copyright infringement," stated the complaint. "Wixen notified Spotify that it had neither obtained a direct or compulsory mechanical license for the use of the Works. For these reasons and the foregoing, Wixen is entitled to the maximum statutory relief."
The complaint also alleges that as much as 21% of the 30 million songs that Spotify hosts on its platform are unlicensed.
Last May, Spotify agree to a $43 million settlement over a class-action lawsuit brought by a group of songwriters led by David Lowery and Melissa Ferrick, which similarly charged the service with failing to pay for licenses.
The settlement, which is still to be approved by a judge, was labelled by Wixen Music as "substantively unfair to Settlement Class Members" because it "prevents meaningful participation by rights holders and offers them an unfair dollar amount in light of Spotify's ongoing, willful copyright infringement of their works".
While Spotify has declined to comment on the lawsuit, lawyers for the company stated in court papers filed on Friday that it questioned whether artists had authorised the publisher to pursue such aggressive action, as agreements between publishers and clients do not necessarily cover litigation cases.
It's unclear how Spotify will respond to the lawsuit, but in the Ferrick class action suit it argued that streaming music does not constitute reproduction or distribution under copyright law.
03/11/2017: Spotify hires new PR chief ahead of likely IPO
Ex-Target communications boss Dustee Jenkins has joined Spotify to head up its PR team as it heads towards IPO, Recode has revealed.
Jenkins, who plans to move from Minneapolis to New York to take up her new position, will lead the company's existing communications team, including UK PR head Angela Watts and the US's Graham James.
After seven years at Target, Jenkins knows a thing or two about promoting large public businesses. Before joining Target, she worked for four years at Hill & Knowlton and ran the communications department at the federal department of Housing and Urban Development.
Jenkins will report to chief marketing officer Seth Farbman and her role will be to sync up the global PR strategies, ensuring it has similar messaging across the board.
The news comes as Spotify approaches its stock market bid next year. Although the move was supposed to happen in 2017, this has now been pushed back as the company makes its business as attractive as possible to potential investors. Rather than using banks to sell its shares, it's hoping to offer them up directly to buyers in a rather unique approach.
30/10/2017: Spotify has revealed it's going to cancel all of its original video series projects, including the programmes it hasn't released yet in an effort to re-boot its video strategy.
The company has struggled to make money from video content in the past and it would seem it doesn't think its most recent strategy has the potential to make much-needed cash either.
The music streaming service hopes to innovate with an entirely new format of video content to woo users, according to Bloomberg, speaking to an unidentified source. This is being referred to as "Spotlight" and combines audio, images and video.
The plans have been thought up by Courtney Holt, the newly appointed head of studios and video and, although the source didn't provide a whole lot of information, it's part of the company's strategy to make money from content other than music.
The company is apparently struggling to gain revenues from advertising without having to pay out substantial royalty and distribution fees. For Spotify to introduce such a drastic shift change, it would need to gain approval from the company's product development team, not to mention a decent cash injection, according to the report.
03/10/2017: Microsoft has shuttered its Groove Music Pass, pushing its users to Spotify.
Microsoft said that after 31 December 2017 the Groove Music app will no longer offer the option to stream, purchase and download music. It will, however, continue to invest and update the app on all Windows devices to support playback and management of owned music.
Jerry Johnson, general manager of Microsoft Groove, said: "By collaborating closely with industry leaders like Spotify, we can deliver the music customers want and focus on new and innovative ways to experience music."
Groove Music Pass subscribers will be able to easily move all their music collections and playlists into Spotify as part of the partnership.
Customers will need to login into Spotify, or create a new account, and will then be able to move their music onto the service. The process will take a few minutes but afterwards users will be able to listen to their music library in the Spotify app.
Groove Music Pass customers will be able to receive 60 free days of Spotify Premium too. If a user's Pass subscription extends beyond 31 December then Microsoft will give them a prorated refund or a Microsoft gift card. The app will no longer stream or play Groove Music Pass content after this date.
Windows Insiders will be able to move their music to Spotify from this week. All Groove Music Pass customers will be able to do so from the week of 9 October. Users will be able to move their music to Spotify until 31 January 2018.
Spotify is now worth $16 billion (£12 billion) and there is speculation the streaming service will float on the stock market next year. It could be worth up to $20 billion by the time it goes public, meaning it would have seven times as many sales as it had in 2016.
28/09/2017: Spotify's worth nearly $16 billion now
Spotify is apparently worth $16 billion (£12 billion), according to people familiar with the company's trading deals, spurring speculation that it'll be in a very good position when it floats on the stock market next year.
And that amount is set to rise, industry insiders have suggested to Reuters (via the Daily Mail), with traders predicting it could be worth up to $20 billion (£15 billion) by the time it goes public. This would mean that Spotify has seven times as many sales (and presumably, paying customers) as it had in 2016.
"It's hard to speculate on Spotify's valuation since we only have historic results prior to the most recent renegotiation with the music majors," Louis Citroen, an analyst at Arete Research, told the newspaper.
"But a $20 billion valuation sounds punchy as it implies both that Spotify can continue growing customers at a fast pace, and that it might achieve a double-digit margin. We can believe in the customer growth, but are less sure about profitability given high royalty costs and limited differentiation with rivals on content, price or technology."
Industry analysts think if Spotify is worth £20 billion now, it's pretty likely the company could be worth as much as $50 billion (£37 billion) by 2020.
However, Spotify still isn't a huge moneyspinner as it stands. Losses doubled to $600 million (£447 million) in 2016, although revenues have increased in the last 12 months to $3.4 billion (£2.54 billion).
15/09/2017: Spotify has added the ability to send friends songs via iMessage on iPhone and iPad, encouraging its users to share content with potential non-premium members.
Although Spotify hasn't officially announced the addition, it provides an alternative way for people to share music, outside of its Messenger app which launched earlier this year.
To share tunes, you can simply search for the song you want to share with your friend, tap the iMessage icon and then paste a preview of the song into the iMessage chat with your contact. The preview includes an album image, song title and artist information, so the recipient can find out more if they wish.
When the recipient opens the message, they can click on the Spotify logo and play the preview. If they're a premium subscriber, they will be able to listen to the full track and once the streaming service links the iMessage recipient with a Spotify account, they won't need to opt in to listen on Spotify - they'll instantly be taken to the app next time.
iMessage Spotify integration has started rolling out this week in the app's latest update, but users will need to activate the functionality before they can start using it from the iMessage App Store.
"Spotify's iMessage app is available now, allowing users to quickly search for and share music with friends directly from iMessage," a spokesperson told TechCrunch. "It's the latest way in which we're empowering users to share music with friends in a fast and fun way."
30/08/2017: Deezer has announced it's finally expanding its HiFi service beyond Sonos systems to any wireless speaker that works with Chromecast Audio or Google Cast.
Once a significant contender on the music streaming scene, Deezer has failed to attract the same levels of interest from paying subscribers as its rivals, and has only 12 million active users, compared to the 140 million of Spotify.
However, almost three years since launching its HiFi program on Sonos speakers, the company is now attempting to boost its numbers by expanding its £19.99 per month service to hardware that supports Google's software, according to TechCrunch.
That means speakers from Sony, Bang & Olufsen, Samsung, Yamaha, Pioneer, AudioPro and Devialet will all soon have access to Deezer music streaming.
In an effort to attract a more discerning audience, Deezer is also selling its platform as a high-definition streaming service, which, according to its own definition, is 44kHz/16-bit stereo audio or 1,411kbps using the FLAC codec. That's almost four times the music streaming industry standard used by Spotify.
The news comes weeks after the company announced new integration capabilities with the Google Home smart assistant, making use of a voice-activated device for the first time.
25/08/2017: Spotify signs deal with Warner Music
Spotify has signed a deal with Warner Music to make Warner's catalogue available on the streaming service.
Warner's music has been on Spotify thanks to short-term contracts but the long-term deal will be a boost for the streaming service, Financial Times reported.
The long-term contracts were extremely important as Spotify wanted to reassure investors ahead of its plan to go public.
Ole Obermann, chied digital officer at Warner Music, said: "It's taken us a while to get here, but it's been worth it, as we've arrived at a balanced set of future-focused deal terms."
"Together with Spotify, we've found inventive ways to reinforce the value of music, create additional benefits for artists, and excite their fans all over the world," he added.
"Even with the current pace of growth, there's still so much potential for music subscription to reach new audiences and territories."
Spotify reached 60 million paid subscribers last month but still has not made a profit. This has forced the company to pay less money to the music industry. In its deals with Sony and Universal it reportedly will pay back 52 cents of every dollar, the overall price reducing by 55 cents.
Spotify now has deals from Sony, Universal and Warner and there are rumours it may float on the New York Stock Exchange this year. It may be a direct listing, which means private stock would be traded on the public market so no new money would have to be raised.
17/08/2017: Spotify takes down white supremacist music from its service
Spotify has removed a handful of white supremacist artists from its platform who were branded racist "hate bands" by the Southern Poverty Law Centre over three years ago.
The ban came following an article published by Digital Music News, which it highlighted a number of bands on the streaming service that were deemed racist, to which Spotify had been seemingly oblivious.
The Southern Poverty Law Centre, a civil rights nonprofit that monitors hate groups throughout the US, identified the bands as promoting white supremacist material three years ago, however the content had remained on the platform.
A Spotify spokeswoman told Billboard that "illegal content or material that favours hatred or incites violence against race, religion, sexuality or the like is not tolerated by us."
"Spotify takes immediate action to remove any such material as soon as it has been brought to our attention. We are glad to have been alerted to this content, and have already removed many of the bands identified today, whilst urgently reviewing the remainder," the statement added.
As a counter, Spotify is now promoting a playlist called 'Patriotic Passion', which describes itself as a "soundtrack to an America worth fighting for", filled with songs such as "Star Spangled Banner" by Jimi Hendrix and "Living in America" by James Brown.
Many of the artist's highlighted by Digital Music News had few daily listeners and followers, however the article's author, Paul Resnikoff, pointed out that following the violence in Charlottesville, "the presence of white supremacy music on Spotify takes on a different light".
09/08/2017: Spotify arrives on Xbox One
Spotify has announced that it is available on the Xbox One in 34 markets around the world.
This means Xbox One users can use Spotify to listen to music on their consoles. Gamers can access the full Spotify catalogue while they play, including their saved music and playlists.
Mikael Ericsson, product director at Spotify, said: "Music continues to be essential when creating the ultimate gaming experience. Starting today, we're really excited to offer Xbox One gamers the ability to choose their own unique soundtrack while enjoying their favorite games."
In order to set Spotify up on the Xbox One, users simply need to navigate to the store, download the Spotify app and then log in or create an account.
There are even pre-curated gaming playlists, with some named 'Epic Gaming' and 'Power Gaming' which can be accessed by going to Browse and finding the Gaming hub on the app.
The director of programming for Xbox live, Larry Hyrb, also known as Major Nelson, has even made his own specially-curated playlist.
If users do not want to interrupt their game, they can also control their music from the Spotify app on their phone, tablet or laptop while listening to it on the Xbox One. They are able to pause, skip or select new music wirelessly via Spotify connect.
Spotify is currently available on the Xbox One in these markets: Argentina, Australia, Austria, Belgium, Brazil, Canada, Chile, Colombia, Czech Republic, Denmark, Finland, France, Germany, Greece, Hong Kong, Hungary, Ireland, Italy, Japan, Mexico, Netherlands, New Zealand, Norway, Poland, Portugal, Singapore, Slovakia, Spain, Sweden, Switzerland, Taiwan, Turkey, the UK, and the US.
Spotify reached over 60 million paying subscribers in August, twice the amount that Apple Music has. Its total active user number has reached over 140 million, and now, with the release of the new app onto the Xbox One, this may increase even more. There are rumours that Spotify may be planning an IPO soon after appointing four new directors in May. Reports suggested that Spotify will favour a direct listing on the stock market, although this is believed to be still under discussion.
01/08/2017: Spotify reaches 60 million paying subscribers
Spotify reached over 60 million paying subscribers in July which means it has twice the amount of paid subscribers that Apple Music has.
The company recently updated its subscriber information to over 60 million paid subscribers, an increase of 10 million since last March. It's total active users are over 140 million as of June.
Apple Music announced at WWDC in June that it had 27 million paying subscribers, which had increased by seven million since December. In early 2016 the service had 13 million subscribers so the initiatives taken by Apple seem to be paying off.
This is good news for Spotify, especially since there may be plans for an IPO soon. In May the company appointed four new directors which reinforced signs that it may go public. Reports suggested that Spotify will favour a direct listing on the stock market although this is still under discussion.
In June, co-founder and board member Martin Lorentzon told Swedish radio listeners that he wasn't planning to go public, although Spotify was quick to reassure investors that it was still on the cards. Spotify has been recruiting new staff and investing heavily in its future too.
10/07/2017: Spotify has denied recent allegations that the company was flooding its most popular premium playlists with "fake artists", to generate higher revenues for the service.
The allegation, made initially by Music Business Worldwide last April but has since been repeated in a Vulture article last week, claims that Spotify was paying music producers to create songs under fake names, which allows the company to host the content on premium playlists without the associated licence fees.
Spotify was said to have requested specific tracks, typically without vocals, to fit its various playlist genres, such as jazz and rock, according to the allegation. These songs would then often replace content made by traditional rights holders, causing them to lose out on hundreds of millions of plays, and allow Spotify to avoid paying ongoing fees to artists.
Spotify's 'Ambient Chill' playlist is cited as an example, which currently has more than 400,000 followers. The first song on that list is by established artist Max Richter, however the second is by a band called Deep Watch, which has only two songs on Spotify but have collectively enjoyed almost five million plays in only five months.
If true, Spotify's behaviour would seem highly unethical, if not illegal, as publishing music under false pretenses for financial gain could be considered fraud.
But Spotify denied the claims on Friday, stating that "we do not and have never created 'fake' artists and put them on Spotify playlists", according to an email to Billboard.
"[The accusation is] categorically untrue, full stop. We pay royalties - sound and publishing - for all tracks on Spotify, and for everything we playlist. We do not own rights, we're not a label, all our music is licensed from rightsholders and we pay them - we don't pay ourselves."
The statement does not acknowledge the entirety of the initial allegation, as the company could still be paying royalties to a producer at a more favourable rate than it typically would, according to MBW.
06/07/2017: Amazon releases Music deals ahead of Prime day
To celebrate Prime Day on 11 July, the company has made a number of deals available early to customers, including the chance to win an Echo by using its music platform.
Starting today, any customer that listens to music through either Prime Music or Amazon Music Unlimited has a chance to win one of 100 Amazon Echo speakers. Customers only need only play a single song to enter the daily draw, which will run between 5 and 11 July.
For customers on Music Unlimited's Echo Plan, Amazon is now also offering £30 off if you chose to upgrade to Unlimited Family plan, meaning an annual cost of £119. Those wishing to upgrade to the Individual plan can also get £10 off their annual bill, which stands at £69 until the 11 July.
For those already on a Music Unlimited Individual plan, customers can also save £30 when they upgrade to the Family tier. Customers wishing to upgrade can use the codes FAM30 and IND10, for the respective plans.
And for those Prime customers yet to join the Music service, they can now try out the platform for £0.99 for the first four months. Unfortunately, this is only available for users who have never used the service in the past.
Prime Music now boasts a library of more than two million songs at no extra cost to Prime customers, while Amazon's on-demand Music Unlimited service offers 40 million songs and thousands of playlists, across both the Amazon site and the Echo speaker.
12/06/2017: Taylor Swift is bringing her entire back catalogue to streaming services like Spotify and Amazon Prime Music in order to thank fans for record sales, the singer has announced.
In order to celebrate her smash hit album 1989 selling over 10 million copies worldwide - and to celebrate selling 100 million songs in general - Swift's music will be coming to "all streaming services". This includes Spotify, Amazon Prime Music, Tidal and others.
Sparks flew between Swift and Spotify last year, when the singer pulled her entire catalogue from the service after Spotify refused to gate albums off from non-paying subscribers.
"It didn't feel right to me," she said, indicating that she should have said no to advisors urging her to put her music on Spotify. "I felt like I was saying to my fans, 'If you create music someday, if you create a painting someday, someone can just walk into a museum, take it off the wall, rip off a corner off it, and it's theirs now and they don't have to pay for it.' I didn't like the perception that it was putting forth."
Many fans feared that the bad blood between Swift and Spotify would mean that they were never ever getting back together. However, Swift is apparently willing to shake it off and begin again.
Up until now, the only streaming service that the ex-country star would allow to use her tracks was Apple Music, and aside from a public clash in which Swift lambasted Apple's low royalty payments to artists, the partnership has apparently been a happy one.
But as Swift's music hits other services, Apple Music may have just lost a substantial feather in its cap. For Spotify, its wildest dreams are coming true, as more and more artists forego their previous apprehensions about using Spotify's platform, paving the way for the company's rumoured IPO, which is expected to arrive this year.
08/06/2017: Apple has added an extra 7 million paying Apple Music users to its fan base since December, bringing the total number of subscribers up to 27 million, the company revealed at WWDC in San Francisco earlier this week.
Although that means it's still way behind Spotify, which has more than 50 million subscribers according to the latest figures, it's a sign that Apple's initiatives to encourage more subscribers seem to be paying off.
Apple Music had 13 million subscribers just over a year ago, but new initiatives to get people using the platform, including the ability to share playlists with friends and being able to view what other people similar to them are listening are making some Apple fans opt for the firm's platform rather than signing up to a rival like Spotify and Deezer.
Apple expects its user base to continue to increase fast too, putting effort behind the content it's creating rather than just allowing subscribers to stream music like the other services available. For example, a Carpool Karaoke spinoff will be available on the platform soon.
05/06/2017: Spotify has been quick to reassure investors it's still thinking about floating on the stock market, despite co-founder and board member Martin Lorentzon telling radio listeners it has no plans at all to go public.
"Martin is our co-founder and a board member, but not a spokesman for the company," Spotify said in a statement. "Spotify hasn't confirmed any definitive plans to go public. It remains an option for us, as we consider the right thing to do for our company, our people and our investors."
Lorentzon said in an interview with a Swedish radio station that it's focusing on growth rather than raising more funds, despite the company seemingly taking steps to file an IPO, including recruiting Morgan Stanley, Goldman Sachs Group and Allen & Co. to advise it how to become a listed company.
Sportify has also recruited new staff, investing heavily in its future as a multimedia service offering.
"There are no plans to [float], even though media enjoys writing about it," Lorentzon told Sveriges Radio. "We don't need any money. We already have enough and we are not looking for more. There is no IPO on the horizon."
30/05/2017: Spotify has prepared its board for floating on the stock market with the appointment of four new directors, including ex-Walt Disney COO Tom Staggs, it is reported.
Joining Staggs will be electric car manufacturer NextEV's boss Padmasree Warrior, Swedish investment firm Kinnevik's owner Cristina Stenbeck and Shishir Mehrotra, YouTube's former head of product according to the Financial Times.
However, the four will need approval by shareholders before they're given the go-ahead according to the FT's two anonymous sources who have "knowledge of the board".
Spotify hasn't yet confirmed whether it will be filing for an IPO, but the signs do certainly seem to be pointing in that direction with agreements in place with some of the world's biggest music companies including Universal and Merlin, an independent agency that represents more than 20,000 artists.
The FT suggested Spotify will favour a direct listing on the stock market, which would mean investors could trade shares on the open market, rather than allowing anyone to buy shares, although this is still under discussion according to people in the know.
Late last year, the company also appointed Ted Sarandos, Netflix's chief content officer, who will help the company diversify from its music focus, possibly offering a wider selection of content types including video in future.
19/05/2017: In the latest of a string of acquisitions, Spotify has bought France-based music recommendation service Niland.io, as well as its search-based, machine-learning technology.
Although it's not known exactly how much Spotify paid for the service, we do know that Niland's team of developers and the technology will be joining Spotify's New York-based R&D unit.
Founded as a startup in Paris in 2013, Niland developed AI and machine-learning algorithms for the searching of music, helping to make recommendations through an API that could be embedded into applications.
"Over the last four years, we've been a pioneer in the analysis of audio using deep learning technologies," said Niland, in a statement on its website. "We've achieved our vision of enabling computers to listen to music in a human way. Understanding the music content itself was the missing link to developing more sophisticated listening experiences."
"Spotify has succeeded at bringing the most innovative products to the music streaming market with products for both fans and artists including Discover Weekly, Release Radar, Spotify for Artists among others. We couldn't imagine a better partner for our next chapter."
This is Spotify's second acquisition announcement in the past month, following the buyout of Brooklyn-based blockchain startup Mediachain Labs. Spotify has struggled to deal with the scale of rights attribution on its platform and is likely to use blockchain as a means of handling large quantities of data.
12/05/2017: Spotify is finally set to land in the Windows 10 Store, after Microsoft said the streaming app would arrive ahead of Windows 10 S.
That new version of Microsoft's OS will only run apps from the Windows Store - a problem for anyone with a Spotify subscription, as until now the streaming music service hasn't bothered to make one for Windows 10.
Now, it's pledged one will arrive in the store, though neither Spotify or Microsoft have issued a release date for the app.
Spotify also works via the browser, so if the app doesn't arrive before Windows 10 S, you'll still be able to stream via Edge, the Microsoft browser.
The Spotify app comes alongside a version of Apple's iTunes for Windows Store.
11/05/2017: Spotify and Capital One have teamed up to offer half price premium subscriptions.
This offer is for Capital One customers who pay with their Quicksilver of Quicksilver One card when buying a Spotify premium subscription and will give them 50% off the subscription.
The offer is only valid for monthly Spotify Premium plans, including the standard, student discount and family plan, but is not applicable for the annual subscription. The good news is that if you already have a subscription and a Capital One card you can still get the discount as long as you pay with the card.
The 50% discount will be added to the Capital One card account within 1-2 billing cycles. It should be noted that the offer will only last until April 2018.
This is the first time Spotify has partnered up with a financial institution, with the partnership struck at a time when the music streaming service has to compete with the likes of Amazon Music, Apple Music and Pandora to try and tempt customers to upgrade from its free service the paying one.
09/05/2017: Spotify is leading a campaign aiming to persuade the EU to take action against the likes of Google and Apple for allegedly questionable practices when it comes to allowing content to be added to mobile devices.
A letter issued by a consortium of tech companies including Spotify, Deezer and Rocket Internet has highlighted that big tech players are preventing the smaller companies from adding their services to mobile devices, according to the Financial Times. It described the companies behind mobile operating systems, app stores and search engines as "gatekeepers" rather than their products being "gateways" for people to access more information about the world.
The group of companies calling for change wants the EU to issue specific guidelines to shape the way platforms interact with their business users, stopping such companies from favouring their own services over others.
They also want the likes of Google and Apple to open up customer data, allowing third parties to use it to improve their products and services.
Last year, Spotify's lawyers wrote a letter to Apple saying the introduction of Apple Music "raises serious concerns under both US and EU competition law" and affects "the competitiveness of Spotify on iOS and as a rival to Apple Music".
05/05/2017: Spotify is reportedly looking to substantially increase the capacity of its London headquarters, with a new office planned overlooking the Thames.
The music streaming company wants to house more employees, something desperately needed after the company increased its headcount from 167 to 180 in less than a year, according to the Evening Standard.
The new office would include desk space for three times that number, as the company grows its product offering and customer base.
Sources said it was close to agreeing a lease on a 60,000 space at the art deco Adelphi Building near the Strand with property investor Blackstone. It has not been disclosed how much the lease could be worth.
"The company's primary focus is to continue its rapid growth and increase the number of users and subscribers in the UK," an anonymous source told the Standard.
Spotify is also reportedly looking to go public, with an estimated value of $8.5 billion (£6.6 billion) following a successful funding round.
Although Spotify wouldn't comment on whether it was indeed looking to expand its UK-based office, it's looking likely as the company sets its sights on becoming the biggest media streaming company in the world.
27/04/2017: Spotify has made an effort to solve its problems over music attribution by acquiring a Brooklyn-based blockchain startup, which should enable the company to manage the vast amounts of data processing required to handle royalties.
Mediachain Labs, a Brooklyn-based startup, will be folded into Spotify's New York office, where it will help the company develop better technology for managing music and its associated rights holders.
Over the past year the music streaming service has struggled to deal with the increasing amount of data associated with obtaining licenses and attributing royalties to artists.
Spotify settled a licensing dispute last year with the National Music Publishers Association (NMPA) after it emerged that the company had failed to keep up with its payments. Unusually, this had nothing to do with falling revenues - instead the company lacked the necessary data to figure out who was owed royalties and identify which claims were legitimate.
Spotify claimed to lack a reliable database that was able to cover the entirety of the music rights associated with the songs it was hosting.
As a streaming platform, Spotify is required to hold mechanical licenses for songs, a legal obligation that refers to the ability for a copyright holder to reproduce music.
At the time, Spotify agreed to pay out over $20 million to publishers, however it raised the wider issue of licensing on streaming platforms where as much as 25% of music streaming is potentially unlicensed, according to the NMPA, speaking in a New York Times report of the case.
In a blog post announcing the move, Mediachain explained: "A shared data layer is key to solving attribution, empowering creators and rights owners, and enabling a more efficient and sustainable model for creativity online".
The latest acquisition will bring in pre-existing technology, including a blockchain database that will allow Spotify to connect their media and artist information with a separate attribution service for creators, also recently developed by Mediachain Labs.
Spotify has also acquired a cryptocurrency through the deal, which could feasibly be deployed to reward creators for their contributions to the platform.
26/04/2017: Spotify might take on the Amazon Echo
Spotify may be about to launch its very own music wearable, according to a Spotify job posting seeking someone to head up the development of "a category defining product akin to Pebble Watch, Amazon Echo, and Snap Spectacles".
Although the advert, spotted by Zatz Not Funny before it disappeared, doesn't go into much detail about what exactly Spotify is working on, it said a new device will "affect the way the world experiences music and talk content".
The senior product manager of hardware would join Spotify's platform and partner experience team, which aims to make using Spotify the most immersive music experience out there.
The right candidate will be tasked with developing the idea from the ground up, including working out how Spotify can enter the connected hardware market, what it will offer in terms of software (ie, how the Spotify service will be integrated into a wearable) and how it can actually be made into a physical object with the help from suppliers and manufacturers.
Whoever gets the post - if it's still available - would presumably work very closely with the company's new product manager for voice, which it is also apparently recruiting for. That job posting outlines how the right talent would be taken on board to help move forward the company's efforts in voice recognition across platforms, including its iOS nd Android apps.
"We focus on areas like desktop, TVs, speakers, cars, wearables, headphones and partner application integrations to make Spotify available wherever our users are," the company said. "Voice is quickly becoming a key interaction mechanism for control of digital devices and services."
10/04/2017: Spotify has partnered with Universal Music Group (UMG) with one of the new initiatives to release albums to paying subscribers as an exclusive - but only for two weeks.
The company's chairman and CEO, Daniel Ek, explained it will help deliver value for artists and a better experience for music fans.
"We will be working together to help break new artists and connect new and established artists with a broadening universe of fans in ways that will wow them both," he said.
"We know that not every album by every artist should be released the same way, and we've worked hard with UMG to develop a new, flexible release policy."
He added the two companies will continue thinking of new ways to "deliver the promise of the new music economy for all the people who make music and all the people who love it."
Lucian Grainge, Chairman and CEO of UMG added that streaming represents the majority of its business and as part of its business strategy, it's important it introduces new ways for music fans to consume the music they love, while also making money for the company.
"In a market this dynamic, one evolving more rapidly than ever before, success requires creative and continual re-evaluation of how best to bring artists' music to fans," he said.
"The only constants must be great music and fair compensation for artists and creators. To that end, the long-term success of Spotify, and others like it, is essential to the ecosystem's enduring health."
27/03/2017: After rumours Facebook was searching for a legal director of music licensing last month, it transpires the company is now about to launch a music service to rival the likes of Spotify.
The company is hoping to hire three senior bods experienced in music, according to Music Business Worldwide, and they will join the social network's global music strategy boss Tamara Hrivnak to launch a service that encompasses both music and video.
New hires will include a label music business development lead, who will presumably negotiate with labels to get the best deals for those wanting to stream music, MBW reported.
Those new staff will also "work with Facebook's product and partnerships teams to ensure a comprehensive music strategy that supports our efforts to make the world more connected on Facebook", the job ad apparently reads.
The regional publishing business development leads will "lead Facebook's strategy and negotiations with international music publishers and societies [to] ensure a coordinated and best-in-class licensing structure".
Facebook is obviously setting its sights pretty high, because all three new roles need at least eight years of experience in the music industry. All three new employees will be based in the company's New York HQ.
Stay up to date with the latest news and analysis from the world of cloud computing with our twice-weekly newsletter
Bobby Hellard is IT Pro's reviews editor and has worked on Cloud Pro and Channel Pro since 2018.
In his time at IT Pro, Bobby has covered stories for all the major technology companies, such as Apple, Microsoft, Amazon and Facebook, and regularly attends industry-leading events such as AWS Re:Invent and Google Cloud Next.
Bobby mainly covers hardware reviews, but you will also recognise him as the face of many of our video reviews of laptops and smartphones.
He has been a journalist for ten years, originally covering sports, before moving into business technology with IT Pro. He has bylines in The Independent, Vice and The Business Briefing.
Contact him at bobby.hellard@futurenet.com or find him on Twitter: @bobbyhellard
Thank you for signing up to Cloud Pro. You will receive a verification email shortly.
There was a problem. Please refresh the page and try again.