NetSuite takes wraps off SuitePeople and SuiteSuccess products
Cloud firm expands its portfolio with new HR and cloud offerings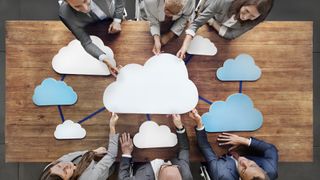 (Image credit: Shutterstock)
NetSuite used the first day of its annual conference to make not one, but two product announcements.
The first, SuitePeople, is an HR offering integrated into its wider, unified cloud platform. The second, SuiteSuccess, is designed to enable and track business results.
Jim McGeever, executive vice president of the Oracle NetSuite global business unit, announced details of the two newest NetSuite family members and was keen to stress this wasn't yet another rapid implementation.
"You can't get SuitePeople without getting rest of NetSuite. We have always built applications to run a business, not a department," he said.
SuitePeople includes the core HR capabilities companies would expect, in addition to HR analytics and compliance, ways of more easily identifying, recognising and encouraging employees to help drive their businesses forward. It's also flexible and configurable, easy to use and features role-based security, according to NetSuite.
Finn Partners has been using SuitePeople for several months as an early adopter. Unfortunately, Noah Finn, Finn Partners managing partner, was struck down by food poisoning so couldn't make the keynote in person, however, in a statement, he said: "Having HR data available in NetSuite has transformed how we manage, train and retain our most valuable asset - our people.
"We've already seen significant business benefits and have only just scratched the surface of what we can do with all of our information in one central repository."
SuiteSuccess, which NetSuite is hailing as the first unified industry cloud solution, will be offered in 12 different flavours, across these eight industry verticals:
Advertising, media, publishing
Financial technology
Manufacturing
Nonprofit
Retail
Service-based businesses
Software/internet
Wholesale distribution
The solution, which is built on four key pillars – build, engage, consume and optimise - aims to help NetSuite customers generate business value much more quickly and spur them on to further success.
"This is not a vision, a future plan. It starts now… There's an awful lot of confusion about cloud out there. There's a lot of cloud washing," McGeever added.
"The arrogance of success is to think what you did yesterday is going to be good enough for tomorrow. We're not resting on our laurels. We understand NetSuite is at the core of your business. We're not niche. We understand we're core to what you do and we take that responsibility seriously."
NetSuite co-founder (now executive vice president of development, Oracle NetSuite global business unit) Evan Goldberg is expected to go into more detail about the new products, which are available from 1 June, during his keynote on Wednesday.
Stay up to date with the latest news and analysis from the world of cloud computing with our twice-weekly newsletter
Maggie has been a journalist since 1999, starting her career as an editorial assistant on then-weekly magazine Computing, before working her way up to senior reporter level. In 2006, just weeks before ITPro was launched, Maggie joined Dennis Publishing as a reporter. Having worked her way up to editor of ITPro, she was appointed group editor of CloudPro and ITPro in April 2012. She became the editorial director and took responsibility for ChannelPro, in 2016.
Her areas of particular interest, aside from cloud, include management and C-level issues, the business value of technology, green and environmental issues and careers to name but a few.