How cloud companies are getting pragmatic about business use
We've become used to shadow IT but are we ready for apps being built by non-techies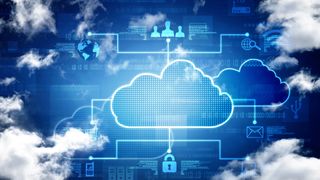 (Image credit: Shutterstock)
Pardon me? But did someone say 'practical realism and pragmatism' for cloud computing? Well that's how the vendors are selling their wares and spinning their spin at this year's CeBit 2014 conference and exhibition in Hannover, Germany.
Faced with the gargantuan task of walking the 20-something halls of the show this year, one option was to save some shoe leather and concentrate on the two German software firms whose names start with S and who were, conveniently, situated next door to each other.
Software AG was here to launch its new Intelligent Business Operations (IBO) platform and Intelligent Business Process Management (iBPMS) platform. So then, is this a case of cloud management and analytics just like SAP? Not exactly, but there are no prizes for guessing whether Software AG is cheaper than SAP HANA, because almost everything is.
It's not just price that acts as the differentiator here. Software AG is positioning the integration of its ARIS and Alfabet product suites as a joint collaboration tool to target the business-to-IT divide. The firm tries hard to use the word 'unique' when describing the functions of its cloud analytics offering and says that IBO can recognise "trends and deviations" from known patterns, while it also offers opportunities for integrating 'historic and context' data in the analyses.
Uniquely (ouch!) says Software AG, Intelligent Business Operations can combine in-memory, historical process discovery along with performance monitoring data inside real-time business operational data streams.
So you know what this is? It's pragmatic big data analytics from the cloud. It is the ability to perform continuous analytics while looking for new kinds of business patterns as events are happening, or indeed, as they are about to happen. It's real tangible cloud that plays with real data -- and so we're looking at so-called live Line of Business applications.
The sexy sizzle
Make no mistake, if you want to sell the sexy sizzle on cloud right now you have to talk about "real time Line of Business (LoB) pragmatic clouds", or you're a non-starter
So has Software AG got a product, a platform or a placebo? Company CTO Wolfram Jost justifies his use of the term platform when talking about his firm's product line. He explains that the label 'platform' is really just a way of describing software subcomponents that have been grouped together to coalesce functionality, saving customers from having to develop them themselves.
These subcomponents of cloud include elements like security, storage, deployment management, provisioning management, a UI framework and, of course, a database itself. Software AG packages up these subcomponents now under its 'Live' brand and offers cloud elements such as PortfoliosLive - a portfolio management tool for planners, architects and portfolio managers. There is also ProcessLive to show which business capabilities are supported by which elements of all IT systems (or clouds).
Once again this is real pragmatic actual working live cloud, hence Live is a product brand name too. This product family also includes the AgileApps Live offering that offers pre-built components based on templates for applications that can be built by non-technical business users. IntegrationLive will come later this year, you could have almost guessed right?
SAP cloud evangelist Sven Denecken was also here at the show to talk about the reality of where we see Line of Business clouds and how these manifest themselves.
"The current situation of each individual client determines where their adoption of cloud will happen ie where assets are determined to be healthy and in a good place, let us perhaps not focus on those first," he said.
Denecken provides more clues as to which clouds will get off the ground first and says that pragmatic functionality will be key. This is a nice segue for him to mention the fact that it is possible to perform Google-like searches within an SAP Enterprise Cloud on HANA. This is because the search engine is built in as part of the HANA platform. So once the data is in memory it is index-able and therefore searchable.
"The business process will always win and the customer should never need to think about consuming the entire suite," added Denecken, pragmatically.
Denecken admitted that while SAP started off with very ERP-centric cloud roots, the firm's cloud model was developed in not the most natural or perfect (or indeed pragmatic) way. "But I think if you ask people now, they will agree that SAP gets cloud and we get it right," he said.
Line of Business is where spend is happening first he asserts. "Of course SAP wants a 100 per cent coverage market proposition, but Line of Business clouds will be the driving force … and the more subtle elements of the total deployment model are something that we will see played out in a slightly longer game."
So maybe we've become more real with recent cloud developments. If you want to know how we manage Line of Business DevOps in this scenario then just work that acronym out for yourself and get ready for LOBDOPS.
Stay up to date with the latest news and analysis from the world of cloud computing with our twice-weekly newsletter
Thank you for signing up to Cloud Pro. You will receive a verification email shortly.
There was a problem. Please refresh the page and try again.