'Crypto jacking' cyber attacks up by 8,500%, says Symantec
The popularity of cryptocurrencies sees the rise of coin mining malware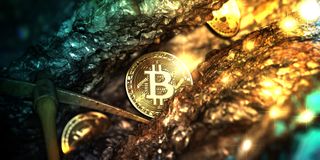 Hacking computers to surreptitiously siphon off processing power to mine for cryptocurrencies is on the rise according to Symantec.
The cyber security company found a 8,500% surge in so-called 'crypto jacking' cyber attacks in the final quarter of 2017, according to a new report.
Out of all the hack attacks the company blocked last December alone, 24% were aimed at hijacking CPU power to mine the digital currencies such as Bitcoin and Monero.
The growing interest in cryptocurrencies and their acquisition can be attributed to the rapid rise of crypto jacking, which affects both mobile and desktop systems. Part of this rise has been attributed to the increased availability of easy-to-use crypto mining tools that can be slotted into malware and used by cyber criminals to generate an illicit income.
"The barrier to entry for coin mining is pretty low potentially only requiring a couple of lines of code to operate and coin mining can allow criminals to fly under the radar in a way that is not possible with other types of cyber crime," Symantec's security response team said.
"Victims may not even realise a coin miner is slurping their computer's power as the only impact may be a slowdown of their device that they could easily attribute to something else."
While stealing computing power may not seem as big a threat as pilfering private data or spreading spyware throughout a network, it can still cause problems for both individual and corporate victims.
"Coin mining on a device could potentially cause batteries to overheat and devices to become unusable," noted Symantec's research.
"Coin mining also has implications for organisations. Self-propagating coin miners may require corporate networks to be shut down. Coin mining in the cloud also has financial implications for organisations that are being billed based on CPU usage."
Given the current furore surrounding cryptocurrencies, it's unlikely that crypto jacking will slope of anytime soon, unless the value of the digital money takes a significant downward spiral.
Image: Shutterstock
A daily dose of IT news, reviews, features and insights, straight to your inbox!
A daily dose of IT news, reviews, features and insights, straight to your inbox!
Thank you for signing up to ITPro. You will receive a verification email shortly.
There was a problem. Please refresh the page and try again.