Advertisement Feature
Intel Xeon Scalable and Optane: Transforming the data centre
This high-speed combo isn't just boosting performance, but changing the IT services that enterprises can deliver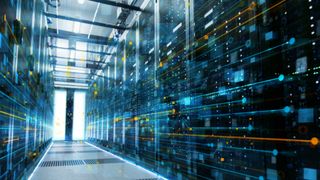 For too long storage has been a data centre performance bottleneck, limiting the applications businesses could run and slowing down crucial operations. With Intel Optane technology that bottleneck falls away, enabling organisations to harness the full power of a new generation of Intel Xeon Scalable processors, both to optimise their existing workloads and explore new applications that could enhance their business.
Optane is Intel's next-generation solid state storage technology, harnessing the performance characteristics of Intel and Micron's 3D XPoint non-volatile memory technology to create SSDs with radically faster and more consistent read/write speeds and up to 100x the durability of standard flash technologies. As well as enterprise-class SSDs, it's powering a whole new class of persistent memory DIMM that combines RAM-like performance with the affordability and capacity of flash: a real breakthrough for data-intensive applications.
Intel Xeon Scalable is Intel's latest family of enterprise-grade processors, aimed at workstations and the data centre and built around a new mesh architecture that creates more efficient data flows between cores and between cores and RAM, and that's optimised for the demanding or data-intensive workloads. Individually, both Optane and Xeon Scalable have much to offer in the data centre. Put them together and they're near-unstoppable.
That's partly because the two have been developed in tandem, Intel's hardware platform delivering 48 lanes of PCIe 3.0 connectivity per CPU, virtua NVMe RAID control and other features that support Optane hardwired in. As Justin Wheeler, NSG Storage Solutions Architect at Intel puts it, "the R&D is designed around optimising Optane storage for and with Xeon Scalable Processors, and actively looking at the architecture of the CPU to increase the efficiency, the capacity and the performance of the storage. It's very much a hand-in-glove approach." On the one hand, Wheeler explains, the speed, low latency and enhanced write performance of Optane lends itself to more processor and data-intensive tasks. On the other hand, the Xeon Scalable architecture and platform are designed to deliver the high-bandwidth connectivity Optane needs to deliver that performance.
"All three of those components compute, network and storage form part of an overall solution," says Wheeler. "We can't look at them as individual components anymore. We have to see them as one unit working together." Before Optane, you could have a fast CPU never reaching its potential because the storage couldn't maintain pace. Not any more. Wheeler believes that the next revolution in the data centre is very much around storage maximising the CPU."
This isn't just a case of performance for performance's sake. For one thing, the performance advantages of Optane play into specific workloads, including HPC, Hyper-converged infrastructure, Content Delivery Networks, large-scale databases, machine learning and real-time analytics. This ramps up efficiency, giving you the performance to handle existing operations at greater speeds. Backups and snapshots that used to take many hours can be handled in a fraction of the time. But it also helps companies build the right hardware platforms for data-intensive applications at a lower cost you can handle more transactions with smaller, cheaper Optane SSDs than with a significantly-more expensive flash-based SAN.
Perhaps most importantly, these new architectures add flexibility. In Wheeler's words, "This technology provides you with performance, but it also provides you with agility. There are a lot of unknowns out there in the business world; how do you know who your clients are or what their needs are going to be. You need to be more agile and responsive, and this technology is an enabler for that."
For concrete examples, we spoke to Dr Chris Folkerd, Chief Technologist at UK Cloud Services provider, UKFast. Folkerd and his team have recently rolled out Intel Optane data centre SSDs across three areas of the enterprise, beginning with the firm's backups environment. "We use CommVault as our main backup platform," says Folkerd "and when that's ingesting data there's a huge amount of disk I/O in the deduplication area, so what we've done is place the deduplication database on Optane." The performance improvements have been dramatic, he notes, thanks to Optane's faster write speeds and latency reductions.
Having built confidence in Optane through its implementation in backup, Folkerd rolled it into the caching tier of UKFast's journaling databases. "They're write-intensive and Optane has a much greater write endurance than SSDs," he explains. "Caching destroys SSDs. We can go through an SSD in less than two months, but the Optane drives are much more stable." Not only is this reducing cost and maintenance burdens, but UKFast expects to ramp up delivery of vSAN services during 2018 and into 2019, partly because the increased performance of Optane means that data doesn't have to be held for so long in the cache tier. This means the business can use smaller drives, enabling it to scale up without a huge hardware investment.
And while Xeon Scalable and Optane are helping UKFast improve their existing operations, they're also helping them broaden their services portfolio. The company's now harnessing the technology to power new high-tier hosted SQL services and move into a higher performance space. "It enables us to have a more diverse range of product offerings," says Folkerd. "Before, if you wanted to get the level of IOPS you can get with Optane it would have meant investing in a much larger SSD installation, whereas now that can be consolidated down you're not spending more money to get space you don't need just to get the IOPS that you do."
Powering new capabilities, Xeon Scalable and Optane give businesses the right platform for tomorrow's workloads. In UKFast's case, Folkerd adds "it gives us a much broader product portfolio for the same price point, so we can do a lot more on the high-performance side that would either have been out of reach for our customers from a cost perspective, or that, technologically, would have been very challenging to implement."
Perhaps best of all, these are technologies for the future. As Intel's Justin Wheeler says, "We're at the bottom of the wave, and there are going to be many more advances on the way." Folkerd concurs. "You're future-proofing a lot of what you do with storage. Looking at the roadmaps for other companies there isn't going to be anything that's as quick as this for a significant amount of time, so the overall investment in the switch to Optane isn't that big for all the benefit you get from it and from the longevity of the platform."
Get the ITPro. daily newsletter
Receive our latest news, industry updates, featured resources and more. Sign up today to receive our FREE report on AI cyber crime & security - newly updated for 2023.
ITPro is a global business technology website providing the latest news, analysis, and business insight for IT decision-makers. Whether it's cyber security, cloud computing, IT infrastructure, or business strategy, we aim to equip leaders with the data they need to make informed IT investments.
For regular updates delivered to your inbox and social feeds, be sure to sign up to our daily newsletter and follow on us LinkedIn and Twitter.