Toshiba exits the laptop business after 35 years
The company has sold its remaining 19.9% stake in the Dynabook laptop brand to Sharp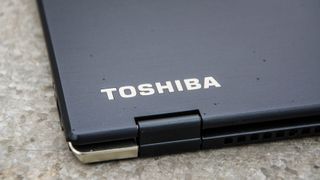 (Image credit: IT Pro)
Toshiba has officially exited the laptop business after a 35-year run.
The Japanese company has sold its remaining 19.9 percent stake in the Dynabook laptop brand to Sharp, Toshiba confirmed in a statement. This comes two years after Sharp bought an 80.1% stake of Toshiba's PC business $36 million (£27 million).
"Toshiba Corporation hereby announces that it has transferred the 19.9% of the outstanding shares in Dynabook Inc. that it held to Sharp Corporation," Toshiba said. "As a result of this transfer, Dynabook has become a wholly owned subsidiary of Sharp."
"On June 3030, 2020, under the terms of the [original] share purchase agreement, Sharp exercised a call option for the remaining outstanding shares of Dynabook held by Toshiba, and Toshiba has completed procedures for their transfer."
Toshiba was once a global leader in the PC market. The company released its first laptop, the T1100, in 1985, complete with internal rechargeable batteries, an LCD screen, a 3.5-inch floppy disk drive and compatibility with the IBM PC.
Despite setting the standard for future PCs, the company didn't make a name for itself until the 1990s, when it became the world's largest PC manufacturer.
However, as more players entered the market, Toshiba began to falter in the 2000s as it struggled to comete against the likes of Dell, HP and Lenovo.
Toshiba's share of the PC market contintued to shrink after it sold its stake to Sharp. The company sold 17.7 million PCs in 2011 while in 2017, the numbers were down to just 1.4 million units.
In a bid to rejuvenate the struggling laptop portfolio, Sharp swiftly initiated a rebrand and the business was renamed Dynabook. The acquisition of the remaining shares suggests Sharp is confident it can profit from the revival.
News of Toshiba's exit from the PC market comes just weeks after the company announced plans to sell its 40.2% stake in flash memory chip manufacturer Kioxia Holdings in a bid to escape the volatility of the semiconductor market
A daily dose of IT news, reviews, features and insights, straight to your inbox!
Carly Page is a freelance technology journalist, editor and copywriter specialising in cyber security, B2B, and consumer technology. She has more than a decade of experience in the industry and has written for a range of publications including Forbes, IT Pro, the Metro, TechRadar, TechCrunch, TES, and WIRED, as well as offering copywriting and consultancy services.
Prior to entering the weird and wonderful world of freelance journalism, Carly served as editor of tech tabloid The INQUIRER from 2012 and 2019. She is also a graduate of the University of Lincoln, where she earned a degree in journalism.
You can check out Carly's ramblings (and her dog) on Twitter, or email her at hello@carlypagewrites.co.uk.
A daily dose of IT news, reviews, features and insights, straight to your inbox!
Thank you for signing up to ITPro. You will receive a verification email shortly.
There was a problem. Please refresh the page and try again.