NFL players turn to wearable for health checks
NFL Players Association doles out Whoop Straps to footballers to watch over health amid pandemic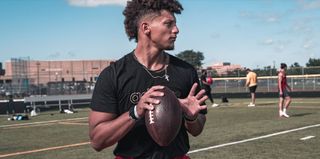 Companies are considering different techniques to monitor employee health as workers return to the office as pandemic lockdowns ease in some places, but the NFL has something a bit different than productivity and workplace outbreaks in mind.
The NFL Players Association is rolling out monitoring wearables from Whoop to all active players to track sleep and heart rate with all the data owned and controlled by the players themselves.
Beyond that training data, the third version of the Whoop Strap also collects respiratory rate information, which the company's own research suggests could spot early warning signs for COVID infections two days before symptoms emerge in 20% of cases and 80% of cases within three days of symptoms.
That work is yet to be peer-reviewed and the company says it's not a substitute for medical diagnosis, though golfer Nick Watney credits the wearable with helping him spot his own symptoms.
"Heading into the 2020 season and with everything going on in the world, WHOOP has helped me understand my own training and health in a new way," said Patrick Mahomes, Super Bowl MVP. "Whoop can support the entire league's efforts in getting back to work – we want to play and do so safely."
Alongside the wearable itself, players will be given training to understand the physiological data collected, so they can understand any changes from their personal baselines, the company said in a statement.
The announcement follows efforts outside of sports to find ways to keep employees save when they come into work, with some companies using temperature checks or tracing apps to try to avoid COVID outbreaks. Miku is rolling out contact-free respiratory monitors to healthcare facilities, while mHealthCoach's symptom checker will help workers monitor symptoms when they return to the office.
A daily dose of IT news, reviews, features and insights, straight to your inbox!
A daily dose of IT news, reviews, features and insights, straight to your inbox!
Thank you for signing up to ITPro. You will receive a verification email shortly.
There was a problem. Please refresh the page and try again.