Semiconductor shortage hits ISPs hard
Router vendors ask broadband providers to order a year ahead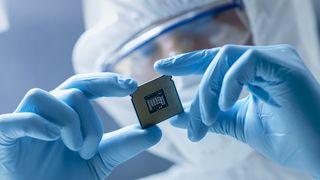 (Image credit: Shutterstock)
The semiconductor shortage is affecting internet service providers (ISPs) in the US, choking off supplies of key networking equipment, according to a Bloomberg report.
The problem lies with the chips used in internet routers, which are in especially short supply, according to the report. ISPs are seeing up to 60-week delays getting the routers that use these chips, Bloomberg said, citing unnamed sources. This is more than twice the waiting times the industry experienced before the shortage.
ISPs face a double whammy. First came the COVID-19 pandemic, which squeezed electrical component supplies and then the switch to remote working drove up demand for better broadband.
Bloomberg quoted Karsten Gewecke, head of European regional business for router vendor Zyxel Communications Corp, on the shortage. He said the situation had worsened since Chinese factories reopened last year.
"It's a snowball effect that we're pushing in front of us, and the situation since then has just become worse and worse and worse," Gewecke said, adding the company is asking ISP customers to order a year ahead to cope with the crisis. "When I talk to some of the chipset vendors, some of them tell me that they have something like overbooking of 300% of their capacity."
Making the routers is only one part of the challenge for manufacturers, Bloomberg reported. The other hurdle is getting the equipment to its destination. Shipment space is limited, and routers must compete with other products. The recent blockage of the Suez Canal by the Ever Given container ship has exacerbated the problem.
The supply chain will face stress for the next six months, and some ISPs could run out of routers by that point, Gewecke added.
The semiconductor shortage is an ongoing crisis that has primarily affected the auto industry. It forced Ford and GM to temporarily close some of their US plants in February. Those closures expanded last week.
The router shortage is another sign that the chip shortage is metastasizing across other sectors beyond the auto business. In March, Samsung warned the supply shortage could force it to delay its next Galaxy Note device. Reports of a supply crunch at Apple also surfaced last week, affecting MacBook and iPad production.
A daily dose of IT news, reviews, features and insights, straight to your inbox!
Danny Bradbury has been a print journalist specialising in technology since 1989 and a freelance writer since 1994. He has written for national publications on both sides of the Atlantic and has won awards for his investigative cybersecurity journalism work and his arts and culture writing. Danny writes about many different technology issues for audiences ranging from consumers through to software developers and CIOs. He also ghostwrites articles for many C-suite business executives in the technology sector and has worked as a presenter for multiple webinars and podcasts.
A daily dose of IT news, reviews, features and insights, straight to your inbox!
Thank you for signing up to ITPro. You will receive a verification email shortly.
There was a problem. Please refresh the page and try again.