Can the UK semiconductor industry help solve the global chip shortage?
The UK has a booming semiconductor industry and is home to breakthrough technologies, but that may not be enough to make an impact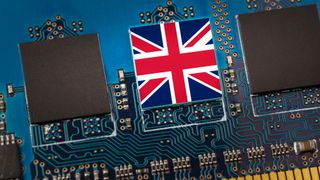 (Image credit: Shutterstock)
Over the past year, there has been a significant shortage of semiconductors used in everyday electrical goods like smartphones, tablets, computers, televisions, radios and even cars. This is unlikely to change anytime soon, with Dell's CEO warning that the chip shortage could continue for "a few years".
In response, many countries right around the world are attempting to solve the global chip shortage. For example, Japan recently unveiled a $338 million semiconductor research initiative, and US president Joe Biden has been vocal about addressing this issue. But given that the UK also has a world-renowned semiconductor industry, what can it do to help?
Solving the global chip crisis
Despite being a lot smaller than other technologically advanced nations like the United States and China, the UK has developed a solid reputation as a world-leading nation for semiconductors over the last few decades. Today, it's home to some of the biggest names in the global semiconductor industry.
Simon Beresford-Wylie, CEO of Imagination Technologies, says: "The UK has a long and successful history in the chip industry, with global players such Imagination, Arm and Graphcore being founded here. The recent global shortage has highlighted just how crucial the chip industry is, but also just how concentrated it is when it comes to manufacturing, with the majority taking place in the US and Asia."
Like other countries with strong semiconductor industries, however, the UK isn't untouched by the growing shortage of electrical chips globally and must urgently take steps to solve this serious issue.
"To help address the shortage and mitigate future risk, the UK needs to take advantage of its experience and expertise in design and apply it to manufacturing," says Beresford-Wylie. "The UK needs to champion supply chain diversification, partially as it draws up its post-Brexit, post-pandemic future."
He points out that the UK has many attributes that can enable it to produce electrical chips successfully, including innovative semiconductor firms, a booming technology industry and expertise in advanced manufacturing. He cautions, however, that "to really capitalise, an overarching vision from government is needed so that all the pieces fall into place".
Increasing investment in new capacity across the British semiconductor industry is key to addressing current shortages, according to Alan Priestly, VP analyst at Gartner. He says this investment should be geared towards improving chip manufacturing and different aspects of the supply chain currently constraining supply, such as wafer fabrication and substrates.
Additionally, he believes that companies utilising electrical chips must improve their demand forecasting, because chip manufacturing can take several months and semiconductor companies cannot easily respond to changes in demand. "This is contributing to the shortages across the industry," he says.
A unique opportunity
Although the current global semiconductor shortage is a complex issue and won't be simple to address, some believe that UK-based chipmakers have a unique opportunity to take action to tackle it.
Mark Benson, platform head of business development for Logicalis UK, says: "The latest semiconductor shortage gripping the world is a symptom of deeper problems facing manufacturers and, indeed, the planet.
"While there are many unique causes of the current shortage, there are also opportunities for the UK semiconductor industry to solve the current issues as well as break the endless cycle of shortages."
Benson says the UK's unparalleled research and development capabilities, led by its world-class universities, will allow the nation to play a leading role in the semiconductor industry in the coming years. "The unsustainability of mined silicon is one of the key root issues that manufacturers are grappling with, and calls are getting louder for alternative materials to be found," he explains.
"One such material being considered is graphene, discovered in 2004 at the University of Manchester and is manufactured and applied by many companies right here in the UK. With backing from the British government, the UK tech sector's innovation is the key to getting the world out of the semiconductor crisis it currently faces."
A challenging task
But even though the UK has a highly experienced and growing semiconductor industry, this isn't necessarily enough to alleviate global production shortages. Craig Melson, head of digital devices, market access, environment and sustainability at TechUK, says: "An expanded UK semiconductor industry would benefit competition, alleviate supply chain pressures and accelerate innovation, especially if focused on the most advanced chip designs.
"However, this takes years to develop and would not address current shortages so the UK should prioritise digital devices for supplies. Longer term, governments need to create the right environment for more investment in fabrication."
Priestly is also skeptical of Britain's ability to address semiconductor shortages internationally. He tells IT Pro: "There's not a lot the limited UK chip industry can do to solve the global ship shortage, as the UK is currently not a global player in the semi manufacturing industry."
Giorgia Longobardi, CEO of Cambridge GaN Devices, agrees that UK semiconductor companies will struggle to find a solution to the electrical chip shortage on a global scale. She tells IT Pro: "The problem is that the British semiconductor industry is not currently strong or big enough to help with this issue."
If this is to change, the semiconductor industry in this country requires more government support and funding. Longobardi says: "The UK government needs to direct investment towards semiconductor businesses and their overall supply chain to be able to strengthen its position. Leading-edge innovation in manufacturability comes from deep R&D, which the UK is extremely strong in, but they currently fail to deliver on the infrastructure and investment needed to scale."
Longobardi says the availability of semiconductor materials and water foundries equipped for high production volumes is the biggest problem. "This issue is even more worrying when it comes to new semiconductor materials such as Gallium Nitride (GaN)," she explains.
RELATED RESOURCE
Business in the new economy landscape
How we coped with 2020 and looking ahead to a brighter 2021
"GaN has shown to be one of the most efficient semiconductor materials; able to cut the energy losses in the power conversion of dozens of applications, including onboard chargers of electric vehicles. This comes with the added benefit of cutting down on gigatonnes of CO2 emissions."
However, the unfortunate reality is that a lack of investment in such areas only makes things worse for semiconductor companies based in the UK. She adds: "Yet, no significant investment has been made to develop and scale the supply chain capacity that's required. In comparison, China, Taiwan, the US and lately Europe are focusing their investment into strengthening the semiconductor industry, which is something the UK needs to act quickly on."
Solving the global chip shortage won't be an easy undertaking, but considering the important role electronics play in our lives today, doing so is crucial. While UK semiconductor companies and the wider technology industry can certainly do their part to help address this problem, it's clear that the UK government also needs to step up by providing ample support and investment.
Get the ITPro. daily newsletter
Receive our latest news, industry updates, featured resources and more. Sign up today to receive our FREE report on AI cyber crime & security - newly updated for 2023.
Nicholas Fearn is a freelance technology journalist and copywriter from the Welsh valleys. His work has appeared in publications such as the FT, the Independent, the Daily Telegraph, the Next Web, T3, Android Central, Computer Weekly, and many others. He also happens to be a diehard Mariah Carey fan. You can follow Nicholas on Twitter.