How 3D printing is helping the Ukrainian fightback
Volunteers among the 3D printing community are helping to supply thousands of vital tourniquets to the Ukrainian conflict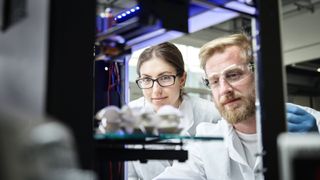 (Image credit: Getty Images)
When a country is suddenly plunged into war and citizens have been mobilised to fight back against the invaders, it's no wonder that supplies of critical medical supplies such as tourniquets run low. This was, of course, the exact situation Ukraine found itself in when Russia invaded this year.
"All of a sudden you have 100,000 people who are mobilised to the Territorial Defence Force," says Jakub Kaminski, a medical robotics engineer based in Massachusetts. "They are getting a gun, a few magazines of ammunition. but they are not given tourniquets."
Tourniquets are critical on the battlefield, as it can be a matter of minutes before someone who has been hit bleeds to death. This is where Kaminski has stepped up to help. He and his colleagues have designed a 3D-printable tourniquet that can be used to stem the bleeding after a soldier has been hit. The tourniquets are printed by volunteers all around the world and shipped to Ukraine. More than 1,000 have already been deployed on Ukraine's frontline, and another 4,000 are on the way at the time of writing.
"I had some experience with hobby printing for first responders during COVID-19," says Kaminski. "I was printing adapters for snorkelling masks that first responders used to use in hospitals in Poland. When this war started my first thought was we have a 3D printing community, they can do something for Ukraine. We have technology, we have a hammer, we are looking for a nail."
Even though the war created a pressing need for equipment, Kaminski and his colleagues took a careful approach to the rollout, knowing how sensitive it would be. "Our approach was not to give [3D printed supplies] prematurely, because you want to have full control over this process, because in the end it's a medical device. We are crazy enough to come up with a tourniquet, and we are confident to do that, because we are following very well-established design principles."
Printing a NATO-approved design
Kaminski's design is based on existing, NATO-approved tourniquets that are in short supply, but during the design process he left nothing to chance. "We tested it with laboratory pulling machines, with non-destructive tests, like computer tomography scanning to see the internal structure before and after applying stress. And we also do rigorous medical testing, with Doppler ultrasounds," he says. As an added flourish, the now-famous slogan "​​Слава Україні!", or "Glory to Ukraine", has been embossed in each tourniquet's handle.
After the parts have been printed, they are sent to factories in Lviv, in free Western Ukraine, where the tourniquets are sewn together with a particularly sturdy strip of Velcro.
"When you lock it, it holds very strong, there is no way that it will lose grip," he says. "We actually purchased the last stock in Europe of this Velcro – a few thousand metres, before it was too late."
Like all of the best 3D printing projects, the design has evolved since the project first began, thanks to the technology's ability to rapidly prototype.
"The main design optimisation was to handle the stress distribution, and make it easily printable on a wide variety of printers," said Kaminski, explaining how the design was also optimised to fit more parts on a single 3D printer bed, to speed up the production process.
Making the designs 'Zelenskyy-tough'
It was only once tourniquets started being used in battle did his team discover they also needed to optimise the design for another factor. "This is supposed to be a single-use device," says Kaminski. "However, when they bring a wounded person to hospital and remove the tourniquet, they wash it and the tourniquet goes back to the frontlines."
So, he has tried his best to make the design reusable, or "Zelenskyy-tough", as he quips.
RELATED RESOURCE
Organisations accelerating their digital workplace achieve improvements
See the biggest return on device investments
Another example of the care being taken is how Kaminski is managing his supply chain, when parts are being printed by volunteers all over the world.
"Every single producer of 3D printed parts in our project is given a special number, and this number is coded into every part with a special dot pattern," he says, describing the unique 16-bit pattern printed as part of each design, which means that each part can be traced back to where it was made.
"If we have some quality control issues, which is of course resolved before the sewing, I can reach out to them and say, let's improve that together."
Ultimately though, Kaminski recognises that 3D printed tourniquets have their limits. In fact, he's currently working on a new version that uses more traditional injection moulding technology, but he's happy to take advantage of 3D printing in the meantime if it means helping Ukraine.
"It's not a licensed medical device," says Kaminski. "But it's medically tested in several different manners and it's for emergency use only, during the war. If high quality tourniquets arrive, I will ask people not to use ours."
Get the ITPro. daily newsletter
Receive our latest news, industry updates, featured resources and more. Sign up today to receive our FREE report on AI cyber crime & security - newly updated for 2023.