Will folding screens ever make it to the mass market?
They seem like a pricey novelty, but that may not always be the case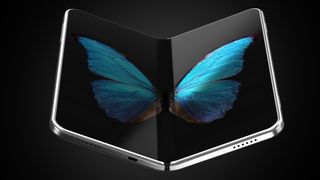 (Image credit: Shutterstock)
Folding screens have been around for a while now. Samsung recently announced the second generation of its Galaxy Z Fold smartphone and it's not the only company at this stage of its development and product cycle. There are some interesting innovations out there, but will folding screens ever take off in the mass market and if they do, what will we use them for?
A solution looking for a problem?
It's often the case with new technologies that people wonder if they have a place in the scheme of things.
The Boston Post newspaper in America famously included this about the newly invented telephone in 1865: "Well informed people know it is impossible to transmit the voice over wires and that were it possible to do so, the thing would be of no practical value." H M Warner, of Warner Brothers, has this 1927 quote to his name about the introduction of talking pictures: "Who the hell wants to hear actors talk?"
When it comes to folding screens, you don't have to use your search engine of choice for long to find opinions saying they are a solution looking for a problem.
Get yours today – at a price
Despite a healthy dose of scepticism there are plenty of companies producing folding screens right now. For example Samsung's newly launched Android based Galaxy Z Fold 2 is both a phone with a 6.2-inch screen and a device with a 7.6in foldout display. It costs £1,799.
To give another example is Royole, a relative unknown in the UK, which was the first company to launch a foldable smartphone, is a flexible screen specialist and has just launched the second generation of its Flexpai phone with a 7.8in single folding screen. There's no word on if this will become available outside China, but its dollar retail price would be around $1,500.
The high unit costs are to be expected. Early stage production of new technologies always carries a premium because of high development costs. Who remembers what flat screen TVs used to cost, and the huge price drops that have followed mass adoption? If the mass market decides it likes folding screens, prices will fall.
What are folding screens for?
It isn't just handset makers that are toying with folding screens, nor is it just producers of colour screens. E Ink, best known as a maker of screens for eReaders, has announced its own flexible display, called Mobius. Arguably this is where it gets interesting.
Mobius isn't made of glass and is flexible throughout rather than 'bendable' at a particular hinge-point, it doesn't support colour, but it can accept hand-written input, it is thin and light, and can be made in a wide range of sizes. Glass can be added to the front of the display if a more sturdy or robust design is needed.
These characteristics make Mobius appropriate for a wide range of uses. At its website, E Ink suggests these for starters : eReaders, eTextbooks, eNewspapers & eMagazines, business devices, smartphones, shatterproof luggage tags, and logistic tags. The company has also shown off a folding e reader that can accept hand written notes – a sector where folding screens could really take off.
A place in the new normal?
With the UK government once again advising that people in England should work from home where possible (and other UK nations following suit), and with movement restrictions set to continue for at least six months, if not longer, working from home is becoming increasingly normalised. Another feature of the first half of the year – home education – may also make a return in a worst case scenario over the winter.
In both situations, flexible screens could find a place. In early September, analyst house IDC said that the tablet market in the EMEA region showed 23.8% year on year growth, putting on its strongest performance since 2013 and its first positive growth in the region for six years. The Western European market growth beats the region average, growing 28.3%. IDC puts this down in part to a shortage of laptops and the rise in both schooling and working from home.
Could it be that, if foldables were more affordable, they too would have benefited from this uplift? A device that can provide both a larger and a smaller screen seems compelling for a range of work/education scenarios, especially where space at home for multiple devices might be tight.
Perhaps in years to come, if folding screen technology reaches the level of market acceptance that will allow it to be produced at mass market cost, the industry might look back at this period with its 'what if' hat on, while the rest of us read folding enewspapers, make notes on folding tablets, and use our four way foldable phones as A4 sized screens when the whim takes us. And perhaps an article looking back on the history of folding screens will quote the naysayers, just as we've quoted the Boston Post and H M Warner.
Get the ITPro. daily newsletter
Receive our latest news, industry updates, featured resources and more. Sign up today to receive our FREE report on AI cyber crime & security - newly updated for 2023.