CA World 2013: IaaS and PaaS aren't on our roadmap, CA says
A renewed focus on SaaS doesn't mean it'll be heading down the road of cloud bedfellows IaaS and PaaS, according to CA Technologies.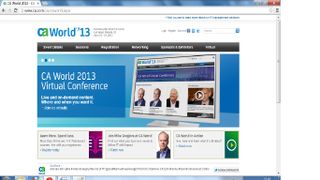 CA Technologies may have just announced plays for the MDM and SaaS markets, but don't expect to see it dipping its toes in the IaaS or PaaS markets anytime soon.
That was the message given loud and clear by the company's CTO John Michelsen during a press conference at CA World in Las Vegas this week.
"CA's point of view is not to be an IaaS provider. This is a market for us to sell in to," he said. "We think that this is the right model for CA. We are a vendor for providers... we are not going to enter the IaaS space."
On Sunday, the company's CEO Mike Gregoire announced plans to refocus the majority of its products on a SaaS delivery model, all built on a new, more open CA platform. But, despite the company embracing a new platform on which to re-engineer its own products, don't be fooled into thinking this means the company is eyeing up the PaaS vendor market too, according Michelsen.
"PaaS is where our customers are moving. We consider PaaS another layer of heterogeneity," he said.
"Our CA platform does not mean we're entering the PaaS space. Are we going to sell it to customers? The short answer is no. That's not our current plan. Platform is very important to us but we're not going to market with it. In fact, our platform will run on third-party PaaS [solutions]."
Michelson also defended the company's pace when it came to embracing the cloud world when asked why things had been so slow' by a journalist during the conference.
"Cloud is a moving target. Both in terms of what is available/technical ability and the way customers are interested in consuming what's out there. It has changed every year," he said.
"As the target has moved, so has our understanding of what is possible and what we need to do - the pieces we need to provide to the market as opposed to partnering. This [means you] may think it's been a slower journey than you might expect. Yet we think we're right on the tip of where our customers need us to be... We'll never be done, but we'll continue to evolve."
A daily dose of IT news, reviews, features and insights, straight to your inbox!
Maggie has been a journalist since 1999. She started her career as an editorial assistant on then-weekly magazine Computing, before working her way up to senior reporter level. After several years on the magazine, she moved to 'the other side of the fence' to work as a copywriter for a marketing agency, writing case studies and working on ad and website copy for companies such as eBay, Dell, Microsoft and more. In 2006, just weeks before IT Pro was launched, Maggie joined Dennis Publishing as a reporter. Having worked her way up to editor of IT Pro, she was appointed group editor of Cloud Pro and IT Pro in April 2012. She became the editorial director and took responsibility for Channel Pro, in 2016. Her areas of particular interest, aside from cloud, include management and C-level issues, the business value of technology, green and environmental issues and careers to name but a few.
A daily dose of IT news, reviews, features and insights, straight to your inbox!
Thank you for signing up to ITPro. You will receive a verification email shortly.
There was a problem. Please refresh the page and try again.