Android apps on Chromebooks: Are they any good?
Here's how some of the most popular Android business apps fare on Chrome OS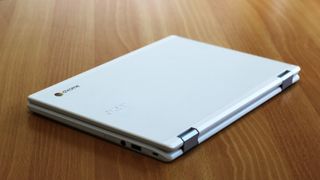 Chromebook fans claim the integration of Android apps on touchscreen Chromebooks brings a new dimension but how well do the key apps work?
Word
As you would hope and expect, the Word app is perfectly at home on a Chromebook. If you're a OneDrive or Dropbox user, your accounts can be automatically integrated into Word, solving the problem of where to save documents albeit restricting offline access. Unlike on the desktop, documents autosave by default, which takes a little getting used to.
The app's mobile roots are also apparent in the behaviour of the Ribbon interface. The Ribbon is hidden by default and only revealed when you click the down arrow in the top right-hand corner. This might be a bonus for those who favour the uncluttered approach, but it's an irritating extra click for those of us who constantly dip in and out of menus.
And who do we have to bribe to get one version of Word that understands that we want to spellcheck in UK English and not the US version?
Excel
Like Word, Excel also benefits from being able to stretch out on the larger screen of a Chromebook, but those expecting a fully-fledged desktop experience from the Android app are going to be disappointed.
On the plus side, Excel retains the content and fidelity of any workbook, but there are limitations to what you can do. Conditional formatting is displayed, for example, but you can't apply new conditional formatting to a set of data in the Android app. Nice touches such as the live preview of charts are also absent, as is the option to create pivot tables. Naturally, you can forget about any desktop Excel plugins, too.
On the plus side, it coped fine with a password-protected worksheet, but overall it's probably best to think of Excel for Android as more of a glorified worksheet reader than a true Excel replacement.
OneNote
Of all the main Office apps, OneNote is the one that struggles most with operating on a full-size laptop screen. It feels like a stretched mobile app, rather than the full-blown desktop app I'm used to. Maybe it's just ingrained muscle memory, but having notebook sections running vertically down the side of the screen rather than horizontally across the top just feels awkward and wrong on a landscape screen.
That said, the app's mobile-first design does work well in windowed mode, allowing you to pop a small OneNote window on top of, for example, the web browser and make notes while referring to the content in the background.
There's little in the way of editing options, but arguably that's not a major drawback for a note-taking app. If your Chromebook has stylus support, OneNote instantly kicks into Draw mode when your stylus come in contact with the screen, letting you scribble notes or draw a diagram without fuss.
Powerpoint
Whether you're using a Chromebook to deliver a presentation or create one from scratch, there's plenty to admire about the Android app.
It includes Presenter Mode, allowing you to preview forthcoming slides or take a look at your notes while delivering a presentation, although some of the fancier tools such as turning your mouse into a virtual laser pointer are missing from the app.
Creating new decks is reasonably straightforward, too. Granted, there aren't many templates to choose from and you don't have the option to go online and hunt for more, like you do on a PC, but there's still enough here to knock up something that won't show you up in the boardroom.
Moreover, Dropbox and OneDrive integration makes it easy to insert items such as photos into your slide decks. You can completely forget about video, though, whether viewing or inserting it.
Slack
Slack on a Chromebook looks much like Slack on the Windows desktop. There are a few missing functions: the ability to have side panes showing threads, documents or activity is absent, as is the option to make Slack audio/video calls to your colleagues. Curiously, these features are available in the Slack web app, which is accessible via Chrome, making you wonder why the Android app can't catch up. Perhaps the developers have yet to see the demand for full-sized screen usage.
One other convincing reason to use Slack in the browser is the fixed font size it's near unreadably small on the new Pixelbook, but much kinder to the eye in the browser, where you also have the option to zoom in and out.
Outlook
I'm a big fan of the Outlook Android app on my smartphone. In many ways, I think the free Android app is better than the desktop app I'm paying 8 a month for as part of Office 365, not least in the way it separates mail wheat from chaff.
Unfortunately, it's something of a problem child on the Chromebook. When you attempt to add an email account, the Outlook app demands that you "need to install a compatible browser". The help files tell you to download Chrome: it's looking for the mobile version of the browser, rather than the desktop version installed on the Chromebook. Once that was installed from the Play Store, it was all sorted, but it's further evidence of Android apps not being quite ready for Chromebooks yet.
The other downside is the same one that afflicted the Slack app the default font size is fixed and uncomfortably small to read for a fortysomething. Webmail is perhaps the way forward.
Chrome Remote Desktop
You might think that one way around some of the app restrictions we've identified would be to remote desktop into your regular PC. It's a nice idea, but it's flawed.
I used Chrome Remote Desktop to hook into my Lenovo ThinkPad Yoga X1, wondering whether it would let me use InDesign, Photoshop and all the other apps for which there's no good Chromebook equivalent. Whilst making the connection wasn't too painful, actually manipulating the desktop was.
The Lenovo's desktop was badly shrunk within the Chromebook's browser window, making it very difficult to read anything on the screen and impossible to hit small icons with the mouse. Any attempt to do serious work within InDesign would lead to a Chromebook being flung at the wall in a fit of rage.
Skype
Whether you're making a business call or trying to call home from a trip abroad, Skype is an app that most people always have to hand. It works perfectly well on the Chromebook, but it's one of those apps on which the full screen is wasted. It's best to keep it docked in a small window for the optimum interface.
Here's a little power tip for Office 365 subscribers you get an hour's free calls to local landlines as part of your subscription. Usefully, you can use these when you're abroad to place a call to landlines in the UK, if the person or office you're calling doesn't have Skype.
Get the ITPro. daily newsletter
Receive our latest news, industry updates, featured resources and more. Sign up today to receive our FREE report on AI cyber crime & security - newly updated for 2023.
Bobby Hellard is ITPro's Reviews Editor and has worked on CloudPro and ChannelPro since 2018. In his time at ITPro, Bobby has covered stories for all the major technology companies, such as Apple, Microsoft, Amazon and Facebook, and regularly attends industry-leading events such as AWS Re:Invent and Google Cloud Next.
Bobby mainly covers hardware reviews, but you will also recognise him as the face of many of our video reviews of laptops and smartphones.