Advertisement Feature
The evolution of managed print services
The way we work is changing, and so is MPS.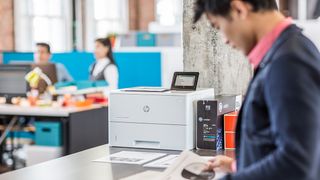 The fundamental arguments for adopting Managed Print Services are well-established, and they haven't become any less compelling in the last few years. Most businesses can see the efficiencies of moving CapEx to OpEx, streamlining business processes and reducing the burden of support. Partners, meanwhile, can see the advantages in playing in a market where recurring revenue is high and add-on services an easy fit. In MPS, everyone can win.
Yet MPS isn't standing still; it's evolving. It's no longer just about facilitating printing, servicing devices and ensuring that consumables are always in supply. Now the real value is in understanding the needs of the business, transforming business processes and harnessing the capabilities of new multi-function printers to change how information flows around the business. It's about enabling companies to maximise the benefits of turning digital content into printed materials and turning printed materials into accessible, actionable data. It's about minimising downtime, enhancing security and helping business protect their assets.
To make the most of these benefits, businesses need a partner and devices whose capabilities align with their needs. While it's tempting to stick with what you know or focus down on cost-per-page, it makes more long-term sense to think about the whole portfolio of printers and services, and about having the right ecosystem in place to support your business needs. That goes beyond just printing and copying to include security, mobility, digital business processes, device integration, cost-management and more. That's where HP comes in, with a new range of A3 multifunction printers that lead the industry in every way.
Practicalities and the bottom line
In a market where customers pay for what they print on a pay-per-click model, it's become normal to focus on the baseline cost per printed page to the exclusion of all else. Yet this doesn't give the whole picture. How about the speed at which jobs print out and the time savings that could eventually add up to? How much does it cost to use colour to mark out a key point or give a proposal impact? That's why HP has focused on building PageWide and LaserJet printers with best-in-class performance and affordable colour.
Yet the new style of MPS goes so much further. Factor in energy costs, or the costs of management, monitoring and servicing for your MPS providers; the amount of ink or toner that goes to waste when you change consumables, the work involved in updating firmware and settings. That's why HP has designed its printers and consumables to use less energy, take up less space and be as reliable and efficient as possible. HP's new A3 MFPs have been designed to use fewer components and make those components modular, making them easier, faster and cheaper to service.
That all enables providers to price even more competitively, but it also helps minimise downtime. The simplified, streamlined mechanisms use a smaller number of highly modular components, fitted with embedded sensors that allow the printer to report back to the provider, informing them if there's a risk of failure and even predicting if that part can fail. This enables MPS providers to be more proactive, fixing potential faults before you've even noticed them. What's more, the faulty component can be set to run at, say, a lower speed, keeping the MFP up and running until an engineer arrives with a fix. It's this sort of intelligence that can make downtime a thing of the past while improving the chances of a first-time fix when the engineer arrives.
Transforming enterprise
Amazingly, these nuts-and-bolts practicalities are only half the story. The real strength of HP's new MFPs lies in the way they enable MPS providers to go beyond traditional MPS and customers to transform the way they work.
If today's MPS is about making costs more predictable and manageable and taking the burden of administration, supplies and maintenance away, tomorrow's MPS is more about the information ecosystem within the enterprise. It's about helping customers create new workflows that allow them to capture, store and harvest value from their printed documents and make the most of the materials they print. Businesses don't merely want to ditch their paperwork or archive documents in a digital format; they want the power to transform paper-based information into data that can be analysed and mined for insight.
This is where a new breed of MPS providers and a few established brands are making their mark, developing expertise, strategy and a coherent, flexible portfolio of products and services, while specialising in different industries, such as legal, medical, manufacturing, energy or education.
Again, though, it's about finding devices with the capabilities to match. HP, for instance, hasn't just invested in high-performance printing and scanning technology, but in features that support new print/digital workflows. HP Capture and Route makes it easier to scan printed documents, process their content and distribute the digital results to back-office applications, cloud-based repositories and content-management solutions like Microsoft SharePoint. HP Embedded Capture enables businesses to scan and capture data direct from the MFP, routing documents where they need to go with no server required. HP Digital Sending Software gives enterprises one common interface across multiple printers and MFPs, simplifying the way they incorporate paper documents into digital-focused business processes, and getting their contents into emails, network folders or SharePoint repositories with ease.
Mobility counts as well. HP's solutions enable simple, secure, effective wireless printing from smartphone or tablet to MFP, plus equally fast, secure remote printing, so that remote workers and mobile sales or support teams can print safely from wherever they might be. With HP JetAdvantage Capture, they can even scan in documents and harvest data on the move using the camera on an Android tablet or smartphone.
Securing the business
Security is a challenge for every business, whatever its size, and it's a challenge too often ignored when it comes to printers. The fact is that the increasing sophistication of printers and MFPs, coupled with their use as an on-off ramp for information moving between digital and printed formats, makes them a juicy and often vulnerable target for hackers.
Luckily, MPS is ready to meet the hackers head-on, as providers harness the power of new devices to not only help their customers adopt new workflows, but help them adopt them securely. Again, working with HP brings huge advantages. For one thing, HP's expertise and experience in security goes well beyond what you'd find in most printer manufacturers, as HP is able to leverage its capabilities in network security, server security and PC security. Just as importantly, HP has the technology to back that expertise up.
In HP's new MFPs, for example, you'll find HP SureStart, a feature that enables the printer to detect intrusions in the BIOS the boot-level instructions that initialize the hardware and load the firmware that runs and controls every feature of the printer. Not only can SureStart detect intrusions, it can stop them and repair the effects of an attack. You'll also find whitelisting features that prevent the manufacturer's firmware from being replaced by a hacked one, not to mention run-time intrusion detection that continually monitors the printer for signs of attack.
What's more, these tie in with wider features. HP JetAdvantage Security Manager works across an enterprise's fleet of HP printers, ensuring they comply with security policies and changing any settings that don't meet requirements. These may include 256-bit AES encryption of the printer's hard drive or of jobs in progress, not to mention pull print features, where jobs will only print when authorised by the user, standing at the printer itself. These features combine to ensure that printers and MFPs don't become the weakest link in the enterprise security chain, and that's good news for both MPS providers and the customers they serve.
Cost-efficiencies, guaranteed availability and reduced admin will always be an important part of any MPS provision, but as a business you should expect more: a vision for how print can benefit your company and how more effective document workflows can help you grow your business and compete. That doesn't just mean making information easier to share, store and access, but also ensuring that it stays properly secured. While there are many providers out there who can offer this, it makes sense to partner with one that has the best technology to use as a foundation and those foundations don't get any sounder than HP's next-generation MFPs.
Get the ITPro. daily newsletter
Receive our latest news, industry updates, featured resources and more. Sign up today to receive our FREE report on AI cyber crime & security - newly updated for 2023.
ITPro is a global business technology website providing the latest news, analysis, and business insight for IT decision-makers. Whether it's cyber security, cloud computing, IT infrastructure, or business strategy, we aim to equip leaders with the data they need to make informed IT investments.
For regular updates delivered to your inbox and social feeds, be sure to sign up to our daily newsletter and follow on us LinkedIn and Twitter.