Windows to ditch 'safely eject' USB warning
The new update will default to a 'quick removal' setting, but it will cost you some speed and efficiency.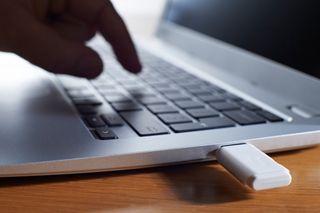 Every Windows user who's ever been in a hurry is used to being told off by their PC. When rushing to leave the house or hopping from meeting to meeting, it's likely that you've yanked out a USB drive only to be subsequently berated by your own computer.
If this type of reckless behaviour sounds familiar, fret no more - the latest Windows 10 update (version 1809 or later) gets rid of the reminder to eject your USB safely. The new update doesn't simply get rid of the notification, however. It changes how the computers store information and actually prevents the reminder from being necessary.
Previously, Windows USB storage defaulted to "better performance". This meant that computers would perpetually be in contact with USB storage in order to ensure the fastest possible data transfer and reliability. This constant state of connection also meant that data could be corrupted if the USB device was ejected unexpectedly.
The new update defaults to the "quick removal" setting. Of course, this allows users to rip out their USB drives whenever and however they please. The trade-off, though, is that overall system performance will decrease; files will take longer to transfer between the computer and USB because they're no longer in constant contact.
Microsoft is encouraging users who prefer the original speed and consistency to switch back to the "better performance" setting. You can do this by clicking on the drive, selecting "properties," "removal policy" and finally "better performance" - but remember to eject your USB safely after you do.
A daily dose of IT news, reviews, features and insights, straight to your inbox!
A daily dose of IT news, reviews, features and insights, straight to your inbox!
Thank you for signing up to ITPro. You will receive a verification email shortly.
There was a problem. Please refresh the page and try again.