FBI use startup for Huawei sting
Akhan Semiconductor used by US authorities to try and catch the Chinese firm out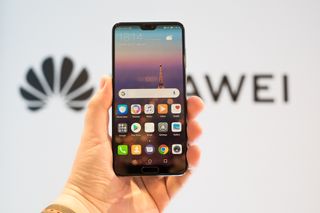 US Federal investigators set up a sting operation at last month's CES conference following suspicions Huawei allegedly illegally exported and tested smartphone glass technology from an American startup.
The FBI had been investigating whether the Chinese company committed intellectual property theft involving a sample of micro diamond layered glass from Akhan Semiconductor, according to Bloomberg.
Akhan's technology covers smartphone glass with a micro-layer of synthetic diamond and is believed to be six times harder than current smartphone screens. A sample of the firm's Minaj Diamond Glass had been sent to a Huawei-owned laboratory in San Diego, but when it was returned - later than expected - it was broken.
"In sending some of our samples for non-destructive sampling, as we do with other potential customers, we received back on the second round of sampling, our sample, and it had been damaged," Akhan founder Adam Khan said. "Damaged in a sense that a large portion of the glass was missing and broken, which was obviously very concerning for us.
"After seeing this portion of the glass that was missing, we realised that it was not really something that could be done in shipping, but more so, attempted theft of our intellectual property."
Khan took his suspicions to the FBI and the investigators enlisted him and the company's CFO, Carl Shurboff, to take part in a sting operation at CES.
The case of Akhan's glass sample adds another layer of criminal charges into an already complicated case for Huawei. The operation hasn't resulted in an indictment as yet, but news of the sting comes just a week after US authorities filed charges against the embattled Chinese telecoms company.
Currently, Huawei's CFO, Meng Wanzhou is on bail in Canada for allegedly misleading banks and violating trade sanctions with Iran, but also, the company is being charged with stealing trade secrets from T-Mobile in 2014. What was originally a civil case against Huawei has been made a criminal one. The company are accused of lifting an automated arm called 'Tappy', built to test smartphone screens, from a T-Mobile laboratory.
IT Pro has approached Huawei for comment but had not received a response at the time of publication.
A daily dose of IT news, reviews, features and insights, straight to your inbox!
Bobby Hellard is IT Pro's reviews editor and has worked on Cloud Pro and Channel Pro since 2018.
In his time at IT Pro, Bobby has covered stories for all the major technology companies, such as Apple, Microsoft, Amazon and Facebook, and regularly attends industry-leading events such as AWS Re:Invent and Google Cloud Next.
Bobby mainly covers hardware reviews, but you will also recognise him as the face of many of our video reviews of laptops and smartphones.
He has been a journalist for ten years, originally covering sports, before moving into business technology with IT Pro. He has bylines in The Independent, Vice and The Business Briefing.
Contact him at bobby.hellard@futurenet.com or find him on Twitter: @bobbyhellard
A daily dose of IT news, reviews, features and insights, straight to your inbox!
Thank you for signing up to ITPro. You will receive a verification email shortly.
There was a problem. Please refresh the page and try again.