Mozilla Firefox smartphone goes up for pre-order in Europe
Update: Mozilla claims device will land with pre-release software.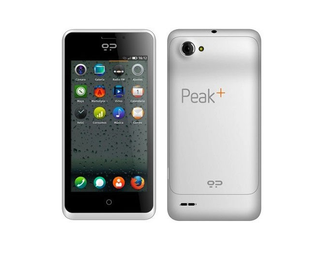 Mozilla's smartphone running Firefox OS will start shipping in September after going up for pre-order in Europe.
A limited amount of devices known as the Peak+ are available to pre-order online from Geekphones, priced at 149 before tax.
The smartphones will ship with Firefox OS (v 1.1) and pack a 4.3in qHD IPS display, 1.2GHz dual-core Qualcomm Snapdragon processor and 1GB of RAM. The Peak+ includes just 4GB of internal storage, but does support micro SD cards.
Other core features include an 8-megapixel rear camera, 2-megapixel front facing camera as well as Wi-Fi and Bluetooth 2.1 EDR connectivity.
The first wave of Firefox devices were expected to debut in emerging markets such as Brazil and Columbia. Mozilla had not yet given any time frame over when device would land in Europe.
It is unclear exactly how many are available to pre-order, but most are likely to be snapped up by developers eager to test out the capabilities of the web-based operating system.
Mozilla claims its Firefox OS is the first smartphone operating system to be built on open web standards, such as HTML 5. This will allow end users to download apps from multiple sources including the Firefox Marketplace and developer websites.
Android, iOS and Windows Phone users are generally restricted to downloading content for their devices from their respective app stores.
Mozilla isn't the only organisation trying to push open source software into the mainstream. Canonical is in the midst of trying to raise $32 million via crowdsourcing so that it can build a batch of 40,000 Ubuntu/Android smartphones.
Users will be able to use Canonical's Ubuntu Edge smartphone as a regular Android device. However, when plugged into a monitor, the handset will switch to the full desktop edition of Ubuntu, essentially acting as thin client.
Update: 26/7/2013
A statement from Mozilla appears to contradict that this will be the first Firefox OS device to land in Europe.
"Geeksphone announced the pre-sale of a new device based on Boot to Gecko technology. We want to clarify that this new phone that was announced is based on Boot to Gecko technology with pre-release software, but is not a certified or supported Firefox OS device," a spokesperson noted in a statement.
A daily dose of IT news, reviews, features and insights, straight to your inbox!
Khidr Suleman is the Technical Editor at IT Pro, a role he has fulfilled since March 2012. He is responsible for the reviews section on the site - so get in touch if you have a product you think might be of interest to the business world. He also covers the hardware and operating systems beats. Prior to joining IT Pro, Khidr worked as a reporter at Incisive Media. He studied law at the University of Reading and completed a Postgraduate Diploma in Magazine Journalism and Online Writing at PMA Training.
A daily dose of IT news, reviews, features and insights, straight to your inbox!
Thank you for signing up to ITPro. You will receive a verification email shortly.
There was a problem. Please refresh the page and try again.