Moto X coming to UK on 1 February
Updated: Android KitKat 4.4 smartphone available from £25 per month.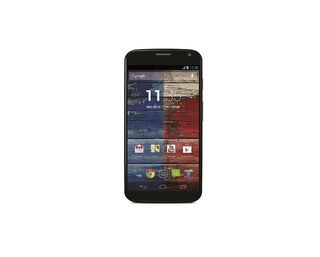 Motorola is about to launch its Moto X device in the UK, six months after the customisable handset debuted in the US.
The smartphone will arrive on 1 February with prices starting at 25 per month on contract or 380 SIM free. Amazon, Carphone Warehouse, O2, Phones4U and Techdata will stock the handset.
Core specifications include a 4.7in Amoled 720p display, 16GB of memory and a 10-megapixel rear camera.
Motorola will be shipping the device with Android KitKat 4.4.2, the latest version of Google's operating system, and the firm pushing out its updates directly to customers unlike other manufacturers where this is done by the carriers.
The Moto X is powered by the firm's X8 system. This is made up of Qualcomm's Snapdragon S4 Pro 1.7GHz dual-core processor, a quad-core Adreno 320 GPU and a natural language processor. The chipset is supported by 2GB of RAM.
Features of the Moto X include the ability to give the device voice commands using the term "OK Google" and activate the camera with a flick of the wrist.
There's a Motorola Connect extension for the Chrome browser, which allows users to see and respond to notifications and text messages from any computer. And Motorola Assist can be setup to help avoid disruption when users are driving, in a meeting or sleeping.
The firm has also included Active Display', which shows alerts for messages, invites and missed calls.
The UK edition of the device isn't as customisable as its US counterpart, where users can design the colours and include an engraving. Instead the UK version of the Moto X is offered in black and white versions - the latter of which is exclusive to Phone4U for the first three months.
However, James Soames, director of marketing operations confirmed to IT Pro that the firm is actively working to bring its Moto Maker customisation process to Europe.
"We're in active conversation with the supply chain and partners to ensure when it is launch it is faultless and the consumer experience is second-to-none."
"In terms of MotoMaker - it's vital that when it is launched, we deliver a seamless consumer experience. By definition it's quite a complex process. It's not just about hiring people in a factory, there's the end-to-end customer journey. Do they order in-store? How do they pay for it?"
Soames declined to comment on a time-frame for a European launch for Moto Maker, instead stating that it will debut "when the time is right".
A daily dose of IT news, reviews, features and insights, straight to your inbox!
Khidr Suleman is the Technical Editor at IT Pro, a role he has fulfilled since March 2012. He is responsible for the reviews section on the site - so get in touch if you have a product you think might be of interest to the business world. He also covers the hardware and operating systems beats. Prior to joining IT Pro, Khidr worked as a reporter at Incisive Media. He studied law at the University of Reading and completed a Postgraduate Diploma in Magazine Journalism and Online Writing at PMA Training.
A daily dose of IT news, reviews, features and insights, straight to your inbox!
Thank you for signing up to ITPro. You will receive a verification email shortly.
There was a problem. Please refresh the page and try again.