Panasonic releases rugged 5in Android phablet
Windows 8.1 Embedded edition of the device due in November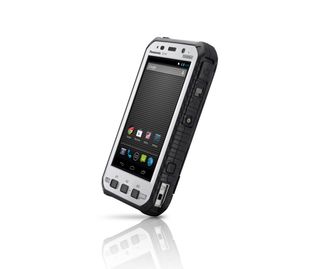 Panasonic has announced the availability of its forthcoming 5in ToughPads, as the firm looks to offer enterprises ruggedised, portable and high performance phablets.
The firm's FZ-X1 is shipping now with Android 4.2.2 and is priced at 1024 ex VAT. It is expected to be updated to Android KitKat 4.4 before the end of 2014.
Meanwhile, the FZ-E1 will run the Windows Embedded 8.1 Handheld operating system. This is basically Windows Phone 8.1 with increased enterprise features, such as multi-user lockdown, device management and extended hardware/peripheral support.
The Windows version will be available in November, priced at 1056 ex VAT.
Both ToughPads combine a large screen with voice calling capabilities so they fall into the phablet category. They are customisable too, making them suitable for use within manufacturing, construction, warehousing, transportation and even military environments.
Key areas of differentiation between the ToughPads and consumer phablets like the Samsung Galaxy Note range include the display brightness, battery life and ruggedness.
Display
Despite being designed for the enterprise, the ToughPads have a number of high-end components. Panasonic has used a 5in Gorilla Glass 3 screen with an HD 1280 x 720 resolution (284ppi). It's got a 500cd/m2 brightness and a reflection rate of 6.5 per cent, to make it easier to see in sunlight.
The capacitive touch screen has high sensitivity and can be used with any gloves. It is also capable of detecting the finger movement 5mm above the screen.
A built-in pressure sensor means the screen is able to tell contact has been initiated by finger input, so the screen won't become active when raindrops fall onto the device.
Battery life
The ToughPads are powered by a removable 6,200mAh battery pack, double the captivity you'll find in the latest consumer grade phablets like the Galaxy Note 4.
Panasonic quotes 23 hours of talk time, 14 hours of wireless connectivity and standby of 1,000 hours. A quick charging feature also allows the device to reach 50 per cent charge in approximately 72 minutes.
Hot-swapping is supported as standard, unlike the 7in ToughPad, where it was optional. The 5in devices give users a two minute window to change the battery without having to switch off the device. An LED light flashes when the swap has been initiated.
Ruggedness
The ToughPads have an IP68 rating and are drop resistant onto any surface including concrete from 3 metres, according to Panasonic. The devices are also certified to be submerged in up to 15 metres of water for up to 30 minutes.
There is a built in heater for the battery and display, allowing the device to be used in temperatures down to -20C. The upper operating limit is +60C.
Connectivity
4G is included as standard for data connectivity and voice calls are carried out over 3G.
Panasonic claims the form factor has allowed it to build in a larger antennae then you'd find in regular smartphones. The firm claims this increases GPS location accuracy to within 2 metres.
Customisation options
It's possible to incorporate an 8-megapixel camera with LED flash. Depending on the use cases, serial USB buses, smart cards readers or barcode readers can be fitted.
Panasonic has developed accessories so the device can be integrated into vehicles like lorries and forklifts. Arm and hand straps will also be made available.
A daily dose of IT news, reviews, features and insights, straight to your inbox!
Khidr Suleman is the Technical Editor at IT Pro, a role he has fulfilled since March 2012. He is responsible for the reviews section on the site - so get in touch if you have a product you think might be of interest to the business world. He also covers the hardware and operating systems beats. Prior to joining IT Pro, Khidr worked as a reporter at Incisive Media. He studied law at the University of Reading and completed a Postgraduate Diploma in Magazine Journalism and Online Writing at PMA Training.
A daily dose of IT news, reviews, features and insights, straight to your inbox!
Thank you for signing up to ITPro. You will receive a verification email shortly.
There was a problem. Please refresh the page and try again.