Windows 10 vs Windows 8.1 vs Windows 7 - Microsoft OS head-to-head
We pit Microsoft's most popular operating systems against each other to see which is the greatest of all time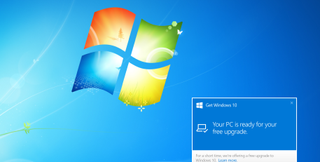 Windows 10 remains Microsoft's most popular operating system, despite having been superseded by Windows 11 in October 2021. The success of the software has prompted many to look back on previous iterations, comparing Windows 10 vs Windows 8.1 vs Windows 7.
However, only Windows 10 and Windows 11 are currently receiving official support from Microsoft, with Windows 7 and Windows 8.1 now retired and no longer suitable for business use.
That means that while we have compared Microsoft's various operating systems against each other, any verdicts that lean towards Windows 7 or Windows 8.1 are purely academic and should not be taken as recommendations.
Windows 10 vs Windows 8.1 vs Windows 7
User interface for desktops and laptops
Windows 7 certainly set the benchmark for a relatively consistent and understandable user interface, although its key strength now is its familiarity. You know where to find things, you know what sort of results you're going to get from the Start Menu search bar and you understand the oddities of Windows Explorer, Task Manager and Control Panel.
This familiarity is an asset compared to Windows 8.1. Microsoft's huge push for touchscreen devices and tablets left desktop users feeling not only abandoned, but hugely confused. Hitting the Start button to search for an app or file left you with a massive full-screen Start screen that made little sense when it was first introduced in Windows 8 in 2012 and it still feels jarring today.
Windows 10 strikes a better balance here, with its Continuum mode neatly morphing the compact Start menu into a bigger, touch-friendly Start screen as needed. The Start menu's links to the newly tweaked File Explorer as well as lists of recently used apps and your pinned folders are all huge plus points.
The Start menu in Windows 10 has undergone a few changes since its own release. With the advent of the Anniversary update, it has three columns in the Start Menu with All Apps always visible. The interactive Start Menu also allows you to change the Live Tile apps for apps you use more frequently, and the new clean, square icons lend a simplified look.
Windows 10 holds a small advantage up to this point, then, and that's before you even consider the hugely improved window management system. If you're someone who likes to multitask, Windows 10 has you covered.
Windows 8.1 has better multi-monitor support than Windows 7. Unlike 7, 8.1 has a taskbar on each screen showing only those apps running on that screen. Plus each monitor can have its own distinct wallpaper. and each screen given its own customisable wallpaper.
Windows 10 builds on this foundation, adding an improved version of Windows Snap so you can easily organise your windows in just a couple of clicks. Answering the prayers of those of us with multiple monitors running at different resolutions, there are now settings for scaling text and the UI on a per-monitor basis.
Even if you only have one display, such as when you're using a laptop on the move, Windows 10 now has built-in multiple desktops (like Ubuntu and Mac OS X), so juggling lots of windows and tasks is still easier than ever.
Winner: Windows 10
There's no question Windows 10 needed to make some serious improvements for desktop and laptop users, and Microsoft has delivered. Multitasking has never been easier, meaning it's by far the best choice.
User interface for tablets
Windows 7 only has the most basic interface elements and optimisations for touchscreens, which allowed the iPad and iOS to dominate the market for tablets. This led to the radically improved touchscreen interface in Windows 8, but it alienated a lot of people as it had so few accommodations for keyboard and mouse users.
Windows 8.1 added a few tweaks, nips and tucks, such as the ability to run Modern UI apps in a resizable window, but its display scaling problems made usable high-resolution Windows 8.1 tablets a near impossibility.
Windows 10, while not perfect, is a big improvement. An improved touchscreen gesture allows you to flick between applications quickly and easily than before. If you have a hybrid device and dock it to a keyboard, Windows 10 should recognise this change of state and switch back to its touchpad-friendly desktop mode thanks to Continuum mode, although whether this will work on your device will depend on whether its manufacturers has released drivers that support this.
Windows 10 Anniversary Update features a new Ink Workspace that puts pen-based apps in their own panel at the bottom-right corner. The new apps boast Screen Sketch, Sketchpad and Sticky Notes. The latter integrating with its cloud services. Pen devices should work well with Windows 10 with great Ink support.
Winner: Windows 10
If you have a tablet or a tablet/laptop hybrid, Windows 10 is your best bet. With features catering well for both, you'll work more efficiently that you could on Windows 8.1 or Windows 7.
Security
Windows 7 and 8.1 are by no means insecure operating systems; but Windows 10 has moved both home and enterprise security along significantly, both in terms of local device security and the security of your online services, too.
First of all, there's Windows Hello, which lets you use biometric log-in with a fingerprint, face or iris scan instead of a password. While computers with the necessary biometric scanning hardware built-in are currently uncommon, we're helpful that more will become available quickly given that Hello is built into Windows 10 from the very start.
There's also Passport, a single sign-in service for consumers that allows Windows to authenticate with websites on your behalf without you having to type in a password. This service hooks into Windows Hello, using your biometric scan or a PIN code to verify that you are the person you claim to be. This means you'll use your password less, meaning it'll become much more difficult for hackers to compromise online accounts with stolen passwords. It's not currently supported that widely, but if it takes off, Passport could massively boost security on your online services. As yet, though, Passport and Hello are unproven and very much fledgling technologies.
IT managers will appreciate the ability to organise Enterprise-licenced PCs into circles and choose when updates are applied - great for making sure you don't disrupt your users' work. This also means that Microsoft's new strategy of releasing frequent, individual updates instead of bundling them into Patch Tuesdays or Service Packs won't have a big impact on your office's productivity, as you can delay non-critical updates for up to 90 days if you're on Microsoft's Current Business Branch of support.
You also get Enterprise Data Protection, the ability to sign in with an Azure ID and the ability to set up a company-wide app store.
Winner: Windows 10
Unsurprisingly, Microsoft's latest operating system has the most advanced security features of the operating systems here. It's good for both consumers and IT managers.
Performance
Microsoft cautions that Windows 7 and Windows 8.1 have limited support when running on new processes and chipsets from manufacturers like Intel, AMD, NVidia, and Qualcomm. Users should be aware of the original equipment manufacturer's (OEM) support period, as this can hinder performance.
While anecdotally we have heard of PCs running a lot quicker having been upgraded from Windows 8.1 to Windows 10, actual performance benchmarks on our test PC with 8GB of memory and an Intel Core i5 4690K processor show no difference.
What's more important is the addition of DirectX 12 support, a low-level graphics API designed to increase 3D graphics performance with lower overheads while giving developers more control over how hardware is used. This is most important for gamers though as most professional 3D graphics software relies on the competing OpenGL API instead. Although it's still very early days for DirectX 12 with few titles currently taking advantage of it, if you're looking for the best 3D gaming performance available the Windows 10 is likely your best bet as DirectX 12 won't be available for Windows 8.1 or 7.
Winner: Windows 10
Again, no surprises here; with no penalty in performance and DirectX 12, Windows 10 is an easy choice
Searching for files and folders
Search has become ever more important in operating systems, as file and folder hierarchies have become less important and searching for a specific filename has become a popular way of finding important files especially amidst messy desktops and haphazardly organised Documents folders.
Windows 7 had a terrific search function built in the Start Menu, finding files and folders on network shares as well as those stored locally. It wasn't perfect, especially if you needed to refine your search results, but it was useful enough that we were surprised that Windows 8 abandoned this simultaneous search ability. It also adopted a more fiddly Start screen-based search interface and integrated web search results from Bing and app store suggestions. These superfluous additions were far of an annoyance than a convenience.
Windows 10 searches still hook into the Bing search engine and also look for apps in the Windows Store. Even more annoyingly these results are placed ahead of search results for installed apps, files and folders with no option to change this order. Amazingly, the ability to search your computer and network shares simultaneously is still missing.
However, you can at least easily perform more advanced searches from the Start Menu by clicking on the My Stuff button. This lets you filter by relevance or date, and can also narrow down your search to specific file types including documents, photos, music and settings.
Windows 10 also includes Cortana, the personal assistant feature from Windows Phone. This has become a major part of Windows 10 doing double duty as a web search and a Start Menu/Windows search. Plus the ability to search by voice is both impressive in its accurate transcription and in its usefulness for the differently abled.
Winner: Tie
The improved advanced search features in Windows 10 are very welcome, but its insistence on prioritising web search and app store results isn't. Windows 7 still holds a place in our hearts for its quick, simple search results and network integration.
Windows 10 vs Windows 8.1 vs Windows 7: Which version is right for you?
Windows 8 had the unintended side effect of making people significantly more attached to Windows 7 than ever before. It was a happy medium sitting between the Vista mess and the Windows 8 Start screen nightmare.
Prior to the operating systems reaching end of life, we would have said to skip over Windows 8.1 if you were still on Windows 7, given that you could safely upgrade without losing the things you loved most about that OS.
However, now that official support is only available for Windows 10, we cannot recommend using any Microsoft operating systems that predate this version. Not only do the operating systems feel quite dated at this point, the lack of security updates will put you and your data at unnecessary risk.
Windows 10 will reach its own end of life in October 2025, at which point you should have already migrated to Windows 11. If you're wondering how these two operating systems stack up, it's worth reading our Windows 10 vs Windows 11 comparison article.
Get the ITPro. daily newsletter
Receive our latest news, industry updates, featured resources and more. Sign up today to receive our FREE report on AI cyber crime & security - newly updated for 2023.
Get the ITPro. daily newsletter
Receive our latest news, industry updates, featured resources and more. Sign up today to receive our FREE report on AI cyber crime & security - newly updated for 2023.
Thank you for signing up to ITPro.. You will receive a verification email shortly.
There was a problem. Please refresh the page and try again.