EE hits 9.3 million 4G customers
Mobile operator hails 200% growth as it targets 14 million 4G customers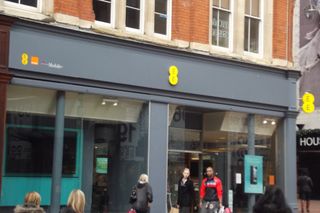 EE now has 9.3 million 4G customers, expecting to reach 14 million by the end of the year.
The mobile operator's 4G base grew 200 per cent year-on-year, adding 1.7 million new customers in the first three months of 2015.
This news comes after the company demolished last quarter's 4G sign-up target of 6 million, reaching 7.7 million customers at the end of 2014.
EE also believes it'll be able to hit its 14 million goal, claiming that 95 per cent of new customers use its 4G network, and almost 50 per cent use the company's proprietary double-speed 4G.
Similar targets have also been set in other areas. As part of a three-year investment programme, the company will be spending 1.5 billion in order to provide 99 per cent of the population with 4G coverage. This will be building on the company's existing figure of 87 per cent.
Despite a one per cent year-on-year drop in operating revenue to 1.5 billion, the report will likely please prospective owner BT.
The telco is set to buy EE for 12.5 billion, subject to anti-competitive regulatory approval.
EE's expanding customer base will give BT a strong framework to utilise if and when it takes over.
Also highlighted in the report was the trial launch of Europe's fastest 4G, with speeds of up to 400Mbps. The company plans to follow up this development with research into Voice Over 4G, seamless Voice over Wi-Fi and micro-network technology'.
A daily dose of IT news, reviews, features and insights, straight to your inbox!
Adam Shepherd has been a technology journalist since 2015, covering everything from cloud storage and security, to smartphones and servers. Over the course of his career, he's seen the spread of 5G, the growing ubiquity of wireless devices, and the start of the connected revolution. He's also been to more trade shows and technology conferences than he cares to count.
As reviews and community editor, he's responsible for leading IT Pro's wide-ranging product coverage, and is an avid follower of the latest hardware innovations. He's never happier than when tinkering with complex network configurations, or exploring a new Linux distro.
In addition to managing the IT Pro Panel and working with the community of IT leaders that make it up, he co-hosts the IT Pro Podcast, where you can hear him ranting about his love of strange gadgets, his disdain for Windows Mobile, and everything in between.
You can find Adam tweeting about enterprise technology (or more often bad jokes) @AdamShepherUK, or you can email him at adam.shepherd@futurenet.com.
A daily dose of IT news, reviews, features and insights, straight to your inbox!
Thank you for signing up to ITPro. You will receive a verification email shortly.
There was a problem. Please refresh the page and try again.