Amazon will disconnect your Kindle unless you download this patch
Kindle Paperwhite and all previous models before it need 'critical fix', says Amazon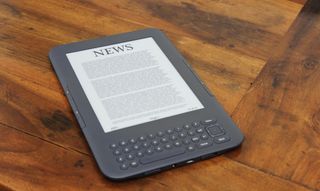 Amazon is warning customers that older Kindle models will lose their internet connectivity unless the users download a fix by tomorrow.
Older Kindles will be unable to wirelessly connect to the Kindle Store or sync with a customer's personal cloud from Tuesday, 22 March, meaning it will not be possible to download new or existing purchases without manual intervention.
Kindle users were sent an email warning them about the change, and today Amazon has posted an announcement about this "critical software update" on its support page.
However, so far Amazon has not explained why the update is so urgent. A spokesman told IT Pro: "Periodically we ask customers who have not updated their device software in a while to update their devices to ensure that they are operating with the latest software, and that their device remains compliant with continuously evolving industry web standards.
"Customers will be unable to use Kindle services after March 22, 2016 unless this update is complete so we want to encourage customers to complete this update so that their device experience is not interrupted. For more information about this update. The update concerns the original Kindle Paperwhite (2012) and all previous Kindles before it."
Users who do not update their older devices by tomorrow will be presented with the following message: "Your Kindle is unable to connect at this time. Please make sure you are within wireless range and try again. If the problem persists, please restart your Kindle from the Menu in Settings and try again."
By default, Kindles download and install the latest firmware automatically, if they are connected to Wi-Fi. Users can check for new updates manually by selecting Sync and Check for Items' in the main menu of their Kindle. The version number relevant to their device can be found on Amazon's support page.
For customers who forget to update their device, it is still possible to restore wireless connectivity to older Kindles. The necessary firmware can be downloaded from this Amazon's support page and transferred to Kindle via USB cable.
Amazon removed encryption protecting customer data on Kindles earlier this month. But customer outrage quickly made the company correct its course, and it has promised to restore the encryption software in a coming update.
A daily dose of IT news, reviews, features and insights, straight to your inbox!
A daily dose of IT news, reviews, features and insights, straight to your inbox!
Thank you for signing up to ITPro. You will receive a verification email shortly.
There was a problem. Please refresh the page and try again.