BlackBerry brings Hub+ to Android smartphones
Move highlights BlackBerry's shift from hardware to software services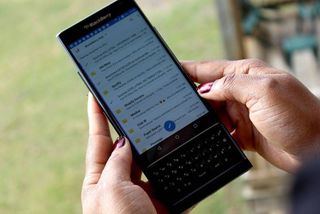 Have you always wanted to use BlackBerry software on your Android?
You're in luck: the troubled Canadian smartphone company has unveiled it will offer the BlackBerry Hub+ software suite for Android on a subscription basis.
BlackBerry's Hub brings all of a user's communications, such as Twitter and email, into one place - hence the name - but the "plus" also means you will get a password manager, calendar, note taking app and more.
The Hub+ suite is so far only available for devices running Android 6.0 Marshmallow and up, so it will only work on the latest devices. BlackBerry said it was hoping to extend it to Android 5.0 Lollipop and iOS in the future.
You can trial a limited version of it for free for a month. After that, you can keep using the limited version for free by agreeing to watch the odd advertisement, or step up to the ad-free, full edition by shelling out $0.99 a month. BlackBerry Hub+ is available at the Google Play Store.
BlackBerry Hub+ is the first software-only product from the company's new Mobility Solutions Group, the company said in a blog post.
"But it's a natural move for us," the post added. "Not only is it the latest example of BlackBerry's fast-emerging software business (already at a run rate exceeding $500 million a year), but it fulfills our promise to make the fruits of decades of R&D and software development as widely available to users of other devices and other platforms as possible."
Whether a productivity suite for smartphones is enough to keep BlackBerry rolling remains to be seen, but the company said earlier this year it still intends to release hardware, with a pair of Android handsets due later this year.
A daily dose of IT news, reviews, features and insights, straight to your inbox!
A daily dose of IT news, reviews, features and insights, straight to your inbox!
Thank you for signing up to ITPro. You will receive a verification email shortly.
There was a problem. Please refresh the page and try again.