Rural businesses demand better 4G coverage
Ofcom must demand better service from mobile operators, CLA says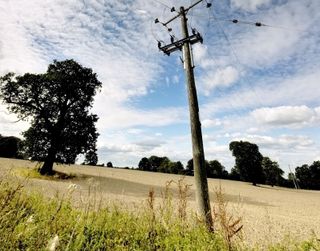 Rural businesses want Ofcom to force mobile operators to improve 4G coverage in the British countryside, to save them from a "digital dark age".
Calling for the telecom regulator to "challenge this reluctance" among operators to invest in rural areas, landowner, farmer and rural business membership organisation, the CLA, told MPs that reliable and speedy data connections are crucial for rural firms to thrive.
CLA deputy president Mark Bridgeman said: "4G is vital to running a business. It is needed for marketing, communication and driving forward innovative technology. But rural businesses are being kept in a digital dark age because of mobile not-spots across the countryside.
"Many rural communities have been abandoned by the mobile network operators who will only make investments in the countryside when forced to do so. Ofcom must demand more and challenge this reluctance to invest in rural areas."
Bridgeman was giving evidence to the All Party Parliamentary Group for Rural Business, which is set to publish recommendations this September on how Ofcom can improve mobile connectivity in the countryside.
The CLA has been campaigning on the issue this year, with its '4G For All' campaign garnering the signatures of 55 MPs in May.
A letter sent to digital secretary Matt Hancock that month, featuring those signatures, outlined members' fear that conditions Ofcom has attached to its 2020 5G 700MHz spectrum sale around improving rural coverage "fall significantly short" of government targets for mobile coverage to reach 95% of the UK by the end of 2022.
"With the challenges of Brexit, rural businesses will increasingly depend on good connectivity to become more productive and efficient," Bridgeman added.
"To ensure the countryside is better connected, we need to see regulation introduced which imposes a more ambitious legally binding coverage obligation on all four major operators, plus action from Ofcom to force the mobile operators into providing much greater transparency of coverage performance and plans for rural areas."
An Ofcom spokesperson told IT Pro: "We agree mobile coverage must improve, and we've announced plans that will require mobile companies to extend their networks in areas where coverage is poor, with a focus on reaching rural areas. The targets are designed to be stretching, but also achievable. We're considering a range of views, and will outline next steps later this year."
Hancock had previously pledged that 4G coverage would cover all of the UK by 2020. EE's 4G spans 86% of the UK, the best coverage available, according to OpenSignal data from September 2017.
A daily dose of IT news, reviews, features and insights, straight to your inbox!
A daily dose of IT news, reviews, features and insights, straight to your inbox!
Thank you for signing up to ITPro. You will receive a verification email shortly.
There was a problem. Please refresh the page and try again.