Configuring servers: Four steps to a successful setup
Bear these essential points in mind when building or upgrading your infrastructure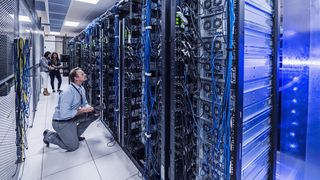 (Image credit: Getty Images)
Cloud computing has revolutionized business operations across the globe but in these uncertain times, there is a clear need for maintaining on-premises IT services. Disasters, wildfires, climate change, geopolitics, cyberattacks, systems upgrades, software updates – they've all caused significant cloud service outages, and their increasing frequency means it's not if, but when, they'll next go offline and leave your business in the lurch.
READ MORE
There's a lot to be said in favor of on-premises servers. With the right supporting infrastructure in place, they can deliver 24/7 data availability and put you in full control of your services and business apps.
Cloud providers generally adhere to the 'shared responsibility model' where they look after the security of the infrastructure, data centers, and server hardware leaving customers to handle cloud applications, data, operating system, and access security. Moving services to on-premises servers means you'll be in control of all aspects of their security, including data governance.
You'll also have total equipment ownership and will be free to make any customisations you want, whenever you want and store your data in more secure and cost-effective ways. True, your capital expenditure (CapEx) will be a lot higher, but compared to ongoing cloud service subscriptions, your operating expenses (OpEx) over the long-term could be significantly lower.
1. Plan for future server capacity
The diverse range of server solutions on the market makes it easy to get the right systems for your current needs but you should plan for the future so they have plenty of power on tap to cope with the inevitable increased demand. Servers are long-term investments and choosing the right ones will ensure they can stay with you for years to come.
RELATED RESOURCE
PowerEdge - Cyber resilient infrastructure for a Zero Trust world
Build your own zero trust architecture and guiding principles for an effective data security strategy.
Internal server storage can get eaten up quickly so it's essential you plan capacity for the future to avoid costly upgrades and unnecessary downtime. File sharing, private clouds, and database services will grow over time so consider servers that have spare bays for adding more storage devices – it's a lot quicker and cheaper to expand an existing RAID array with extra disks than it is to replace the entire server.
CapEx comes into play here again as once you've purchased your on-premises storage, its OpEx will be negligible. Cloud storage, on the other hand, incurs continual expenditure with many businesses forced to purchase more capacity to keep up with demand finding this is costing them a lot more than they'd bargained for.
2. Decide which servers to buy
Server buying decisions will be based on many factors including the type of workloads, performance requirements, expansion potential, latency, and even their physical location. Space-constrained small businesses looking for their first server or a timely upgrade will find rack models an appealing choice.
Low-profile 1U rack servers are ideal where businesses want to separate out their workloads onto rack cabinets full of dedicated systems while 2U models provide more expansion potential and higher storage densities. Offices are expensive to rent and the latest rack servers pack a remarkable amount of features, processing power, and storage into the smallest of spaces.
They're versatile too, as they can be installed in a small footprint rack cabinet with some small enough to slip into a wall-mount enclosure. We've reviewed most of Dell's latest Gen16 PowerEdge rack servers to help you make the right choice.
If you're looking at pushing IT services out to remote offices and other locations where data will be processed on-site then tower servers may be the best choice as they don't need any additional infrastructure such as rack cabinets. They're also ideal for rapidly expanding small businesses looking to replace their legacy PC-based network with a purpose-built server.
Edge servers are also worth considering as they deliver a powerful hardware package in a space-saving chassis that's designed to cope with harsh environments such as factories and shop floors. We've reviewed a range of edge servers including Dell's PowerEdge XR11 and Lenovo's ThinkEdge SR450 models.
3. Configure server networking
The supporting network infrastructure is just as important as your choice of server as this must provide a solid foundation for it to deliver its applications and services. Ethernet cables are the networks' arteries and it pays to use the best quality to ensure connection speeds are unaffected and future demand can be met.
If you're planning a new structured cabling project then the most cost-effective choice is Cat6a cables as these support 10-Gigabit (10GbE) speeds up to 100 meters – you can ignore Cat7 and Cat7a cabling as they were never standardized. If you can afford it go for the latest Cat8 cabling as this has four times the bandwidth of Cat6a, uses the same RJ-45 connectors, and supports 25GbE and 40GbE speeds over 30 meters and 10GbE over 100 meters making it ideal for switch-to-switch and server to top-of-rack switch connections.
READ MORE
Network switches are just as important so your budget should extend to sourcing the fastest you can afford and don't forget their port count either. As your network expands, ports will get used up quickly so if you think a 24-port switch will do the job now then get a 48-port model instead so you have plenty of headroom.
Many businesses have mobile workforces so good wireless networks are essential to allow them to access on-premises and cloud services. There is a vast range of fast wireless access points to choose from, but a feature across all is a requirement for Power over Ethernet (PoE) so you should consider adding PoE switches to power them.
4. Consider going hybrid
Going on-prem doesn't mean you should ignore the cloud. Far from it, as many businesses are seeing the benefits of a hybrid approach where the public cloud is considered an essential component of their IT strategy while more demanding apps are maintained in a private cloud.
There are many reasons for these decisions although increasing public cloud ingress, egress, API call, and data transfer charges can make it more cost-effective to run certain workloads in-house on dedicated servers.
In fact, an increasing number of businesses that initially took a cloud-only approach are repatriating data from the cloud in varying amounts as they see the cost benefits of a hybrid infrastructure.
Combining cloud services and platforms with your own in-house servers allows you to keep mission-critical services at your fingertips but push less essential services and applications into the cloud. The cost benefits alone are a strong argument in favor of this approach and make a sound business case for running essential applications and services on your own on-premises servers.
Get the ITPro. daily newsletter
Receive our latest news, industry updates, featured resources and more. Sign up today to receive our FREE report on AI cyber crime & security - newly updated for 2023.
Dave is an IT consultant and freelance journalist specialising in hands-on reviews of computer networking products covering all market sectors from small businesses to enterprises. Founder of Binary Testing Ltd – the UK's premier independent network testing laboratory - Dave has over 45 years of experience in the IT industry.
Dave has produced many thousands of in-depth business networking product reviews from his lab which have been reproduced globally. Writing for ITPro and its sister title, PC Pro, he covers all areas of business IT infrastructure, including servers, storage, network security, data protection, cloud, infrastructure and services.