How does wireless charging work?
Cables are old school. Discover how wireless chargers help power up smartphones from up to 30 feet away.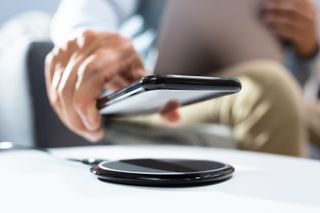 When it comes to phone charging, a traditional USB cable gets the job done. Upgrade to the versatile USB Type-C, and you have just about everything to get through the day, as fast charging gets your gadget juiced up in no time while snappy data transfer lets you transfer files at lightning speeds.
The only problem is cords and cables tether us to power outlets, impeding movement.
From loose terminals to criss-cross wires that cause tripping hazards, charging with a wire isn't always convenient. This is exactly why most of us can't turn a blind eye to wireless charging.
Hitting a sweet spot between usability and functionality, wireless chargers eliminate the need to fiddle with wires. Just place the phone on a wireless charging pad, stand or mount and presto! Power gets transferred from the charger to the phone automatically—no cables required.
Flat pads that allow simultaneous charging of multiple devices are the most sought-after wireless chargers followed by tilted stands. A tilted charging stand supports charging in landscape and portrait modes, so users can review notifications or watch videos without having to interrupt charging. It is perfect to use by a desk and compels no additional input.
Qi wireless charging standard
Qi (pronounced "chee") is a universal standard for wireless power transfer over short distances. First released in 2008 by Wireless Power Consortium (WPC), the Qi standard is applicable for battery-operated devices such as cell phones, tablets, and cameras among other gadgets.
From an operational standpoint, a Qi system supports charging speeds of up to 15 Watts. What's more, all Qi-enabled devices are compatible with all Qi-certified wireless chargers regardless of the manufacturer or make of the device.
As per WPC, there are currently more than 3,200 Qi-certified smartphone chargers. Some can even power through lightweight plastic phone cases up to 3 mm thick, making for a comfortable charging experience.
One good way to confirm whether a charger is Qi-enabled or not is to look for the Qi logo on the back of the device.
What's inside a wireless charger, and how does it work?
A wireless charger, with all its nifty features, might come across as a breakthrough technology that's new and evolving. In reality, wireless charging has been around since the late 19th century. It was Siberian-American physicist Nikola Tesla who first illustrated inductive coupling to enable wireless power transfer.
Fast forward to today, Qi wireless chargers use the same inductive charging method whereby energy is transferred from a transmitter (charging station) to a receiver (compatible device) through electromagnetic induction.
Essentially, inductive coils must be present in the device and the charger. When brought together or kept close to the coils, typically made of copper, generate an electromagnetic field that transfers energy from the charger to the phone.
Besides electric coils, wireless chargers are equipped with safety and convenience features to ensure a seamless user experience; soft LED light indicates charging status, alert for foreign objects such as keys or coins while a thermal sensor regulates temperature for safe and reliable charging.
The maximum range for wireless power transmission is 30 feet. However, power transmission weakens with distance. More precisely, the greater the distance between the mobile device and wireless charging pad, the slower the charging rate.
Smartphones with built-in wireless charging
Can all phones be charged wirelessly? For the most part, yes. Numerous mobile device manufacturers, including industry leaders such as Apple, Samsung and LG comply with the Qi standard.
Here is a list of the most popular Qi-enabled smartphones available in the market today:
Apple: iPhone 11, iPhone 11 Pro, iPhone 11 Pro Max, iPhone X, iPhone XR, iPhone XS, iPhone XS Max, iPhone 8, iPhone 8 Plus
Google: Nexus 6, Nexus 5, Nexus 4, Pixel 4, Pixel 4 XL, Pixel 3, Pixel 3 XL
Samsung: S20 Ultra, S20 Plus, Note 10, S10, S9 Plus, S9, Leadership 8, S8 Active, S7 Edge, S6 Edge Plus
LG: G8 ThinQ, G8S ThinQ, G7 ThinQ, V50 ThinQ, V40 ThinQ, G6, G4
Xiaomi: Mi 10 Pro, Mi 10 Lite, Mi 9 Pro, Mi 9, Mi Mix 3
OnePlus: 8 Pro
Two ways to charge any phone wirelessly
Wireless charging is a convenience wrapped in sleek-looking chassis, so it's no surprise there are hacks around this technology. Setting up wireless charging is as easy as connecting a supporting adapter to the phone before placing it on a wireless charging station.
Alternatively, you can use an add-on phone case that includes the necessary adaptor. Aircharge, for instance, enables iPhone 6/6S to charge wirelessly on any Qi wireless charger. The case is Made for iPhone (MFi) certified and weighs just about 46 grams.
Do wireless chargers stop charging at 100%?
Generally, mobile and wireless charging devices are "smart" enough to prevent extra transmission of power. Therefore, it is absolutely safe to let a device charge for extended periods of time, as wireless chargers are known to trickle charge phone batteries to keep them powered at all times.
Even better, chargers with smart chip support optimized for select phone models deliver just the right amount of power, preventing overheating. Meaning, if a device operates at 7.5 watts and the wireless charger is rated up to 10 watts, the charger will identify the make of the device via the intelligent chip and deliver exactly what is needed, 7.5 watts of power.
The road ahead for wireless charging
A survey by Wireless Power Consortium (WPC) brings forth an interesting find: Adoption of Qi wireless charging is surging and consumers are exhibiting tremendous interest in seeing wireless charging expand beyond at-home use.
"On top of broader awareness, it is clear there is heightened consumer demand and interest in Qi wireless charging as an easy and safe way to remain powered up throughout the day," said Menno Treffers, WPC chairman.
"This new survey shows that consumers want wireless charging in more places than just their home and car. They would also like to see it at restaurants, coffee shops, hotels, travel lounges and on planes and trains so they have convenient access to top-up and extend their device battery life."
"With the momentum by our global ecosystem, we believe Qi is the universal charging method to conveniently power smartphones and new consumer electronics devices in a safe and reliable way."
Evidently, wireless technology is all the rage now. From factory floors to restaurant tables, the potential applications of the technology are numerous, and it's only a matter of time before long-range wireless charging becomes the new norm.
Get the ITPro. daily newsletter
Receive our latest news, industry updates, featured resources and more. Sign up today to receive our FREE report on AI cyber crime & security - newly updated for 2023.
ITPro is a global business technology website providing the latest news, analysis, and business insight for IT decision-makers. Whether it's cyber security, cloud computing, IT infrastructure, or business strategy, we aim to equip leaders with the data they need to make informed IT investments.
For regular updates delivered to your inbox and social feeds, be sure to sign up to our daily newsletter and follow on us LinkedIn and Twitter.
Get the ITPro. daily newsletter
Receive our latest news, industry updates, featured resources and more. Sign up today to receive our FREE report on AI cyber crime & security - newly updated for 2023.
Thank you for signing up to ITPro.. You will receive a verification email shortly.
There was a problem. Please refresh the page and try again.