More money for the router of all evil
Barry Collins baulks at paying yet another BT subscription – just to get a router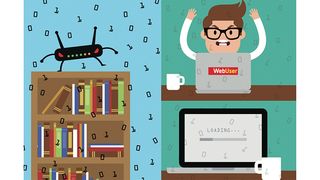 Stop the press we've officially reached the tipping point of the must-sell-absolutely-everything-as-a-subscription-package craze that has swept the tech industry over the past few years. Because now, ladies and gentlemen, BT wants to sell you routers for a conveniently overpriced monthly sum.
This comes in the form of BT's Complete Wi-Fi package a concept that gets right up my nostrils before you even get to the subscription part. "We guarantee Wi-Fi in every room!" BT's marketing email screams. Whatever next? Running water from every tap! Light through every window!
You shouldn't need to pay BT extra to guarantee Wi-Fi reception in every room of the average home it should be the minimum requirement. If BT's standard Smart Hubs had proper external antennas instead of the sealed units they currently sell, this wouldn't be an issue for 99% of its customers in the first place.
Instead, BT's trying to exploit its own hardware deficiencies by upselling customers to Complete Wi-Fi for, in my case, an extra 7 per month on top of the 42 I already pay for BT's top-whack fibre connection.
What does Complete Wi-Fi consist of? The very latest BT Smart Hub 2 and one count 'em, one Wi-Fi Disc. The Wi-Fi Disc acts as a Wi-Fi extender, repeating the signal from your Smart Hub so that it reaches that back bedroom or loft extension that the Smart Hub struggles to reach under its own steam. BT promises it will give you up to two more of these Discs if you don't get a "strong" Wi-Fi reception in every room, although I wish you the very best of British when it comes to arguing what constitutes a "strong" reception with the BT call centre.
What BT isn't so forward in telling you is that you can pick up these Wi-Fi Discs much more cheaply from Amazon (where they're called Whole Home, instead of Complete Home, for some strange reason -- that must have been a particularly long lunch in the BT marketing department).
So, instead of signing a new 18-month contract for an extra 7 per month total cost 126 you can pop over to Amazon now and buy one of these Discs for 74.50.
Even the two-Disc pack costs only 123.85, which is still marginally cheaper than the "exclusive" deal BT is trying to flog me. Granted, you don't get a new router, but I wouldn't mind betting that most people will see little or no performance difference between their current Hub and BT's latest model, especially once you've got the Discs relaying the signal.
As I've grumbled in this column before, I'm sick of seeing my disposable income bled dry by subscriptions mobile phone, broadband, Netflix, Spotify, online backup, office software... the list goes on. BT already gets its monthly pound of flesh from me. To try and upsell an extra subscription to deliver what any half-decent router should be capable of in the first place is really taking the Richard Bliss.
Still, where BT leads the rest generally follow. Keep an eye out for your next "exclusive" offer in an inbox near you and get ready to clear some space in your Junk folder.
Get the ITPro. daily newsletter
Receive our latest news, industry updates, featured resources and more. Sign up today to receive our FREE report on AI cyber crime & security - newly updated for 2023.
Barry Collins is an experienced IT journalist who specialises in Windows, Mac, broadband and more. He's a former editor of PC Pro magazine, and has contributed to many national newspapers, magazines and websites in a career that has spanned over 20 years. You may have seen Barry as a tech pundit on television and radio, including BBC Newsnight, the Chris Evans Show and ITN News at Ten.