Government wants to "dispel misconceptions" around girls studying STEM subjects
Girls are 18% less likely than boys to say that studying STEM would lead to a job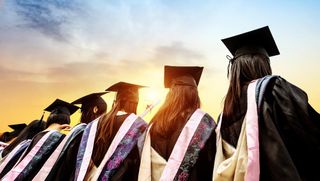 Eliminating girls' misconceptions about STEM subjects and careers is critical to preparing students for the workforce, according to school standards minister Nick Gibb.
New data released from the Department of Education and the corresponding International Day of Women and Girls in Science brings the issue of gender equality in STEM-related fields into the limelight once again.
According to the latest research, girls are much less likely than boys to pursue STEM subjects at A level. In fact, 15-year-old boys are more likely than girls to see STEM subjects as useful, and girls are less likely to name a STEM subject as their favourite.
The data is based on a 2015 survey taken by 10,010 15-year-olds. While girls and boys both rank STEM subjects as leading to the highest paying careers, only 51% of girls said a STEM subject was the most likely to lead to a job, compared to 69% of boys.
Additionally, just 32% of girls ranked a STEM subject first for enjoyment, while 59% of boys did. Girls were less likely than boys (33% compared to 60%) to call STEM their best subject.
"This research, however, shows that certain misconceptions are still prevalent, and we all have a part to play, including parents and teachers, to dispel misconceptions about STEM subjects and help encourage our scientists of future generations," said Gibb.
There has been an improvement in recent years: Since 2010, 25% more women have been accepted onto full-time STEM undergraduate courses, and the proportion of girls taking STEM-related A levels has done the same.
However, it's no secret that the tech industry still has a diversity problem. Oracle has been accused of underpaying female employees (especially those of colour), Google has been charged with gender discrimination in promotional opportunities and Microsoft has almost 240 discrimination and harassment complaints from women field against it.
When stories like these fill the news, it's not surprising that many young girls aren't planning on going into STEM careers. Female students made up just 14% of Engineering, 15% of Computing and 22% of Physics A levels.
However, Gibb said society's growing need for STEM sector positions makes it even more important for girls to get involved. He challenged parents and teachers to dispel any misconceptions girls might have about STEM.
"There is growing demand for STEM skills, particularly for sectors such as engineering, construction and manufacturing, and it's essential that gender is no barrier to ensuring that all young people have the knowledge and skills to succeed in our outward looking and dynamic economy," said Gibb.
A daily dose of IT news, reviews, features and insights, straight to your inbox!
A daily dose of IT news, reviews, features and insights, straight to your inbox!
Thank you for signing up to ITPro. You will receive a verification email shortly.
There was a problem. Please refresh the page and try again.