Navigating the public cloud
AWS, Azure, or something else. What are the best options for your organisation?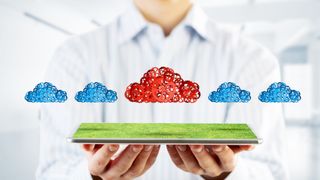 When it comes to considering your options with the public cloud, the big beasts of Azure and AWS may be the first names to come to mind and for good reason. According to figures from Canalys, as of the fourth quarter in 2018, AWS has a 32.3% market share of public cloud, while second place Azure has 16.5%, making up just under half of the total market share.
While Azure or AWS might be the right fit for some organisations, the right fit for others may fall into the other 51.2% of providers.
Because of this, it's important to consider all options, both big and small, before embarking on any public cloud project.
Going with the big players
Going with the likes of Azure or AWS depends on both your own capabilities and what you're looking for, according to Alex Raistrick, director WEUR at cloud data management firm Rubrik.
"AWS is more complex but also more flexible. It's most appropriate for organisations who have a skilled set of DevOps engineers. Azure is more of an extension of your typical Microsoft environment and so is better suited for application managers and Microsoft houses," he says.
Sam Bashton, head of public cloud practice at Claranet, says it's also important to consider Google Cloud Platform (GCP) as being within the same bracket. The platform came in third behind AWS and Azure, with a market share of just under 10%, according to Canalys.
"In reality, you could choose any of these three providers and you would have made a good choice. They all have the necessary features for building solutions that will make businesses successful. A lot of people spend a lot of time worrying about which option to go for, but it matters less than people might think," he says.
Bashton adds that AWS was the first in the market, and because of this, has built a broader feature set than Google Cloud Platform or Azure by virtue of it being around for longer, "and due to the fact that their general focus is on providing a wide range of attributes."
"When businesses choose Azure over the other two, they generally do so because they have an existing relationship with Microsoft: they have used Microsoft products for years, so there's a familiarity aspect that appeals to many decision-makers," he adds.
Alternatives to the big two
When considering a move to the public cloud, migrating to Azure or AWS may not be an automatic choice. Phil Smith, group cloud chief technical officer at IT services firm ECS, says that the chosen cloud should be determined by the workload.
"You might consider that it's based around data, or Windows, or even a lower-level language such as NodeJS. Each of these could have very different requirements, but focusing on the core requirements should help organisations to determine which provider to choose for PoC testing," he says.
Richard Best, IT services provider Comparex UK's general manager, says smaller cloud vendors also have the advantage of being able to offer bespoke services.
"This is especially valuable for those companies that have very specific business objectives or may need cloud only for distinct workloads, and are worried they'll have to make compromises on flexibility and control," he says.
Assessing which public cloud is the right one
Organisations should put best practices in place and be aware of common issues before signing up with a particular public cloud provider. Doing so will help businesses come to the right decision about which provider to use.
"It's crucial that organisations understand the real cost of cloud before making a final decision," says Best. "This can be a major challenge for CIOs, especially as according to 451 Research over one third of cloud providers do not publish their prices online."
He adds that while cloud services are often marketed as consumable and simple, the reality is that understanding the commercial models and myriad costs of cloud can be tortuous. "As a result, it's unsurprising CIOs opt for the ease of a mega provider, rather than wasting valuable time looking for hard to find prices, even though a smaller provider might represent better value for money."
ECS' Smith says that it's better for organisations to identify such things as workloads with no sensitive data and low dependencies/complexities to run proofs of concept. "This helps organisations build their understanding of the cloud, and also provides data on, and a greater understanding of the options available for security, governance, assurance - and any other factors that should be on this checklist," he says.
Avoiding common mistakes
Bashton says a big mistake businesses often make is that they believe simply lifting their servers from private cloud to public cloud is all that needs to be done when migrating to public cloud.
"However, this approach is not necessarily much cheaper than maintaining the status quo, and organisations risk failing to make the most of the agility that public cloud can bring by utilising it in this way," he says.
"Instead, it's important that businesses realise public cloud has much more to offer than just lifting servers to an external data centre. The services that AWS, Azure and [Google Cloud Platform] provide encompass a much wider range of business objectives, meaning that they are important not just to server migration, but also in helping the business become more efficient and innovative in general."
How the next 12 months could affect public cloud decisions
Vikram Ghosh, vice president of cloud partners at Chef Software, says the industry has been starting to see higher-level services like machine learning and AI emerge as ways for cloud providers to differentiate themselves as IaaS becomes a commodity.
"In the more immediate future, we expect businesses will begin to adopt more containers and native PaaS offerings to deliver cloud native applications," he says.
Smith agrees that most of the cloud's value in the future will come from the insights made possible by artificial intelligence, big data and machine learning, and adds that there will be a move toward voice, customer-driven service architecture and data in the future. "Most of this will be underpinned by serverless-style architectures that leverage PaaS, as well as the SaaS offerings," he says.
This article was originally published on 19th January and has since been updated to reflect more recent figures.
Get the ITPro. daily newsletter
Receive our latest news, industry updates, featured resources and more. Sign up today to receive our FREE report on AI cyber crime & security - newly updated for 2023.
Rene Millman is a freelance writer and broadcaster who covers cybersecurity, AI, IoT, and the cloud. He also works as a contributing analyst at GigaOm and has previously worked as an analyst for Gartner covering the infrastructure market. He has made numerous television appearances to give his views and expertise on technology trends and companies that affect and shape our lives. You can follow Rene Millman on Twitter.