Gartner: Cloud giants' dominance poses challenges for users
Top 10 providers could gain "unchecked influence" over customers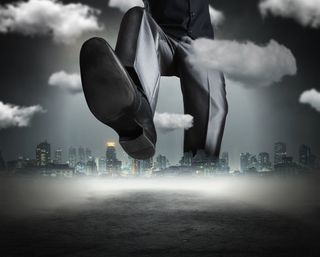 Gartner predicts the top 10 cloud providers will account for 70% of IaaS revenues in the next three years, with the likes of AWS, Microsoft, Google and Rackspace dominating the leaderboard more than ever.
These top 10 firms took 50% of the market in 2017, according to Gartner's Forecast Analysis: Public Cloud Services, Worldwide, 4Q17 Update, and Gartner suggested that the smaller players stand little chance against the big boys, with the larger firms in danger of getting "unchecked influence" over users as a result.
"The increasing dominance of the hyperscale IaaS providers creates both enormous opportunities and challenges for end users and other market participants," said Sid Nag, research director at Gartner.
"While it enables efficiencies and cost benefits, organizations need to be cautious about IaaS providers potentially gaining unchecked influence over customers and the market," Nag explained.
He added that organisations will demand more from IaaS providers, particularly around the ease with which they can switch between multiple clouds, rather than focusing on one supplier. They will look to form alliances with the vendors that allow for multicloud agreements, rather than those that penalise users that have more than one supplier.
As more businesses realise the benefits of the cloud, they are becoming more demanding across the board, Nag added. This has already become apparent in the SaaS market, which is expected to grow revenues by 22% this year to $73.6 billion - the largest cloud segment, where firms want tools that specifically align to ther business objectives, rather than being a one-size-fits-all offering.
"In many areas, SaaS has become the preferred delivery model," said Nag. "Now SaaS users are increasingly demanding more purpose-built offerings engineered to deliver specific business outcomes."
Elsewhere IaaS is expected to grow by a third to hit $40.8 billion in revenue in 2018, and PaaS to reach $15 billion. The public cloud market as a whole is expected to grow 21% this year to reach $186.4 billion.
In the PaaS sector, database platform as a service (dbPaaS) is the fastest growing sector, with hyperscale cloud providers snapping up the opportunity to diversify their services.
"Although these large vendors have different strengths, and customers generally feel comfortable that they will be able to meet their current and future needs, other dbPaaS offerings may be good choices for organizations looking to avoid lock-in," Nag added.
Picture: Shutterstock
A daily dose of IT news, reviews, features and insights, straight to your inbox!
A daily dose of IT news, reviews, features and insights, straight to your inbox!
Thank you for signing up to ITPro. You will receive a verification email shortly.
There was a problem. Please refresh the page and try again.