Bitcoin value rises to $500 in 20-month high
Cryptocurrency begins to regain value, leading to auction of 24,518 confiscated bitcoins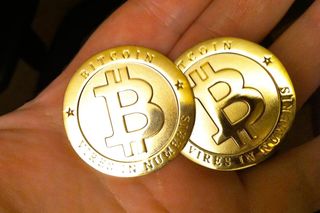 Bitcoin's value hit a new high on Saturday, reaching over $500 per bitcoin for the first time in 20 months.
At the time of publishing, Bitcoin was still sitting at a price of $545.65 (372.91) per bitcoin, according to CoinDesk.
While this new high has generated some excitement, it does not match the digital currency's golden days in November 2013, when the price per coin was just over $1,100.
However, Bitcoin experts believe that the currency's value will continue to climb for the foreseeable future, which could be attributed to people becoming more confident of Bitcoin's long-term value, according to Jack Liu, chief strategy officer at Chinese bitcoin exchange, OKCoin.
Liu believes an increase in the price of the digital currency is likely because the costs paid to bitcoin miners will decrease soon, causing fewer individuals to mine, which in turn will slow the rate at which new Bitcoins enter the market. This period of relative scarcity will then push up the value of those units already in circulation.
"Emotions have taken over: Traders have taken their rational lenses off and are buying with the expectation of selling higher in a short period of time," Petar Zivkovski of bitcoin trading network Whaleclub, told CoinDesk. "Inevitably, low-entry buyers will rush to take profit and price dumps will ensue."
In tandem with supposed user confidence growing, the digital currency has been legitimised by its acceptance from reputable banks and retailers.
Online gaming store Steam approved use of the currency of its store last month. Additionally, Bitcoin Visa card has launched in the US and the Swiss town of Zug has been trialling Bitcoin in its public services.
In related news, 24,518 (approximately 8 million) confiscated bitcoins are due to be auctioned off next month in Australia.
The coins are being held by the state of Victoria's Asset Confiscation Operations department, after being seized in 2015, when they were worth 9 million.
Ernst & Young, the auction organiser, said the bitcoins had been confiscated as proceeds of crime, but did not explain further, the BBC reports.
The organisers said they have chosen to hold the auction now as the market is currently stable. However, to prevent the auction from negatively affecting the market value of the coins, they will be sold off in sets of 2,000 (about 680,000).
The auction will be open for people to bid on worldwide, and will commence sometime in June, although no exact date has yet been given.
A daily dose of IT news, reviews, features and insights, straight to your inbox!
A daily dose of IT news, reviews, features and insights, straight to your inbox!
Thank you for signing up to ITPro. You will receive a verification email shortly.
There was a problem. Please refresh the page and try again.