Google promises to do better after government pulls ads
Government advertising was being shown alongside extremist content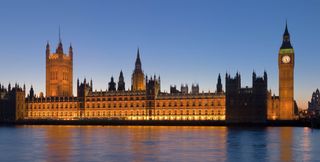 The UK government has pulled its advertising from Google after its messages were shown alongside extremist material online, sparking a review at the web giant of its ads policies.
The move follows MPs criticising Google and other web giants earlier this week for profiting from online hatred by making money from advertising placed alongside extremist content. Now, it's been revealed the government ads are running alongside that content meaning public money is not only being handed to Google, but to the extremists who posted the hateful YouTube videos and other material. The ads are being placed there by Google's automated network.
The dodgy advertising placement was spotted by The Times, which found government ads running alongside YouTube videos of a hate preacher banned in the UK, rape apologists, anti-Semites and white nationalists in the US. While the government might be particularly sensitive to where its ads are placed, The Times also spotted ads from media organisations including the BBC and Channel 4, while the Guardian spotted its own membership ads alongside such content, pinning that on the use of Google's automated ad exchange system.
A government spokeswoman told the Guardian: "Digital advertising is a cost-effective way for the government to engage millions of people in vital campaigns such as military recruitment and blood donation."
"Google is responsible for ensuring the high standards applied to government advertising are adhered to and that adverts do not appear alongside inappropriate content. We have placed a temporary restriction on our YouTube advertising pending reassurances from Google that government messages can be delivered in a safe and appropriate way," the spokeswoman said. "Google has been summoned for discussions at the Cabinet Office to explain how it will deliver the high quality of service government demands on behalf of the taxpayer."
Google has responded with a blog post from UK managing director Ronan Harris, saying the company has tried to balance freedom of speech on the web with its advertising policies.
"The intention of these policies is to prohibit ads from appearing on pages or videos with hate speech, gory or offensive content," he wrote. "In the vast majority of cases, our policies work as intended."
Google said it spends millions annually and employs thousands of people to "stop bad advertising practices", removing 100,000 publishers from its AdSense programme. However, the company once admitted it doesn't always get it right, promising a "thorough review of our ads policies and brand controls" with changes in the coming weeks to give more control to advertisers about where their marketing messages appear.
"We've heard from our advertisers and agencies loud and clear that we can provide simpler, more robust ways to stop their ads from showing against controversial content," Harris added.
The Internet Advertising Bureau (IAB) told IT Pro it was already working with Google to avoid "ad misplacement".
"The IAB believes in maintaining processes that ensure a safe environment for ad trading online," a spokesperson said. "To do this, the IAB has been working closely with its ad partners across the UK trading environment. Google is now an active member of JICWEBS' brand safety committee the Display Trading Standards Group so we will work with them (and all the other members) to help reduce the risk of ad misplacement."
The incident once again highlights the edge cases where automation is failing Google, after the company earlier this week pledged to use its army of moderators to ensure search results weren't pushing Holocaust denial sites and other offensive pages to the top of rankings.
A daily dose of IT news, reviews, features and insights, straight to your inbox!
A daily dose of IT news, reviews, features and insights, straight to your inbox!
Thank you for signing up to ITPro. You will receive a verification email shortly.
There was a problem. Please refresh the page and try again.