Cryptocurrency mining threat to business can't be ignored, warns report
Malware designed to mine Monero on the increase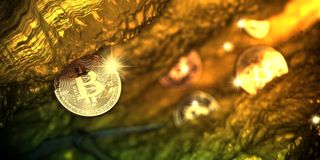 Companies are increasingly being attacked by mining malware looking to extract Monero cryptocurrency, a new report has warned.
According to the GTIC Monero Mining Malware report, published by NTT Security, the cryptocurrency is being mined as it allows hackers the greatest amount of anonymity.
Researchers at NTT Security's Global Threat Intelligence Center (GTIC) found around 12,000 Monero mining malware samples, with the earliest dating back to March 2015. They also discovered that 66% of the samples were submitted from November to December 2017, indicating a substantial increase in the use of coin mining malware.
Around 40% of global internet traffic and data from a wide range of threat intelligence sources were analysed by researchers. Based on this data, they found that cyber criminals are using phishing emails as the primary vector to gain a foothold on a targeted system, which attackers can then leverage to mine Monero with the victim's resources.
The discovery of coin miners in a network environment suggests that more malicious activity could also exist there, such as backdoors and unpatched vulnerabilities. The company also found that legitimate coin mining services, such as Coinhive, could be abused and injected into mobile games and websites.
The report also found that Amazon Web Services was hosting a significant amount of Coinhive JavaScript (JS) in web pages published on its platform. Additionally, the researchers discovered that Germany and the United States lead the globe with the most IPs hosting websites with Coinhive JS.
"Monero mining malware is installed on the victim's computer or smartphone without their knowledge and, once installed, it uses the victim's computing resources and electricity supply to mine cryptocurrencies. The rewards go directly to the hacker, not the owner of the computer. Device owners might not suspect a thing," said Terrance DeJesus, threat research analyst at NTT Security.
DeJesus added that organisations mustn't ignore the threat of mining malware. "The impact of an attack can go well beyond performance issues. Mining costs organisations money, impacts the environment and causes reputational damage. It could also be indicative of more problems in the network," he added.
A daily dose of IT news, reviews, features and insights, straight to your inbox!
Rene Millman is a freelance writer and broadcaster who covers cybersecurity, AI, IoT, and the cloud. He also works as a contributing analyst at GigaOm and has previously worked as an analyst for Gartner covering the infrastructure market. He has made numerous television appearances to give his views and expertise on technology trends and companies that affect and shape our lives. You can follow Rene Millman on Twitter.
A daily dose of IT news, reviews, features and insights, straight to your inbox!
Thank you for signing up to ITPro. You will receive a verification email shortly.
There was a problem. Please refresh the page and try again.